Damian Lillard Reacting To The Best Plays Of His Career Is A Fascinating Watch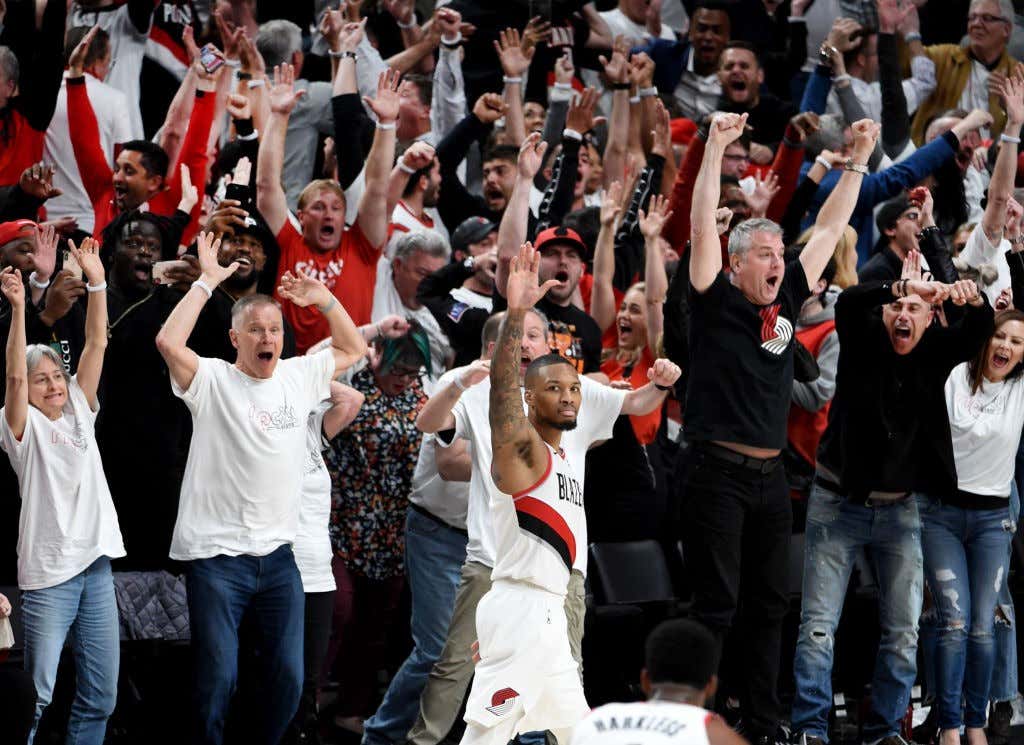 I'll warn you, this video is long. Not like 7 minutes long, but pretty much 40 minutes. I figured since we're getting closer to a long weekend it's the perfect way to eat up some of your day, maybe save this blog and watch it during lunch or something because it's that good. There's no denying Dame Lillard is one of the best point guards and players in the NBA, long gone are the days where he was sneaky underrated. He's a constant on the All NBA teams, he just signed the biggest contract in NBA history, and on top of that he's a legit as hell rapper and genuine guy. Someone who is loyal to the death to Portland and repeatedly talks about how he'll never leave to join a superteam, he's also had a ton of awesome moments in his 7 year NBA career, so why not get his thoughts on what was going through his mind when they went down?
After watching that video, here's a few that stood out
He's been a cold blooded shooter basically his whole career
One thing this video reminds you of is the fact that these dagger Dame threes are nothing new. In fact for his career, Dame is 44-114 in shots with the game on the line. Basically this is shots that come in the final minute where a team is down by 3 or less or tied. That means he shoots at a 38.6% clip in these situations which is pretty damn impressive. By comparison CP3 is 47-119 (39.5%), Curry 27-76 (35.5%), Westbrook 51-182 (31.8%).
Remember when Paul George said Dame's game winner was a bad shot? Not for someone who basically lives that life for the past 7 seasons.
Game winner vs Rockets
One of the more iconic Dame game winners, this was interesting because he talks about how the Rockets were planning on defending that inbounds play. Patrick Beverley was talking about switching and the play wasn't even for Dame in the first place, the intended first option was supposed to be a lob to LaMarcus Aldridge. Awesome that Mo Williams just told Dame fuck it go get the ball instead and the rest is history.
Dame is officially Team Poster
They showed a play where Elijah Milsap falls trying to guard him and then he posters Gobert. He's asked what's better, dropping someone or dunking on someone and he goes with the poster. I get it, as as point guard that's probably cooler for him, but as a fan watching, I'm always going with Team Crossover over Team Poster.
The infamous game winner vs OKC
This is what I was most interested to hear about because that shot basically caused the Thunder to blow it all up. It's not often you see a franchise ender game winner but that's essentially what Dame did in that Game 5. He went on to explain he was pretty relieve that Westbrook took the shot before and not George because PG13 had been unstoppable all night, and once he had the ball he knew he was going to wave everyone off and noticed that George was giving him a little too much space where Dame felt he was still in a comfortable range. He went between the legs to get him to move slightly to the left to open up things even more which enabled him to stepback to the right and the rest is history.
I found it interesting how Dame explained the second he waived off the screens in the very beginning of the possession with like 12ish seconds left that he was taking the shot. He still could have driven the ball and tried to get contact, but he knew he was going to bomb it from deep the whole way which is kinda cool. He called it better than the HOU game winner which I agree with.
I will always be a sucker for these type of videos because I'm fascinated by what goes through these guy's minds in some of the best moments in NBA history. Especially the elite guys like Dame who are built differently. Again, if you're looking for time to kill today I can't recommend this enough as we start to get our minds ready for the upcoming season. Oh, and because I care about you, here's one more just for the hell of it