I'd Like To Personally Thank The Trolls At NHL Network For Continuing To Disrespect The Blackhawks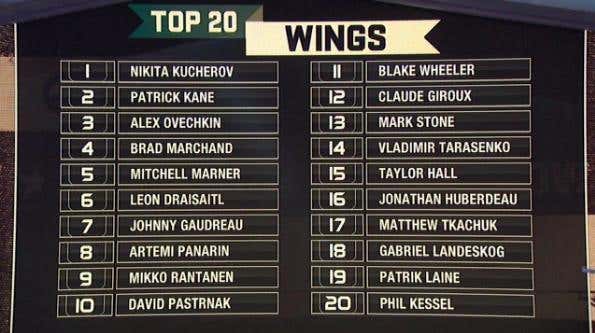 Not a week goes by this summer without the people over at NHL Network disrespecting the Chicago Blackhawks this summer. Doesn't matter if it is a stupid list, a forecast, a fantasy ranking…they take their opportunities to shit on the Hawks and you know what…I don't care in the slightest. More than that…I like it.
If you think Toews didn't see this list that had fucking Elias Petterson above him
And didn't make this face
Then you haven't been paying attention to the Captain the last 10 years. There's a standard here. There's a personally pride and it is under attack.
You read this quote from Dylan Strome about Toews
"To see how hard he works in the gym, to see how hard he goes. I remember the first week that I got here because I was at the World Championships and he had started working out a few weeks before, maybe a week and a half before or two weeks. I get back and we're pretty dead tired after the first workout. And he's dead tired as well, and he goes downstairs and grabs a stick and goes upstairs and shoots the puck in the shooting pads. You see that and it makes you want to work hard. It makes you want to go harder. It's good to see. I'm happy that I stayed and go to see that, see how hard these guys work and see what it takes to be elite."
And you know that Toews is going to be a gangster again and that he's going to make Strome a better pro too so 31 in 31 preview series that says the Hawks will regress can fuck right off.
You see Kane ranked behind Kucherov as the 2nd best wing and you probably think that isn't so bad. Until you realize that Kucherov got to play with legitimate snipers on the best team in the league and they ran roughshod over the entire league for 82 games. Garbage time goals, just smoking everyone and running up the score. Kane had career highs while trying to drag an inferior team back to the playoffs. You might want to give the edge to Kucherov, but being the best is about delivering when it matters most. Like in Game 6 of the Stanley Cup Finals for example
A play Kucherov had a GREAT look at from right below the goal line
Kucherov had no points in that game and just one goal in the series. But that was 2015. He hadn't developed into "the best wing in the NHL" at that point. What he'd do right now? In the 2019 playoffs. Oh you know…just got himself suspended for a game with the season on the line as his team got swepted out of the playoffs in the first round
So yeah, fuck him and his #1 ranking over Kane. Keep your MVP, Nikita. Regular season gangster
And I don't even want to get into them completely snubbing Alex Debrincat. There is more to being top 20 player than just scoring goals, but only three guys on that top 20 list scored more than him. And if these lists are about more than just scoring goals than how the FUCK is Elias Petterson on here and Toews isn't?
This is fuel. Training camp is about a month away and the entire core of the forward group has been living at the gym together. Working their asses off getting ready for a revival in 2019-20. Keep talking that shit, NHL Network.