You'll Never Guess What Happened After The Marlins Sent This Tweet To The Tampa Bay Rays!!!
So in case you missed it, the Miami Marlins and Tampa Bay Rays had a funny-ish little back and forth a couple of days ago on Twitter, or about as funny as two professional sports orgs can be on Twitter in today's PC obsessed world: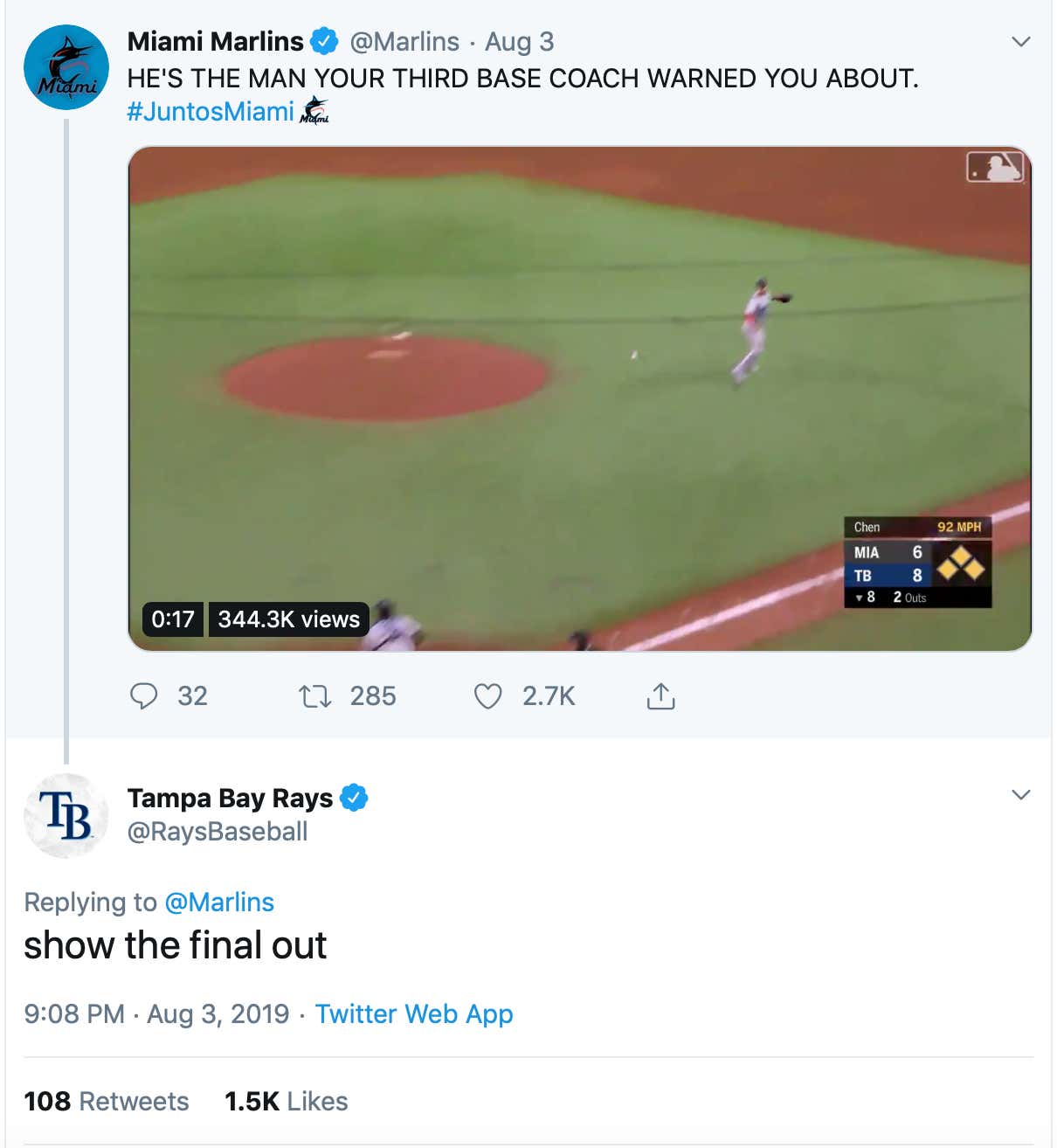 Harmless right?  A little jab at the Rays maybe hypothetically playing half their games in Montreal in the future with a "we just swept your ass" retort?  Yes.  Harmless in every way.  And then the Marlins took it too "far"
and needless to say, people and news outlets lost their goddamn minds:
and so on and so forth.  There were a shit ton of other replies calling for the intern/social media coordinator's heads, but you get the point.  People were PISSED that the Marlins made fun of Steve Irwin's death.  Thank god there were at least *some* normal people in the replies laughing at the joke.  Not all is lost on the world.
But this all brings me to my next point.  One of my favorite South Park episodes of all time was "Hell on Earth 2006″.  It's a spoof of that MTV show where all the rich families in Malibu and shit would throw massive sweet 16 bashes for their spoiled rotten kids.  Basically Satan throws a Halloween party and invites dead celebrities to the party and Steve Irwin is one of the guests:
Pretty hilarious IMO because Satan ended up kicking Irwin out of the party for not wearing a costume.  This episode originally aired on October 25th, 2006.  I saw it live and was like "ohhhh fuck" when Irwin popped on my TV screen.  Ya know why?
…Because Steve Irwin LITERALLY died on September 4th of 2006.  His body was hardly cold and South Park was already making fun of his crazy death.  And guess what?  We didn't hear a peep out of it.  At least not that I'm aware of.  Because it was funny.
Now was the Marlins' tweet funny?  Eh, not REALLY… but it was also harmless.  And it happened 13 years after Irwin's death.  We all liked Steve Irwin, but come on… this isn't a big deal.  The fact that the Marlins had to respond with this tweet:
makes me wanna puke.  Does EVERYTHING have to make people outraged these days?  Such a goddamn joke.