Joel Quenneville Says That Jonathan Toews Is The Greatest Leader He's Ever Been Around
Joel Quenneville had a 30 minute interview on the 31 Thoughts podcast. There were some interesting nuggets in there, but this one definitely stood out
"…Very competitive, very focused. It's all about hockey. It's all about how they can be the best they can be. They're all about making people around them better. Lead by example. It's all about winning. Jonny has proven that he's gotten to the next level. 

"Jonny is an emotional, EMOTIONAL guy, but he's the best leader I've ever been around"–Joel Quenneville
I mean WOW. That is high praise from Joel Quenneville. He has been around a ton of high profile leaders in his day. He's been around Ron Francis
He's been around Joe Sakic
He's been around Chris Pronger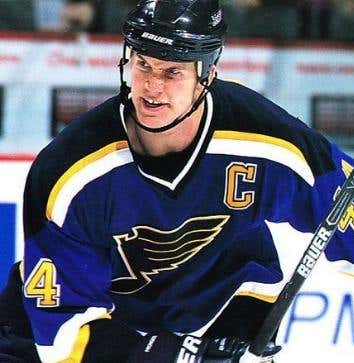 He's been around Obama
He's been around John McDono…LOL jk.
To say that Jonathan Toews is the best leader of that group is incredible. Those are all first ballot Hall of Fame type guys and Joel says that Jonny trumps them all. That has to be a humbling thing for Toews to hear. And it's like he's even on a leadership island in Chicago either. When we look back it's incredible the types of pros this organization had in the great years under Joel. Toews, Kane, Keith, Seabrook, Hossa, Sharp. Those are 6 guys worthy of wearing the C on their chest. Any team would be lucky to have even one of those guys as the face of the organization since 2010 and the Blackhawks had them all. #Blest
The other big takeaway from this interview was when they asked Joel what he wants in a defenseman in 2019
"I love defensemen who are active in the attack. I like are active in the offensive zone with and without the puck. I like defensemen who are really comfortable with their positioning at the point in the offensive zone. Kind of like St Louis, nobody had more patience holding the offensive blueline than they did. We want to get strong in that area. The gap starts right there in the offensive zone. Contest all the lines coming up ice. Then as a group of 5 in our end we want to make sure there's way more predictability. We want to make sure we go at people quick. We want good sticks. We want good positioning. We want to be hard to play against. All the things you'd always want from your defensemen hasn't changed…that's the game…a little mobility, a little balance on all three pairs…that's what we are looking for"–Joel
That right there is so insightful. When the Blackhawks were winning they had a group of defenseman who could all play that way. They were smart, they knew the system. When the Blackhawks were in their "we are going to fuck you up" mode it was ALL 5 guys being active in the offensive zone. Hjalmarsson and Oduya not just pinching but getting involved in cycle plays. Knowing when to jump in. Knowing when to be dangerous. It was a cohesive and beautiful 5 man attack that would leave the opponents dumbfounded because they had to account for two extra guys at all times. Nobody knew where anyone was going to be and then all of a sudden Kane would have the puck and it would be in the back of your net. Hjalmarsson had no real skill or offensive ability to speak of with the puck, but he knew when to jump in and create chaos.
That is why I got so mad with Stan last year when he tried to pin the Brandon Manning signing on Joel. He said that he got a guy for Joel's system. That couldn't be further from the truth. Manning checked one box for Joel and that was "being hard to play against". But only hard to play against after the whistle in a sense. Easy to play against when you're.. ya know…trying to score goals. The Hawks went from a team that was loaded with Joel guys to a team that utterly failed with support role players like Manning, Schmaltz, etc. I know some of the younger players had their issues with Joel, but if those guys were all traded then maybe the problem was always with them and not Joel. You'd think 800+ wins and three Stanley Cups would be enough evidence but I guess not.
I am ready to turn the page, but got damn. I like Colliton, but this will always feel like a mistake. I wonder where the Hawks would've finished last year if they had signed DeHaan instead of Manning and Rutta. I wonder where they would've been with a full season of 6 defense that had Keith, Seabs, Hjalmarsson, DeHaan, Jokiharju. I wonder where they would've finished if Joel was able to coach Strome instead of Schmaltz. My guess…they'd be in the playoffs.
Again…time to turn the page, but every time something like this pops up I am compelled to go back and look at what happened and try to tell the truth. It feels like the Hawks don't give people the truth very often and how they handled the roster and the coaching situation since 2017 needs to have some light shed on it in case the Hawks miss the playoffs for the 3rd straight year and Joel has built a playoff team in South Florida.