The Guys I Bought The Clown Shirt From Are Mad I'm Rich And They Are Poor And I'm Big And They Are Little So They Are Suing Me
TMZ - Barstool Sports is being sued over its most iconic image — Sad Roger — with the guys who allegedly created the shot of Roger Goodell with a clown nose claiming Barstool has been using it without permission. The guys behind the suit are Jake Bernier, Kenneth LeMarier and Joseph Bernier … who claim they created Sad Roger and licensed it to Barstool for a "one-time use in 2015." In their lawsuit, filed Monday in federal court in New York, the alleged creators claim Barstool never got permission to use the image after that one-time usage license in 2015 … and they're pissed. The guys claim they're entitled to $150,000 for every time Barstool infringed on their copyright — though they haven't specified exactly how much money they want from the suit.
Did these guys not get the memo I'm on vacation and have a cold? Jesus Christ. Now I got to write a blog about this shit. Here is the bad news for Jake Bernier and company. Unfortunately emails and DM's don't delete after 2 weeks. I bought this design fair and square back in 2015. I bought it for 300 bucks and some publicity for them. Now here is where it gets weird. We've continued to work with these guys. We've done probably 5-10 more designs in the past couple years with them. I have tons of DM's. Guess how many times they complained? Zero. They've been happy as pigs and shit. They didn't even have the balls to tell me they issued this lawsuit.
Also the facts are if I didn't buy the Clown Shirt from them and make it famous nobody would know what it is. If it wasn't for me it would still be worth 5 cents. I bought it at a fair price and made it famous. Now these guys are just ambulance chasing. America can be so sad. Don't blame your failures in life on me. Be better at what you do.  I mean the guy literally says "once you buy it I assume you own it" and now 5 years later he decided to sue.   I think even Michael J Portnoy Esquire could win this one….
Evidence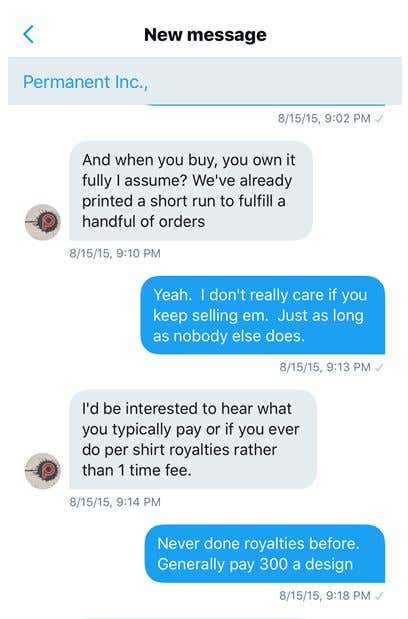 From: Permanent Inc [mailto:permanentinc.usa@gmail.com]
Sent: Saturday, August 15, 2015 10:33 PM
To: portnoy@barstoolsports.com
Subject: Goodell Shirt Design
Hey Dave,
Attached are 4 files for this design – 1 in full color and 3 separations for Black/White/Red (your screen printer might want those).
As outlined in our discussion earlier, We [Permanent Inc.] are granting you access to this design for a one time fee of $300. We will also continue to print and sell this design ourselves but will NOT extend access to any other designer,printer, etc. We ask that you make mention on your site where the design came from and to point out our website url [www.permanentinc.org] (which we will update to reflect "shirts now available via barstoolsports.com") and our twitter account [@incpermanent]. We also ask that you provide us with a banner ad on your homepage at a future date (content subject to your approval).
Please send payment to:
Jake Bernier
XXXX
We're excited to see this design hit the streets. Please reach out with any ideas you have for future projects – we will contact you with new original content going forward as well.
Viva La Stool,
Jake