Last Night In The NBA: Basketball Is Back Baby!! Well....Sort Of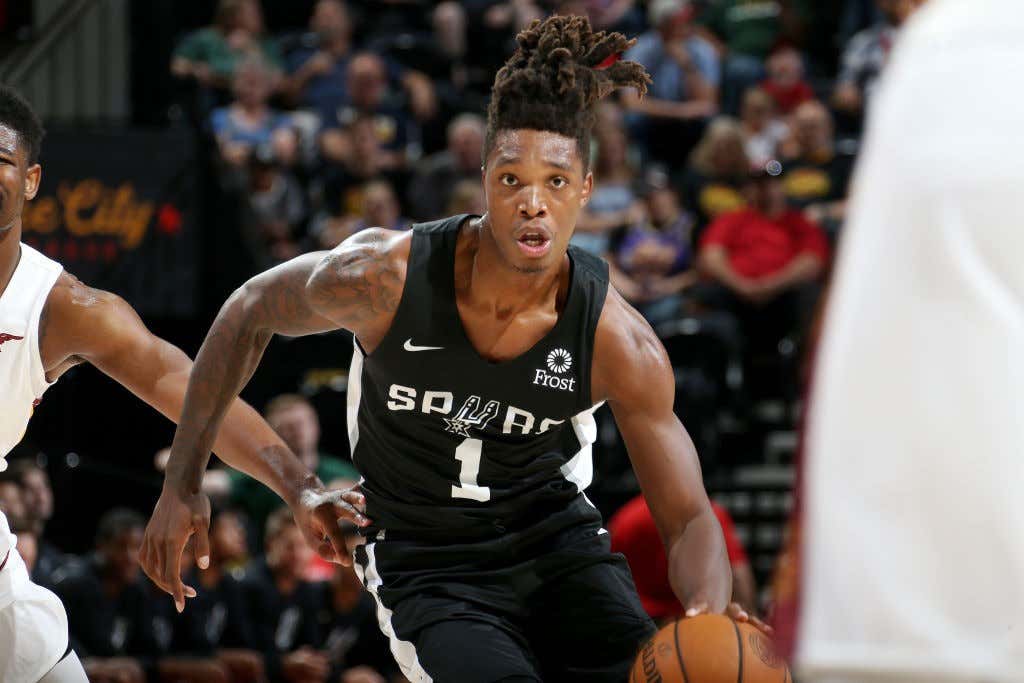 Happy Tuesday everybody and welcome back to another edition of Last Night In The NBA where we bring you up to speed on everything that went down from the night before in the Association! It feels great to be back, it was a lonnnng ass 19 days since we've had basketball in our lives and really there are only so many times you can refresh Twitter and wait for Kawhi news. Even though it's fake summer league basketball I'll fucking take it and seeing as how I'm sure there are some fellow stoolies stuck in the cubes until Thursday, this blog is here to help you. Nothing, and I mean nothing does the trick like killing a bunch of time at work watching basketball highlights and seeing as how Summer League officially kicked off last night we have a lot to get to. If you were a normal personal and did literally anything else with your time you may have missed the action, so let's have a look.
San Antonio Spurs (1-0) 97 vs Cleveland Cavaliers (0-1) 89
Right off the bat the disappointing thing with the Cavs is neither Colin Sexton or Darius Garland is participating which stinks out loud. Really want to see what those two look like next to each other on the court, even if it's fake basketball. When you are rebuilding like the Cavs are, Summer League is your time to get overly excited about your young prospects, but with those guys out someone had to step up and pick up the slack. That man was Dylan Windler, who you may remember from those Belmont teams. Kid can shoot, and last night was a great showcase for him
An efficient 57%, 3 3PM, couple steals, overall a pretty impressive NBA debut. The Cavs certainly need all the shooting they can get and everyone knows the thing to do here is to immediately overreact to one Summer League game and declare that Windler can fill that role. This game was actually pretty competitive halfway through, but then SA settled in and that was that. A total of 13 lead changes and 5 ties, this was you classic ugly but awesome Summer League performance.
On the Spurs side there was a lot to be excited about as well. First was the play of Lonnie Walker IV, who you may remember was a first round pick that the Spurs lost last year to injury. He looked pretty damn good
And it was a reminder that with him and Dejounte Murray coming back this Spurs backcourt could really be something as they get more experience. His 20 points came on an efficient 8-12 shooting and he had that look of a guy that may be a little too good for Summer League but nobody has really seen him play so he has to pariticipate.
It was also a chance for Spurs fan to see their own prized Luka, who made his NBA debut and of course looks like he's going to be another 10 year solid Spur because of course
Credit the Spurs for holding on despite their 22 TOs, and if that doesn't sum up Summer League play I don't know what does.
Miami Heat (1-0) 106 vs Los Angeles Lakers (0-1) 79
Look, the Lakers are about to form a superteam with Kawhi/LeBron/AD, so enjoy the losses while you can. So the Lakers getting stomped by nearly 30 will certainly do the trick for me, and probably every other Laker hater out there. There was nobody of substance on their roster that you would even have any idea existed, so let's instead just focus on MIA.
Summer League is fun because we see teams go out and try some wacky stuff from time to time. Sort of like what the Heat did with their lottery pick Tyler Herro. Known as a shooter they had him running the offense a lot as a point guard which is a nice little wrinkle, and frankly he came as advertised
Between him and Duncan Robinson who you may remember from Michigan who can also shoot the shit out of the ball, the Heat Summer League team I feel like is going to be the Summer Splash Brothers of California
I feel like these two are going to have a decent amount of fun in MIA since that roster needs shooting as well, their goal is simply to make sure Jimmy Butler doesn't hate their guts.
Also, did you know Alonzo Mourning, Heat legend, has a son on this team? You do now!
Pat Riley knows what he's doing man. Bring in the kid of a legend for some good juju and next thing you know maybe you sneak in as a 7 seed this year. That bastard is always one step ahead.
Memphis Grizzlies (1-0) 85 vs Utah Jazz (0-1) 68
You want ugly Summer League basketball, this one will do it for ya. Both teams shot under 43%, both had at least 19 TOs, the Jazz shot 4-24 from three, and 46% from the FT line. This shit was rough, but that's why we love this time of year. Million dollar moves with 10 cent finishes is the name of the game and this game fit that perfectly.
I will say though, despite all the dogshit there was the great performance from Yuta Watanabe who dropped a cool 20/9
and then Julian Washburn matched it with a nice 20 points on 7-10 shooting of his own
Both of these dudes play in the G-League and this is not the first time Yuta has shown flashes during the summer. He had some good success last season as well, and I say if you're the Grizzlies just give this dude a chance. You don't need to focus on winning, you should focus on keeping that high lottery pick.
For the Jazz, Tony Bradley who I feel like is playing his 10th season in the Summer League had a nice little 14/15, and seeing as how they just lost Derrick Favors, maybe he's finally going to get a shot.
In one of the most impressive things I've ever seen, Miye Oni (a real person I promise), somehow managed to be a -32 in his 26 minutes. In Summer League. How is that even possible? No idea, but that's what makes this time of year so awesome, you very well may see something you've never seen before and I don't think I've ever seen that before.
Golden State Warriors (0-1) 77 vs Sacramento Kings (1-0)
Damn, the dynasty really is falling apart in GS isn't it. As you know, there's really only one reason to watch the Warriors during Summer League and that's for motherfucking Jimmer Time baby
This was the team Jimmer was born to play on, and with some opportunity suddenly presenting itself I need him on the full time roster playing next to Steph just jacking up 10 threes a game. Get nuts with it and give Jimmer the green light he so desperately needs.
They also got the NBA debut of Jordan Poole who struggled going 3-12, so per Summer League rules we now must declare he sucks
but at least they found their point guard of the future in Jacon Evans, he looked great
You just hate to see the Warriors only score 9 points in the second quarter, that was the kiss of death for them in what was a pretty competitive game with 9 lead changes. But when both teams are shooting like 41/22%, that doesn't mean it was pretty.
For the Kings they were led by a beastly 22/12 from Wenyen Gabriel
and also have to be fairly impressed with what they saw from their rookie Kyle Guy in his NBA debut. Nothing crazy, just a solid, efficient 23 minutes
It was a little disappointing to see Caleb Swanigan look pretty average, but then again SAC just signed like 50 PFs this offseason so I'm not sure it even matters.
And that's it! You're now all caught up with everything that happened last night in the NBA. As expected, some close games and some absolute blowouts which is usually how Summer League goes. The basketball is ugly but at this point in the calendar we certainly cannot complain because it is better than nothing. Hopefully this blog helped those stuck in the cubes just counting down the days until break, see you again tomorrow!