Lil Nas X Comes Out As Gay On The Last Day Of World Pride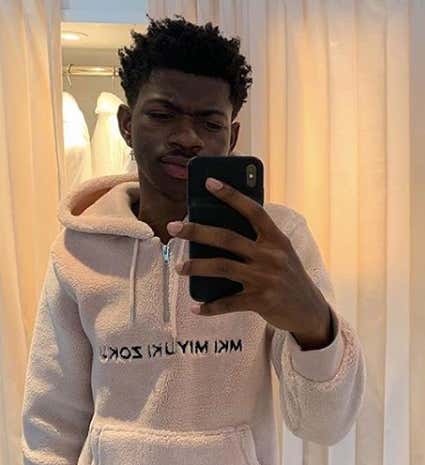 Source - Lil Nas X thought he had made it obvious. But if fans needed more clarity about the "Old Town Road" rapper's sexuality, he gave it to them on Sunday during the final hours of Pride month. In a tweet, Lil Nas X, 20, pointed to the lyrics of "c7osure," a song on his debut EP, as confirmation that he's gay.
In the song's lyrics, Lil Nas X sings, "Ain't no more actin', man that forecast say I should just let me grow." Later he says, "This is what I gotta do, can't be regrettin' when I'm old."
A few hours later, Lil Nas X posted the album art for his eight-song EP, called "7," on Twitter. It features Lil Nas X in his cowboy gear, riding a horse and looking out on a skyline bright with rainbow lights.
Lil Nas X's coming out on social media feels fitting, as he built his fame as an amateur meme maker, using his internet savvy to help make "Old Town Road" into a cultural phenomenon. The song, which he calls a "country-trap" hybrid, took off as the soundtrack to a dance challenge on the social network Tik Tok, quickly turning into a viral meme. It's now entering its 13th week at the top of the Billboard Hot 100 singles chart.
I'm writing my World Pride recap blog right now, but I wanted to address this first because it's all over the internet. Apparently, Lil Nas X is gay. Did I see it coming?  Absolutely not, but I'm thrilled he's now offically part of the tribe. We haven't had a gay cowboy since the Village People. I know it's less and less of a risk these days, but it still takes major balls for someone whose carer trajectory is so uncertain to tell the world that they're gay. So congrats to Lil Nas X on coming out. Having said that, I was a little annoyed (and drunk) last night when he tweeted his album art with the caption "dead ass thought I made it obvious" because he didn't.
What would've made 'it' obvious is if you said the words "I'm gay" instead of highlighting a barely visible rainbow on a distant building in the background of your album art. Believe me, I know it's scary and once you do it there's no turning back, but sometimes you just have to rip the band aid say it. Just my opinion.
Regardless, it'll be interesting to see how he's received over the next few months. Depending on how he plays his cards he'll either end up a "famous gay person" or a "famous artist who happens to be gay." Either way, his coming out is a pretty cool button on what was already an insane pride. Welcome aboard, Montero.