You'll Never Believe The Latest Team To Be In On Carmelo Anthony
(Yahoo Sports) – Carmelo Anthony just finished up a season in which he lasted less than a month with the Houston Rockets before the team decided to part ways, then was traded to the Chicago Bulls, where he was soon waived. A free agent in February, he never found another team.
The 35-year-old averaged 13.4 points per game on 40.5 percent shooting in just 10 games last season. He had some interest from the Lakers when he was a free agent later in the season, but that went away when the team was eliminated from the playoffs. Now in the offseason, the Lakers reportedly still might be interested.
According to Ian Begley of SNY, the consensus among NBA executives is that Anthony will be suiting up alongside James next season:
Let's get this out of the way at the top: things can always change, but most executives monitoring Anthony's free agency see the Lakers as the most likely destination for the 10-time All Star.
Assuming the Lakers aren't looking for anything in Anthony beyond a deep bench player that can occasionally score in isolation and make open shots, that might be a worthwhile fit.
Anthony is well-known as one of James' best friends in the league, and playing for the NBA's newest contender alongside a friend in Los Angeles could be an attractive idea for the veteran.
It's always a weird feeling when your jokes start to become reality. Just nine days ago we were blessed with this video of Melo working out as soon as it became clear the Lakers had open spots to fill
Like any person with a brain it was pretty easy to put two and two together, so I wrote this blog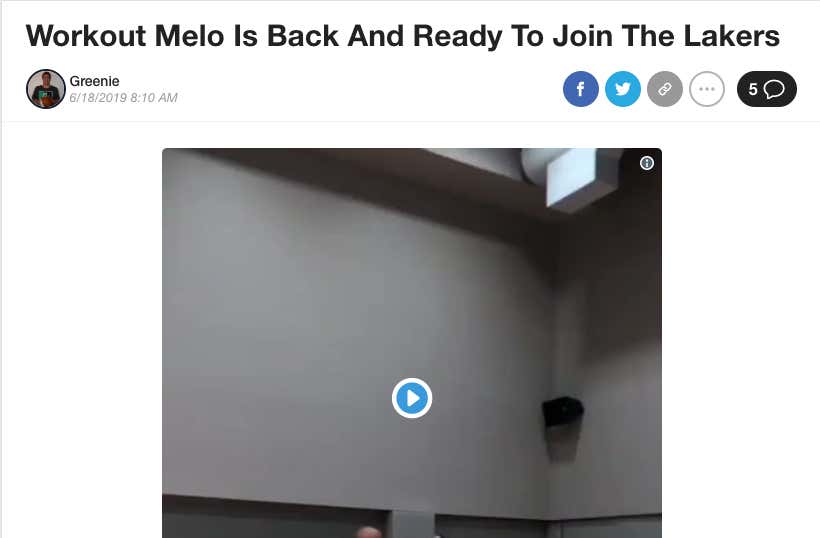 and look where we are now. There's a real possibility of this disaster actually happening and I have never rooted for anything harder in my life. This is why you should never clown on Melo when he makes these workout videos, they work! Rob Pelinka saw Melo making threes, looked at his roster and saw that he has almost no three point shooters and boom we have Laker Melo. I said all last year that Melo should have just made this move once he got released by the Rockets, that at this point in his HOF career he should just call in a few banana boat favors and it now seems like that's actually what might happen.
We're now approaching my favorite part of the Melo rumor cycle. Now that this idea may have legs, Lakers fans everywhere are going to start to do the mental gymnastics needed to convince themselves that Melo still has basketball left in the tank. They aren't alone, OKC fans did it, then HOU fans did it last year, you see the name and you see these videos and you start to talk yourself into it. That his real problem isn't that he's washed, it's just the situation wasn't right.
"Think of all the open threes Melo will have if you surround him with LeBron and AD!"
sounds a lot like
"Think of all the open threes Melo will have if you surround him with Westbrook and Paul George!" 
or
"Think of all the open threes Melo will have if you surround him with Chris Paul and James Harden!"
Then you start to look up his shooting splits from different areas, basically anything you can find that helps convince you this is a good idea. Well the thing is, it's not. It won't work how your biased brain wants it to, we have the sample size. Melo will go down as one of the best isolation scorers in league history and is a surefire Hall Of Fame player, but those days are over.
There are also rumors that LeBron may bring in his buddy JR Smith too and honestly I need that to happen as well. Let's just get this out of the way now and let LeBron bring in all his friends because no other NBA team will want them. Everyone knows GM LeBron always works out, and as someone who thoroughly enjoyed all the Lakers drama last season, I need to see what happens when they are playing Melo in big spots and he refuses to pass it to either LeBron or AD and just tries to relive his glory days.
NBA fans deserve this. Please lord let this actually happen.