It Sounds Like Rob Pelinka Had No Idea What He Was Doing When He Traded For Anthony Davis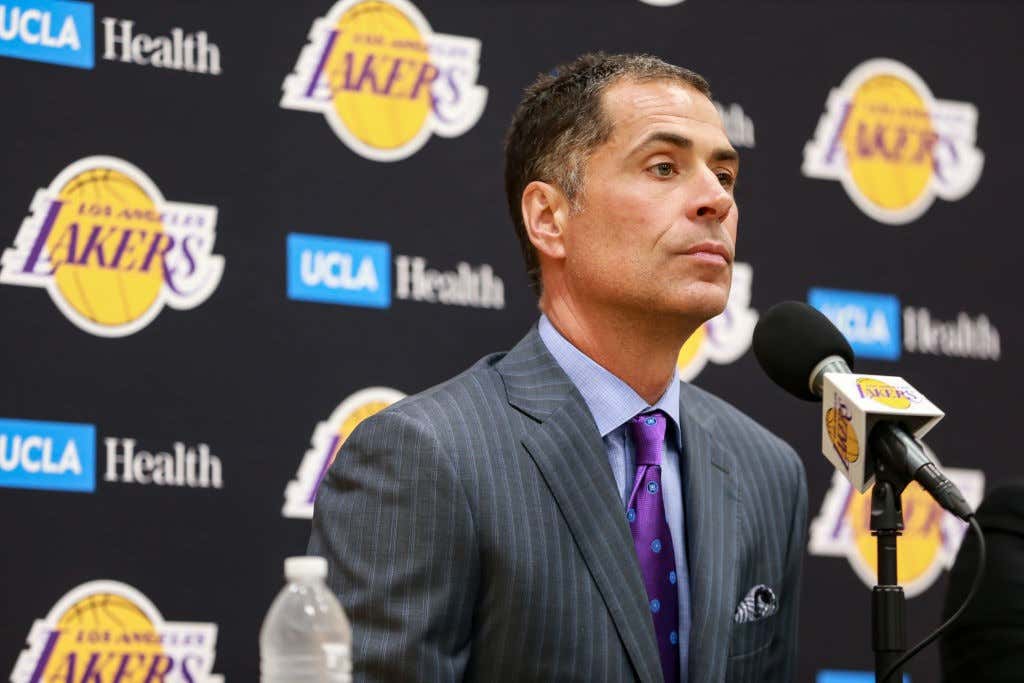 (Yahoo Sports) – According to ESPN's Ramona Shelburne, the Lakers did not realize an accounting error that left them without max cap space until after they agreed to their trade with the New Orleans Pelicans, and then called back in an attempt to rectify the mistake.
As it stands now, the Pelicans have not relented. And why would they when doing so would hinder their own ability to build a competitive roster over the next month?
You see, the Lakers could have created $32.5 million in cap space — enough to sign a player with 7-9 years of NBA service to a max deal (i.e., Kemba Walker, Kyrie Irving, Kawhi Leonard, Jimmy Butler, Klay Thompson, etc.) — if they negotiated July 30 as the trade completion date. That way, they could draft the No. 4 pick for New Orleans, sign him to a first-year salary of $8.2 million, wait the requisite 30 days to trade him, and then use his contract to match salaries in an even swap for Davis.
Waiting until July 30 complicates matters for the Pelicans, who would have less cap space of their own with which to pursue free agents. It also impacts their ability to add the No. 4 pick to their summer league roster or shop the pick to a third team.
Instead, the deal is scheduled to be completed when the moratorium is lifted on July 6, reportedly at the Lakers' behest. In that scenario, they will absorb Davis' contract into cap space and be left with $23.7 million to pursue free agents — less than the maximum salary for players of any experience (i.e., D'Angelo Russell).
What's worse: The Lakers could have still created $27.8 million in cap space — enough to pursue a max-level player with up to six years of experience — if they insisted Davis decline a trade kicker that will increase his salary by $4.1 million. Except, according to Bleacher Report's Howard Beck, they never bothered to ask.
First and foremost, the important thing is Pelinka landed Anthony Davis. Let's not lose sight of that small detail. They needed Davis and they did what they had to do to land him. He should get credit for that. But at the same time this whole thing continues to be pretty damn funny. Is it that crazy to think that Pelinka didn't give a shit about the small intricate details of this trade as long as he landed a 26 year old Top 5 player? I don't think so, despite it sort of being his job to be aware of every scenario and implication of a franchise altering trade. The whole thing has caused a bit of a scramble out in LA
and now they need help from some other team in order to rectify this blunder. You have to wonder how many teams are lining up to help the Lakers land another star. It's just bizarre to me that they didn't even ask Rich Paul if Davis would waive his trade kicker, and also didn't even consider the timing issue with this whole thing. Again at the end of the day they still paired AD with LeBron and even if they have to deal with only $20M+ in cap space they can still add supportive pieces, but if this all doesn't work out and there is no third star, how does Pelinka explain that? If their whole big idea was AD and another major piece how can you just straight up ignore every rule that would make that move possible? It's not just Pelinka, but what about any other basketball operations person for the Lakers. Was Magic Johnson the only one who knew of this stuff and because he hates Pelinka he refused to tell him?
Now of course, if history tells us anything someone will step up and help the Lakers out here and ultimately they'll probably find a way to get that max money, but it is pretty great that a trade which is largely considered as the biggest haul for a star in NBA history didn't have every small detail ironed out and it could potentially bite them in the ass. I would have paid a large sum of money to see the look on Rob Pelinka's face when someone finally explained this to him, it probably looked like this