The Mick Man's Last Minute Celtics Mock Draft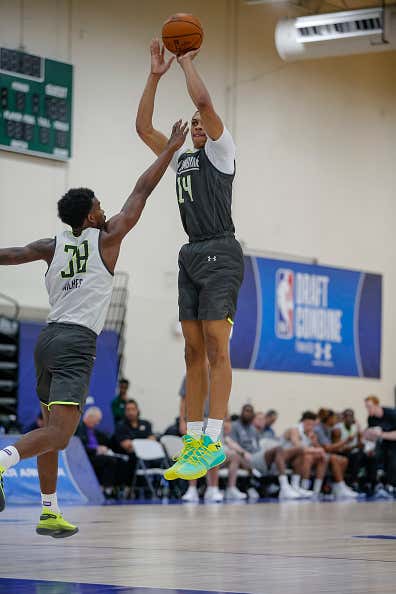 I'll be honest, I didn't give a fuck about these draft picks up until yesterday. Mostly because yesterday I was a fan of a psuedo contender and not a middling rebuilding squad with a very solid young core. But sadly for me, we live in today and not yesterday. So now I give a fuck about these draft picks. A big fuck. Because they matter all of a sudden. Which again, I don't much care for, but it's the harsh reality of today.
So, after boning up on these three picks, here are the players Ainge should be targeting now that his job just became slightly harder than it needed to be.
14th Pick: A good player
Have to, and I mean HAVE to, take a good player at 14. While they're a drop off between Zion and the rest of this class, there are still plenty of talented players who can fill a need and a role for this team. So there's no reason to punt 14.
Brandon Clarke, PF, Gonzaga – Owner of the second highest PER in NCAA History behind the one and only Zion Williamson. You have to wonder why he isn't going second overall in this Draft. Riddle me that, nerds. Oh yeah, he's old as hell and not exactly an offensive powerhouse. Which is peculiar since he's coming from Gonzaga, a school known for being only an offensive powerhouse.
Tyler Herro, SG, Kentucky – The Celtics now have to replace approximately 40 points just from losing Al Horford and Kyrie Irving. Tyler Herro can get points in bunches. That's just what he does.
P.J. Washington, PF/C, Kentucky – Tremendous head of hair. Instantly ups our squad in terms of cool factor. Plus, PJ's just a workhorse. Improved every year of his college career. Played in the Tournament this year despite being very injured. And he went to Kentucky. There's plenty to love with P.J.
Nickeil Alexander-Walker, Combo Guard, Virginia Tech – Cousin of Shai Gilgeous-Alexander, who was an excellent rookie for the Clippers this year. Ainge loves combo guards. Surprisingly enough he has plenty of openings on his roster for combo guards. Him selecting anywhere from 1 to 4 combo guards in this Draft should surprise exactly no one.
20th Pick: Swing for the fucking fences (or trade up)
The beauty of having three picks 14 or later is that as long as you hit on one of them it looks like you crushed the draft. So with this pick Ainge can absolutely take whoever his heart desires. And he should. Conversely, with reports that some teams in the top 10 are looking to trade out or down, Ainge also has the luxury of packaging together some of his picks and potentially moving up to get his guy. So, instead of writing about that elsewhere, let's jam that into here.
Darius Bazley, Forward, New Balance – We're at the point where I'm honestly considering throwing out everything I've said and taking the Syracuse de-commit at 14. Mostly because fuck it, why not? They can't hurt me anymore than they already have. Why not take a kid we haven't seen play basketball since he was in high school? He's already made a million dollars simply by bucking college and taking an "internship" with New Balance. Which tells me this is a kid with a strong head on his shoulders. Why go to college in upstate New York and play zone when you could literally just cash checks and lift? Plus, he can do shit like this:
Bol Bol, Center, Oregon – Bol Bol is like if Thon Maker went to college. He's tall as fuck and can shoot threes off the dribble. He also doesn't move like a baby deer despite being built like a really tall spider. He's far too thin to play NBA defense at this stage of his life, and he missed the majority of his freshman year with an injury, so there are plenty of knocks to Bol Bol. If there weren't knocks, well, he'd go like second or some shit. This is the textbook definition of a swing for the fences pick that is more likely to not work than pan out. But again, fuck it, why not?
Darius Garland, PG, Vanderbilt – This would fall under the "trade up" portion of this section. Ever since it became more apparent that Kyrie is super gone Darius Garland's name has been loosely tied to the Celtics. Which I believe to be smoke and nothing more. But even though I believe it to be smoke, that smoke makes sense. He's a scoring lead guard who barely had a college career due to an injury. Where have we heard that story before?
Kevin Porter Jr., Wing, USC – Kevin Porter, Jr. is a fascinating prospect for a few reasons. For starters, his name is fire. Very strong name is always going to give you a leg up on the competition. Secondly: he shot 41% from three and 51% from the free throw line. Typically you'd like to see a substantially larger gap between those numbers, but alas, KPJ does not care. He's also apparently never once been taught defense at any point of his life which is fun.
Cam Reddish, Wing, Duke – Atlanta's been very publicly shopping their picks in the top 10 ever since the lottery ended. I haven't heard a single word about Cam Reddish and the Celtics. Not a one. But if Atlanta really doesn't want to take anyone at eight, the pick is cheap, and the third rated prospect coming out of high school is just sitting there, you could do a lot worse than the best empty gym shooter in the world. Will this happen? Absolutely not. Should it happen? Also, no.
22nd Pick: A guy who does a thing
Doesn't need to be a star, doesn't need to be a project, just get a playable NBA player and hope to build other skills along the way.
Matisse Thybulle, Wing, Washington – The PAC-12 DPOY could cause havoc next to Marcus Smart.
Grant Williams, Semi Workout Partner, Tennessee – Grant Williams is strong as hell and has the official Riffs Man endorsement. There's really nothing more to say.
Keldon Johnson, Wing, Kentucky – Went to Kentucky. That's the thing he does. He went to Kentucky.
Ty Jerome, PG, Virginia – A man who has experienced the highs of winning it all and the lows of being the first team to ever lose to a 16-seed. We need to try and bring some of that mojo of not sucking ass to Boston.
Carsen Edwards, PG, Purdue – The dude can and will shoot from everywhere. I don't even care if this pick misses, just see if he can get a shot off at the next level. If he can I could see it working out pretty well.
Second Round Pick
Jordan Bone, PG, Tennessee – Jordan Bone is part of the exclusive "brought back in for multiple workouts with the Celtics." Ainge, like a lot of GMs, tends to select from this pool. Jordan Bone is a point guard who played in the SEC and has been on Ainge's radar all throughout the Draft process. There are plenty of other prospects who fit this narrative as well, but they'll either be long gone by this point or I simply do not care about them. Based on logical fit and fire name, I have decided that Bone is the man.
If I'm Ainge I'm taking Bazley, one of the three Kentucky guys, and either Grant Williams or Matisse Thybulle. I don't even care in which order. I'm wildly intrigued with everyone I touched on above, so it would be hard to be upset with any combination of those guys.
What's actually going to happen? Ainge is going to use one pick on a player, trade the other for a future asset or cheap bench player, select a draft-and-stash foreign guy we'll never hear from again but hype up to levels no human could ever reach, and then take Jordan Bone in the second round. And all of this was time I could have been spent doing better things with my life.