The Official MLB Round Up Blog
Pretty Crazy to think it's already been 5 years since losing Tony Gwynn so let's start with a couple Holy Fucks from my v. good friend Ryan:
Baseball's as good now as it's ever been, but a part of me will always be nostalgic for the days when Real Men like Tony Gwynn tried to take the pitcher's head off 9/10 swings and Nolan Ryan could throw 235 pitches in a single game without an Outside The Lines investigation.
But like I said Baseball's as good now as ever and I don't see that trending down any time soon provided MLB gets their social media policy out of the fucking garbage disposal this offseason and cleans it up. Everyone loses when no one's free. Don't forget that.
Cup Check Standings Check
American League
American League Observations
– Toronto and Baltimore are a combined 40 games out of 1st place.
– The Tigers and Royals are a combined 45.5 games out of 1st place
– The Rays are the only thing standing between complete and utter blowouts by the All Star Game
– The Reds Sox picked up 1.5 games in the AL East so maybe I'm speaking too soon
– The Astros went 4-2 this week picked up zero ground
National League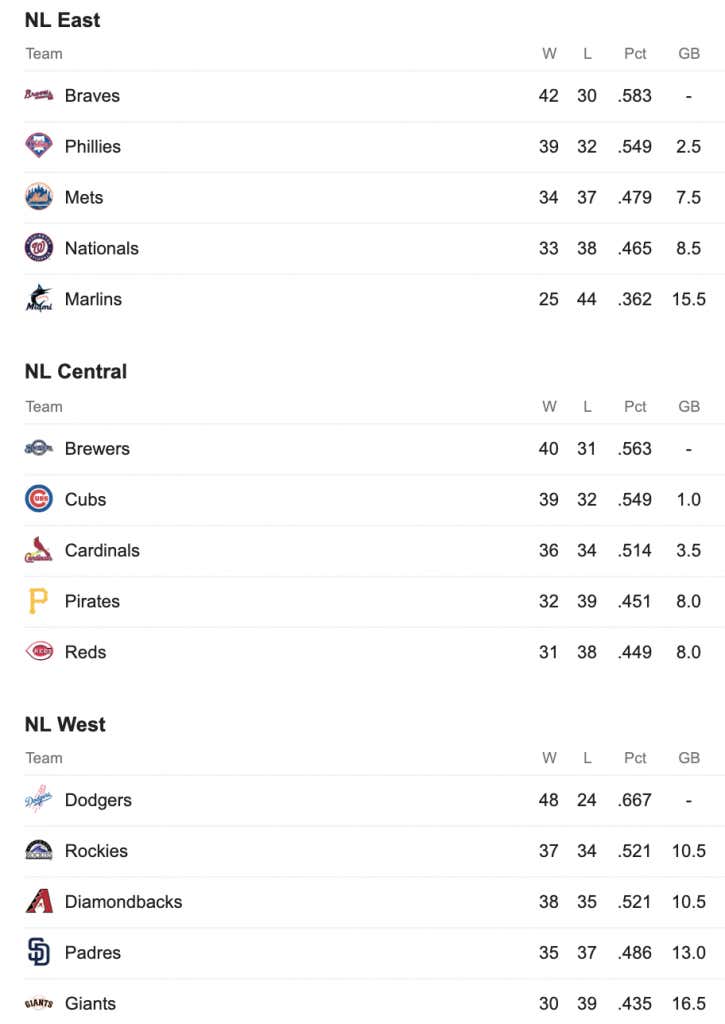 National League Observations
– The Bryce Harper contract grows funnier by the weekly round up Blog
– NL Central remains the most competitive division in MLB
– The Rockies are much better than the record indicates – a division title now and indefinitely seems virtually impossible
– None of the NL divisions come close to the gaps in the AL East and Central
– The NL is top to bottom a more balanced division but the AL has more fire power at the top so call it a Wash
Wash
RECAP
I'm on my way to interview Lucas Giolito as I type this so you'll have to excuse me for not going through the weekend series-by-series this week but rather power ranking the most notable moments from the weekend starting with this screaming 56mph exit velocity.
And followed by a classic FAT GUY STRETCH: The Rays had a tough week going 3-4 for the first time in almost 2 months. But on the bright side we got a fat guy doing the splits and that will never Not be hilarious
Also hilarious is when a guy who's on par to finish -3.0 WAR (yes, several negative WARs) goes bananas and hits for the cycle. Big Theme here always is baseball is such a strange game.
Yes you've heard of Yordan Alvarez becuase we've talked about him before and more specifically how it seems the Astros will never run out of top prospects. All this dude has done since coming up is mash baseballs.
This one was crazy because an F-16 broke Mach 1 right as he made contact. Crazy that the camera microphones picked up on it
Speaking of Astros depth, look at Alex Bregman at shortstop
Reminds me of another sweet infielder that "Balls Out" at shortstop
More Ballin Out, Broseidon
And while we're all balling out, get familiar with HJR from the Dodgers
He's like a re-packaged version of Fernando Valenzuela minus the screwball plus the fastaball command and deception. It's weird watching 90mph absolutely CARVE but that goes back to the things I'm always preaching about: fastball command, pitching inside, changing speeds and not throwing dick high fastballs behind in the count. He's so damn good and then by the time you remember that, you've already forgotten that he pitches inbetween Kershaw and Buehler and Rich Hill.
No fucking thanks against him at Dodger Stadium come October. That's bad bad news.
And this is a Bad Mama Jamma throw
94mph from right field usually gets the job done. Imagine if Miguel Carbera was running, You can LOL
Fun fact though – Miguel Cabrera may never slide again in his career. I'm convinced no one has to wash his uniform.
This minor league pitcher though?
He'll be cleaning his shorts for awhile after the dump he took Friday night. Goddamn what a mammo blast. I say every year we should send the best MLB players down to the minors on a barn storming tour like it's fuckin 1906 and the guys need a couple extra bucks in the offseason. Except the difference hre is to spotlight and showcase all the great and wonderful things Small Town America brings to minor league baseball. And then selfishly it would also be interesting to see just how far the ball can travel.
Answer: very far.
Answer #2: The Braves are en Fuego
15-1 drubbing after losing a 1 run game in a rubber match against the division rival is one of the funniest ass kickings you will ever see. Like have some goddamn pride Philly you're in the middle of a race. 6-10 over the last 2.5 weeks isn't going to cut it.
In other news, the Cardinals are 5-2 since getting swept by the Cubs last weekend. And because they're my arch rival, here's a highlight of career .164 hitter Steven Matz taking Cardinals reliever Tyler Webb deep.
As well as Pete Alonso hitting one off England
To be fair, Paul DeJong had himself a weekend. The 4th rounder from ILLINOIS STATE UNIVERSITY went 7-17 with 3 bombs
Also, from his College Bio regarding his time at Antioch High School:
DeJong graduated cum laude, named the science department's "most outstanding student," named the senior class' "most outstanding boy," and was a member of the National Honor Roll.
Where do the Cardinals find these losers? And why did they let their young thumpers Adams and Voit walk? All these guys do is mash baseballs and the Cardinals pretty much gave them away for a bag of condoms and a package of vienna beef franks.
The Yankees split with the White Sox after dropping the first 2 games on Thursday/Friday. One of those games was started by Lucas Giolito who is fucking DOMINATING major league hitters right now to the tune of 10 wins, 2.22 ERA and MLB leading ERA+ 207 behind some beautifully clean mechanics
And if that doesn't make you give a fuck about the White Sox, meet Eloy Jimenez and his 500 foot dongs
But not as sweet as a 3 RUN WALKOFF BOMB
INSIDE THE PARK BOMB
Vs. hitting for the cycle. Which one is more impressive? The fastest time around the bases of the year from Ian Desmond one week after logging the farthest home run of the year. Ian Desmond may not be consistent or very good (generally) but those are jaw dropping feats of baseball athleticism you don't see a lot of places
Nor do you see a lot of comebacks down 11-4 after 7 innings
And you never see enough of Mike Trout and puppies
Elsewhere, Chris Sale is back to murdering people
While the grandson of another Red Sox legend is making game winning catches for the giants
Don't look now but they're super hot
They've got 4 games starting tonight in LAD and I fully expect the Giants to lose all 4 by an average score of 7-10 runs. The Dodgers look so good right now. Just so so good. Like the complete opposite of Derek Dietrich on Saturday
HARDO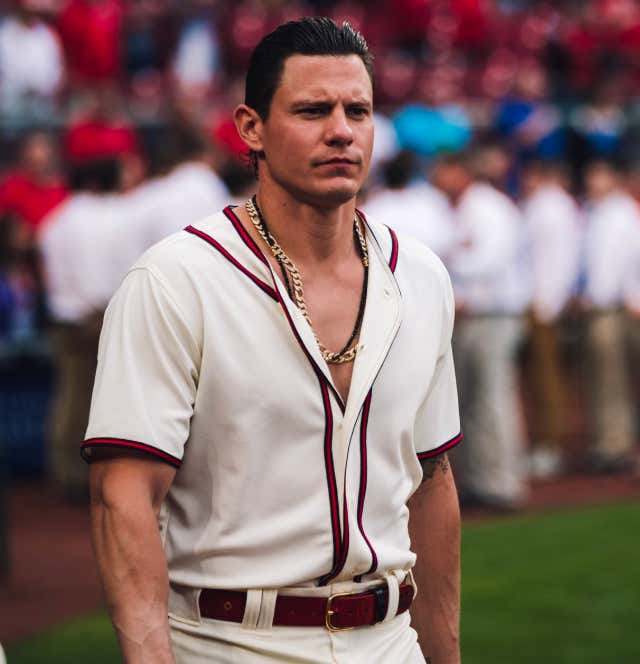 He's such a toolshed I don't even know where to start. If you're going to act like DD I recommend you play like Nolan
And while on topic I swear on my life the Rockies play some of the coolest games in the world at Coords Field
65 runs in 7 home games is hilarious so at this point let's pivot and throw some awesome plays in the meat grinder so I can get to this Lucas Giolito interview. Rumor has it we're about to get reallllyyyyy fuckin deep on changeup grips and 4-seam fastball usage trends.
PLAYS
Sorry if I missed your favorite team. Nice thing is there's always next week. That's how this game works.