The Baltimore Orioles Played The Boston Red Sox And It Did Not Go Well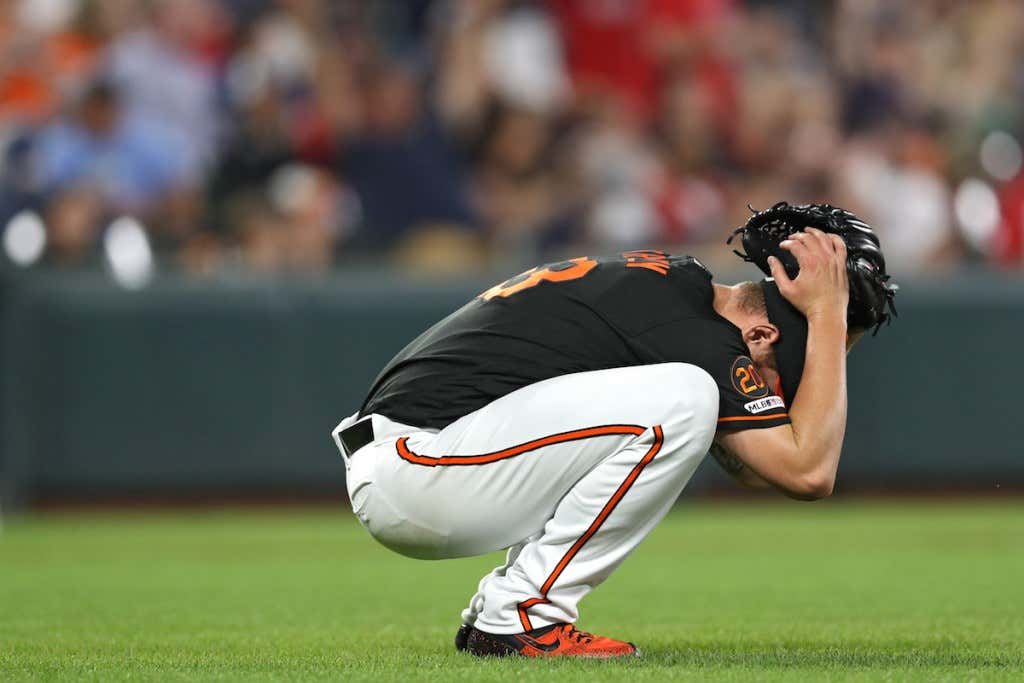 Listen, I know what you're thinking and I'm gonna need you to hold that thought.
I'm not about to brag about the Red Sox performance against the Orioles last night. Won't do it. They're on a record pace for allowing home runs. I'm just not sure if they've allowed six home runs in a game to any other team, but that's beside the point. They're the Orioles. The worst team in baseball, who can't get out of their own way. However, as an unbiased national baseball journalist, I do have to report the facts. They are as followed.
The Red Sox scored 13 runs on 16 hits. Six of those hits went over the face, and JD Martinez hit two of them. Jackie Bradley Jr., who everyone idiotically mocks me for saying is red hot, hit one of the longest home runs of the season. Michael Chavis now has back-to-back games with a home run, so my advice to not let him get hot was arrogantly ignored. Brock Holt even homered, his first long ball since he hit for the cycle in a 16-1 victory for the Red Sox over the Yankees in last year's ALDS. Christian Vazquez went deep, as he continues to expand his career high in dingers to eight. Vazquez's OPS is up to .806, which is higher than Manny Machado's (.784) for anybody keeping score at home.
Back to Bradley for a second — since May 20, the Red Sox centerfielder is hitting .316 with an 1.109 OPS. His batting average trails only Xander Bogaerts for the team lead (.323) and his OPS is third in the American League, seventh in the majors over that span. If you want to deal in reality for a second, then I will oblige. Bradley is usually good for a red hot month once a year and then everything outside of that kind of is what it is. But he has been working with JD Martinez, so perhaps this could be a situation of a fixed swing versus just a hot month. We shall see.
Eduardo Rodriguez's start will get lost in the shuffle once again, because A.) it was against the Orioles, and B.) the Red Sox scored 13 runs and hit six homers. Regardless, the lefty held the O's to one run over seven innings, striking out four without walking a batter. My two takeaways from Rodriguez's start would first be that he came back out for the seventh at 100 pitches and got the Orioles in order to finish his night at 114 pitches. Like that a lot. Also, the zero walks. Love that a lot.
In the middle game today, it's Chris Sale versus Dylan Bundy. Over his last 10 starts, Sale has a 2.17 ERA with 106 strikeouts in 66.1 innings. The last time Sale faced the O's, he damn near killed them, striking out 14 batters in eight innings of one-run ball. Bundy loves giving up the long ball, but he's been pretty good since the start of May with a 3.02 ERA and 36 strikeouts in 41.2 innings.
The Yankees lost again last night. Since the Red Sox beat the Yankees on Sunday Night Baseball on June 2, New York has lost 8 of their last 11 games, the worst record in the American League, second worst record in the majors to the Pirates. Boston has climbed back in it again, six games back of the first place Rays with three and a half months to go.
Final score: Red Sox 13, Orioles 2