Are The Blues The Least Talented Team Ever To Win A Stanley Cup?
Not trying to troll or take anything away from the Blues here because it was an incredible run. With Laila, Gloria, YP, and Boris, they would've been a really lovable team if I didn't hate their fucking guts. When you look at their roster though it puts your brain in a pretzel because it's not that impressive on paper. They don't have Ovechkin. They don't have Crosby. They don't have Toews, Kane, Keith, Hossa. They don't have Quick, Doughty, and Kopitar. They've got a roster on paper that doesn't look awful by any stretch, but it would seem more plausible that it'd be where it was on January 3rd than where it ended up on June 12th.
I love that commercial "Spelling"
Messier, Yzerman, Gretzky, Lemiuex, Toews, Clarke, Lidstrom, Orr…Pietrangelo? Tarasenko? It doesn't quite fit. The Blues don't stack up in the name department. Pietrangelo is an AWESOME player. I think he's underrated. He's probably the Blues best and most important player. He's finished in the top 5 in Norris voting twice and the most recent time was 5 years ago. In 20 years when people are like "who won the Cup in 2019?" I think most people are going to react like
But you know what…it doesn't matter. It doesn't matter that it took 5 seconds for Vegas Bookmakers to start disrespecting the Blues by having them with the 6th best odds to win next year
2019-20 Stanley Cup Odds

Tampa Bay Lightning 6-1
Vegas Golden Knights 7-1
Boston Bruins 10-1
Toronto Maple Leafs 10-1
Colorado Avalanche 10-1
St. Louis Blues 14-1
Because like that commercial says at the end "every letter earned" and the Blues earned it. They were a team. A unit. They captured something bigger than them and ran with it. And they believed the whole time. Look at this text from YP on April 10th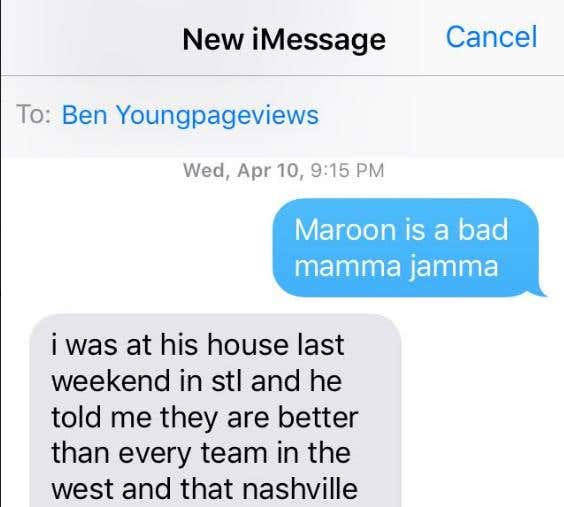 Maroon and the entire team believed. They had just smoked everyone for about 3 months leading into the playoffs and the run never stopped. I wouldn't say I am happy for them, because I am not, but this is now a team that I can properly hate. The Blues-Hawks rivalry never grabbed me like some others. It was a rivalry based on proximity and not much else because the Blues were a loser pathetic franchise who had never won anything and the Hawks were the Hawks, a true blue blood franchise with all the star power and rings. The scales have been tipped and now we can look south down I-55 and be ready for a war next year and beyond because…the Blues aren't going anywhere. Quick look at their capfriendly page…almost everyone who is important to them is locked up at a reasonable number through 2022 and the only guy who isn't is Pietrangelo and they'll have plenty of money to bring him back. The Central now goes through a disgusting, dying, boring, grotesque city along smelliest part of the Mississippi River and I couldn't be more excited.
PS: The Blackhawks are 40-1 to win the Stanley Cup in 2020. Put your bets in now before they sign Dzingel and Hayes, draft Byram, and trade for Murray.