Kilts, A Pool Table, And Luke P's Bullshit: The Bachelorette Recap Week 5
Last night's episode of The Bachelorette picked up right where we left out. Luke P. and Luke S. battling for their one true love, Hannah.
This about sums up their interaction.
Hannah just got up and left the room because she couldn't take the Lukes arguing anymore. Then in a bizarre turn of events, Luke S. just sent himself home right before the rose ceremony. I guess his time was up and went for the whole "break up with her before she breaks up with me" strategy. Chris Harrison also removed a rose from the pile after Luke S. left on his own.
Not shocking at all, Luke P. got the last rose because he's the only guy left that really sucks. ABC wants us to keep hate watching. Amen, Dylan.
Luke getting that rose was truly horrible because it meant that John Paul Jones would be going home. No more scenes of him chugging his champagne or eating chicken nuggets. A real travesty. We did NOT get enough of JPJ on this show so I'm hoping he's in Paradise as we speak.
These guys hate Luke P. so much. I want to feel bad for Luke because he has been totally ostracized by the group….but it's his own damn fault.
Hannah and her men headed to Scotland and I instantly was excited because kilts.
Things continued to be suuuuper awkward with Luke P. and the rest of the guys. No one wants to talk to him. Watching them hang out in that pub was painful. Hannah showed up and told the guys she wasn't really giving her full self to them, but that she is prepared to do so now. Best of all, she asked Mike to head out with her for their one on one date!!
Mike has the best smile. When Hannah asked him to join her, he lit up like a Christmas tree. It was so adorable.
I don't think anyone hates Luke P. as much as Garrett does. Well, maybe Luke S. does but out of the remaining guys it has gotta be Garrett. He talks to Luke P. like he's a little kid and is laying down the law. When Hannah and Mike left together, Garrett totally called Luke out for acting differently when Hannah is around. Jed also come in with another stellar nickname for Luke.
Scotland, lukeness monster, very fitting.
Mike and Hannah went on a great date exploring Scotland. Hannah 100p got drunk tasting whiskey and then ate haggis like a champ. It was hilarious. I don't know what's going to happen between these two but Mike would make an awesome Bachelor. If you agree and want to see that happen, make sure you follow Mike on social media. Followers definitely mean a lot when they cast the bachelor/bachelorette.
These two had a great conversation at their dinner date and Mike secured the rose.
Once the group date was announced, we knew Luke P. was getting the one on one. It made sense, Hannah is confused about him and needs that time to figure it out. Once again, the rest of the men were not happy.
The group date took the rest of the guys out to play traditional Highland games. It also meant kilts! And damn do these guys look good in kilts.
The games were cute to watch, all the guys tried their best, and there were A LOT of black boxes. Apparently the guys didn't feel like wearing underwear under their kilts. Really wanted to get the authentic feel.
Jed conquered the Highland games, Hannah and the guys gathered for the night portion of the date, and BOWW CHICKAA WOW WOWW. Hannah CANNOT keep her hands off these guys. Hey, can't blame her. She has one of the best batches of men since Kaitlyn Bristowe's season. These guys are attractive and actually all seem like good people. Hannah was making out on pool tables, straddling guys, making out on beds, it was fantastic.
First Kevin caught Hannah all over Jed…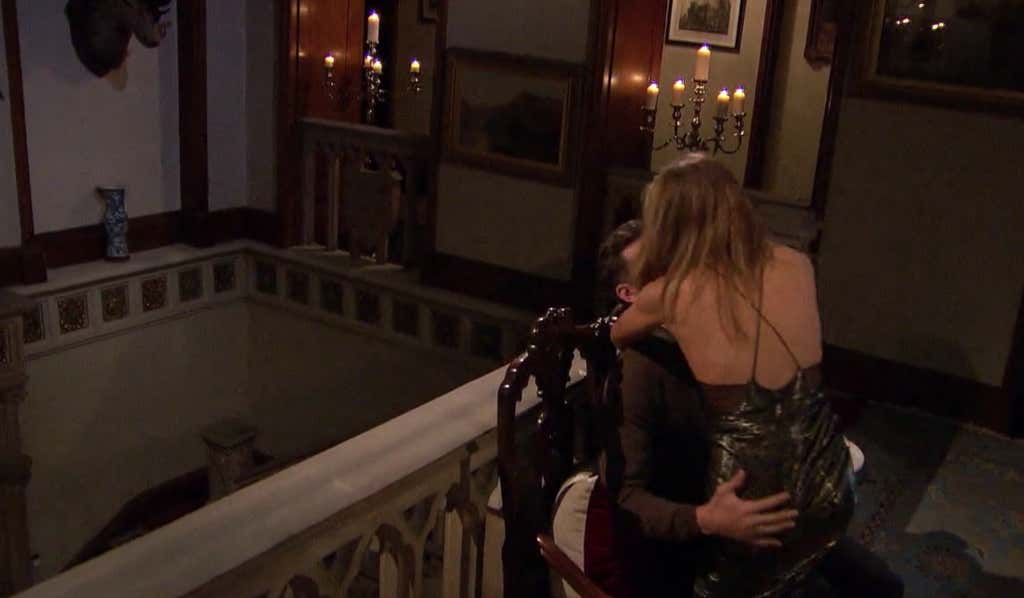 Then Pilot Pete took a swing at things. There was something so wholesome about watching him try to be smooth and sexy getting Hannah on the pool table.
To top it all off, Tyler C. wore his kilt all night long and Hannah was definitely pleased.
This interaction was hilarious. Hannah seriously couldn't help herself. She literally said "come here" to Tyler and then proceeded to throw him back onto the couch. This was me all night long.
Peter and Tyler C. definitely thought they were getting that group date rose after those makeouts…but it went to Jed!
Special shoutout to Connor! It was his night to get the salmon blazer!
Hannah could not stop talking about how amazing the day was, which made her one on one date with Luke P. even more frustrating. She has all these amazing guys and yet she still is wasting time on Luke P. The classic female dilemma.
I ALMOST felt bad for him at this moment. Almost.
Hannah knew she had to get answers out of Luke P. during their one on one date and Luke just sounded like a robot the whole time. It was so bad, Hannah had to ask the producers to go talk to Luke.
All she wanted was for Luke to talk about his normal life and his feelings and for some reason Luke didn't know how to do that. He's just full of weird -isms and talking in circles. Hannah wanted to know why all the guys in the house don't like him, because duh, that is a red flag. Luke came through with the classic "I SWEAR I HAVE FRIENDS THEY LOVE ME." (Our DMs beg to differ) It was like Luke was incapable of just having an actual conversation. It seemed like he was a doll with a pull string, and every time you pull the string a line about "clarity" comes out of the mouth. He said "I just want to give you clarity" a million times and then did not give any clarity.
He also kept smiling like everything was just fine and it was sooooooo annoying.
Even when they sat down for dinner he kept spewing bullshit. Hannah summed it up perfectly in this one line.
Words were coming out of Luke's mouth, but he wasn't actually saying anything at all. Everything he said just made me scrunch my face and sigh at my TV. He was trying to throw blame back at her??? He also had a bullshit line about loving EVEN her flaws. Give me a fucking break, Luke P.
Once Hannah picked up that rose I was yelling for her to send him home. Of course, we got a ridiculous cliff hanger.
"Luke I can't give you this rose–" END EPISODE.
Everyone had a moment to be excited that Luke P. was sent home until we saw the preview for next week. It appears Luke P. is very much still in it since they showed us a shot of him praying in a church. I'm assuming there is an "unless" at the end of Hannah's closing line from the episode.
It also looks like Garrett really messes up as well. If I was a gambling man I would say it definitely has something to do with Luke, especially since Garrett has made it very clear he does not like him. If Garrett ruins his chances with Hannah because of Luke P., I am going to be very, very upset.
To conclude, I will leave you with this.