Brady's Fitness Guru Got a Super Bowl Ring. So Where Does the Pliability War Stand Now?
As we continue to comb through the gigabytes of content coming out of the Patriots ring party, I need to get something straightened out for me. It's not what you're thinking. That's been straight as an arrow since last last night. As a matter of fact, I could stand to see it go down or I'm going to have call the doctor.
No, I have a question about these photos posted by Alex Guerrero, the trainer, massage therapist, co-owner of TB12 Fitness and the Helen who allegedly started the Trojan War between Tom Achilles and Belichick of Troy. Anywhere between a year and 18 months ago, the Trojans and the Spartans were ready to burn each other to the ground and piss on the ashes over where and when Guerrero was allowed to give Tom Brady backrubs and how much medical advice he could dispense to the rest of the Pats roster.
And what I need is for someone to catch me up on where exactly this controversy stands now. Because all I see is Guerrero getting a Super Bowl ring:
Belichick's coaching confidante and rumored heir apparent be ridiculously happy about it:
And Brady and Tedy Bruschi, who Bill Belichick has called "the perfect player" celebrate with him.
Nice way to set a table, by the way. I still keep the plastic Super Bowl LIII logo that came off the top of the football cake we had for the party on my dining room table. I am not joking.
But I digress and there is a bigger issue here.
Seriously, where does this conflict stand? Seth Wickersham? Felger and Mazz? Max Kellerman? Everyone who's been banging this drum that Pliability was the wedge issue that drove this dynasty to a civil war from which it was never going to recover, tell me how you reconcile the fact this guy is getting a ring, welcomed into the inner circle and grabassing everyone like he had six tackles and a pass breakup on defense against the Rams?
What's the new narrative going to be after this? Is it that Belichick lost the power struggle? That he's further emasculated and this is just to further degrade and undermine him? (Like any of this would going on without his say so.) Is all that lingering resentment and bitterness you claimed still present? Because if so, these guys don't deserve rings as much as they deserve Best Actor Oscars: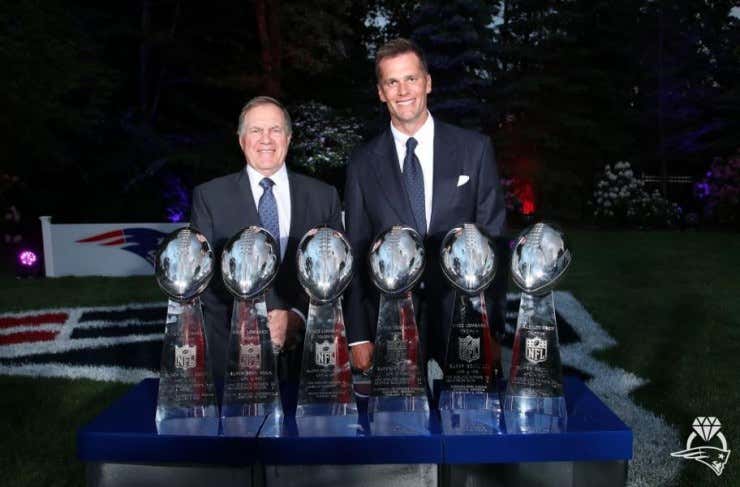 Or better yet, is this another example of how the Pats are violating the salary cap, paying Brady with retail space rental agreements and paying off his business partners with trinkets? That's a good one the haters can play with over the summer as they try to forget they ever said the stuff about The Rift.
Or, could it just possibly be what I said all along, that this is the best organization in sports, built on the solid relationship between its most important men who've been working together to resolve differences for 20 years with no signs of stopping? And here's my 422-diamond, 9.85 carat, 20 sapphire proof I was right all along.
STILL HERE