The Patriots Ring Party Was Dreams Coming True
What do you do when faced with the worst non-call in the championship history of organized sports? Endure, Mr. Wayne. Take it. They'll hate you for it, but that's the point of Batman.
When the universe takes a running start and kicks Boston in the nads with the steel-toed boots of injustice, we handle it the way we have for 19 years: We celebrate. While the Bruins were getting victimized by the Causeway Screwjob, the Patriots were about five miles away as the AirKraft One flies, under a tent in Mr. Kraft's back yard being handed their latest, and most impressive, Super Bowl ring.
Raise your hands if this means you've won an unprecedented – and heretofore unthinkable – six rings:
And if it's even possible to lift your hands above your belt, show us the eight rings you've won as a coach:
It's just surreal. And even though I'm seeing it with my own eyes, hard to process for a kid who grew up when the Patriots were worse than the just the worst team in football. When they were worse than just the laughingstocks of all of professional sports. When they were the worst thing you can be in American culture: Irrelevant.
I look back at the times when my brothers would take me to games as the cheapest, shabbiest, most Section 8 stadium in all of sports because tickets, as they liked to say, were still available. When the half-capacity "crowd" wasn't so much a football fanbase as they were a breakdown of law and order. "The Purge" with goalposts at each end. When the owners were perpetually broke and couldn't even build that concrete toilet seat they called a stadium without selling the naming rights to Schaefer Beer, "The one beer to have when you're havin' more than one," who's slogan should've been "The worst swill that has ever been brewed." When they lost what little money they had on a stupid scheme to get into bed financially with Don King to be the promoters of a Jackson 5 reunion tour. When they were perpetually rumored to be moving to another city and pro football was never, ever going to return. When I look back at all of it, none of this seems even remotely possible.
I was 22 when I saw the Patriots win their first NFL playoff game. (They did win one in the AFL, but who counts that?) My 23-year-old has seen all of these rings be won, starting with the first when I brought him to my buddy's Super Bowl when he was five. If the Multiverse Theory of the cosmos is correct and there are and infinite number of parallel universes existing simultaneously, I can promise you this is the only one in which the New England Patriots have won six rings. Another theory I'm working on is that when Tom Brady got the ball knocked loose in the Tuck Rule game, I fell, hit my head on the wood stove, and knocked myself unconscious. And while I was out cold, Walt Coleman said "The ruling on the field stands," they've never won anything and I've just been dreaming everything that's happened since. If that's the case, give me the blue pill and leave me plugged into this Matrix.
Again, though, this is a time to celebrate. So let's have a look at last night's festivities:
If you're not toasting with Jay-Z's Ace of Spades bubbly, are you truly celebrating?:
The Kraft family backyard is the nation's second largest silver depository, after only Fort Knox. Fact:
Congrats to Brian Hoyer and Danny Etling, who finally have as many rings combined as Aaron Rodgers and Drew Brees:
[h/t @PatriotsSBLIV]
"This is the most beautiful sight these eyes have ever seen…"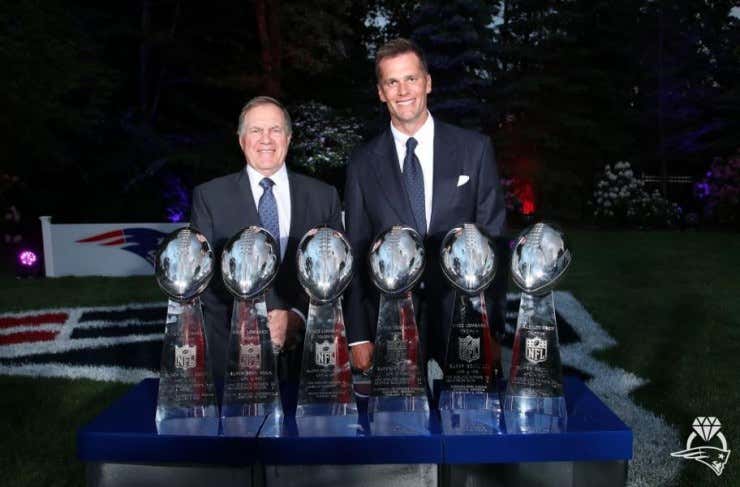 How many players have won three rings in the last five seasons? Try 14. James White, James Develin, Julian Edelman, Rob Gronkowski, Matthew Slater, Marcus Cannon, Dont'a Hightower, Patrick Chung, Nate Ebner, Duron Harmon, Devin McCourty, Ryan Allen, Stephen Gostkowski and Brady.
And for the record, 22 won three from 2001 to 2004:
The dent Gronk put in the Super Bowl LIII Lombardi is the crack in the Liberty Bell. You don't repair it. You leave it there in order to let it tell its story to future generations:
(Note that Belichick's laugh is the sound I'll follow into the tunnel of light when I'm called to my final reward.)
This is the look that says "Sorry, Indy. But not sorry."
Aaron Rodgers still has a lot to answer for when the GOAT is out-chugging his 300 lb center:
The money shot. If you're not crying at least a single, manly tear when the Super Bowl MVP opens his box or the twin with three rings hugs the twin with his first ring, we never be friends.
Six Lombardi trophies. White gold. 422 diamonds totaling 9.85 carats. 20 sapphires representing 20 AFC East titles. 13-3. Uniform numbers in diamonds. "6X." LIII. 16-14-04-03-01. One ring and one organization to rule them all.
STILL HERE.