Blackhawks Hire Stanley Cup Champion Coach Marc Crawford As An Assistant, Also Known As A HUGE Asshole
Two people asked me about this on twitter so that means EVERYONE wants to read my thoughts on a Blackhawks assistant coach hire. Well guys, here is what I know…
1) When he was the coach of the Avs in the 90s he had some SPECTACULAR hair
then the 2000s came along and bit Marc pretty good and he went through an Iceland coach phase while he was in Vancouver
2) He was at the center of the bloodiest and best rivalry of my lifetime between the Avs and Red Wings
And if you look closely at this video you'll see current Blackhawks Hockey Ops members Barry Smith and Scotty Bowman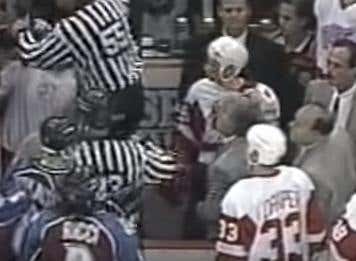 Maybe he took the job to foil House Bowman. I wouldn't mind that. Need a good mole.
And finally…
3) Per Brent Sopel on Spittin Chiclets, Marc Crawford is the meanest guy on Earth
Maybe the thought process here is to have a little "good cop/bad cop" action here with Colliton and Crawford. Crawford will chew your ass out. Tell you that you're a worthless pile of shit who doesn't belong in the NHL, then Colliton will come over, wipe your tears away and tell you that your special, but  maybe you could try something different next time you're on the ice.
But…in reality, none of this is true. I am sure Crawford is a fine person and his son is the video coach. Nice family environment with the Bowmans and the Crawfords now.