Dabo Swinney Agrees to a 10-Year $93 Million Extension at Clemson.....With a Special "Alabama Clause"
Clemson announced Friday that it has agreed to a 10-year, $93 million contract extension with coach Dabo Swinney that will keep him with the Tigers through the 2028 season. The new deal will pay him $8.25 million in 2019, and increase incrementally up to $10 million in 2027 and 2028.
Thatta boy, Dabo!! Secure that bag!! This $93 million extension makes him the highest paid coach in college football history. I mean, shit, $8.25 million next year makes him one of the highest paid coaches in all of sports. My man is going to be dancing all the way to the bank…
Unfortunately, the players are not going to see a penny of this. But how much credit do they really deserve for Dabo's success? It's not the Jimmys and the Joes, it's the X's and the O's. But in all honesty, the Clemson players may not get near a hundred million dollars for this, but they can still keep enjoying seeing their faces and jerseys making everybody else money!!
Regardless, everyone at Clemson is obviously happy that they locked up Dabo for the next 10 years. Well, unless he decides to go on to bigger and better things, which coaches can do without much problem. But I can tell you where that isn't going to be: Alabama. Clemson wrote in a special Alabama clause in which he would owe an extra $2 million should be leave in the next couple of years, and then decreasing down to $500K by 2027.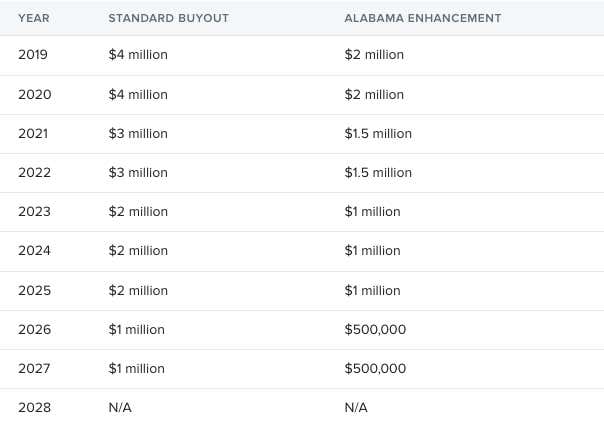 That's funny. You can go anywhere you want for $4 million….or you can go to Alabama for $6 million. The Tigers and Tide seem to play in the playoffs every single year, and Clemson would like to keep him coaching on their sidelines in those games. Especially as it appears right now that Clemson has surpassed Alabama as the team on top of the College Football World….
Should Clemson have another year like they had last year, Dabo is going to be getting PAID. He's got incentives for every big step along the way, totaling damn near a million extra dollars for a championship season.
Incentives include $150,000 for winning the ACC Championship Game, $200,000 for a national semifinal appearance, $200,000 for a national title game appearance and $250,000 for a College Football Playoff National Championship. He will also receive a $50,000 bonus for winning a national coach of the year award.
And as lucrative as it seems to be for him to win, that takes a lot of work. I personally think that Dabo's best plan would be to lose. To absolutely suck. Cause then he gets fired and gets to collect a nice paycheck to sit on his couch all day.
If the school buys Swinney out, it would owe him $50 million in 2019-20, $47.5 million in 2021-22, $45 million in 2023, and 100 percent of the remaining total in years 6-10.
My god. Is there a better job in America than a fired football coach?