SUP DOGS PULLS OFF THE BIGGEST UPSET IN COLLEGIATE BAR COMPETITION HISTORY!!!!!
Between The Jonas Brothers, Priyanka Chopra, and Sophie Turner, Champs had almost 50 million Twitter followers on their side. There was no way they'd lose, right? How could a small bar like Sups in North Carolina beat a powerhouse like Champs? That's what the small-minded man would say. Sup Dogs was David and Champs was Goliath. You know who won that one? That's right, David:
Absolute jubilation in East Carolina!!! What a state!
The Jonas Bros were RATTTTLLLEDDDD!
That's what happens when you celebrate early. Let's not forget after reaching the Final Four, Penn State acted like they won a national championship:
Sup Dogs stayed focus on the goal, the true goal: NATIONAL CHAMPS! Penn State lost to a FAKE state! HA!
SEND IN THE REPORTERS!!!!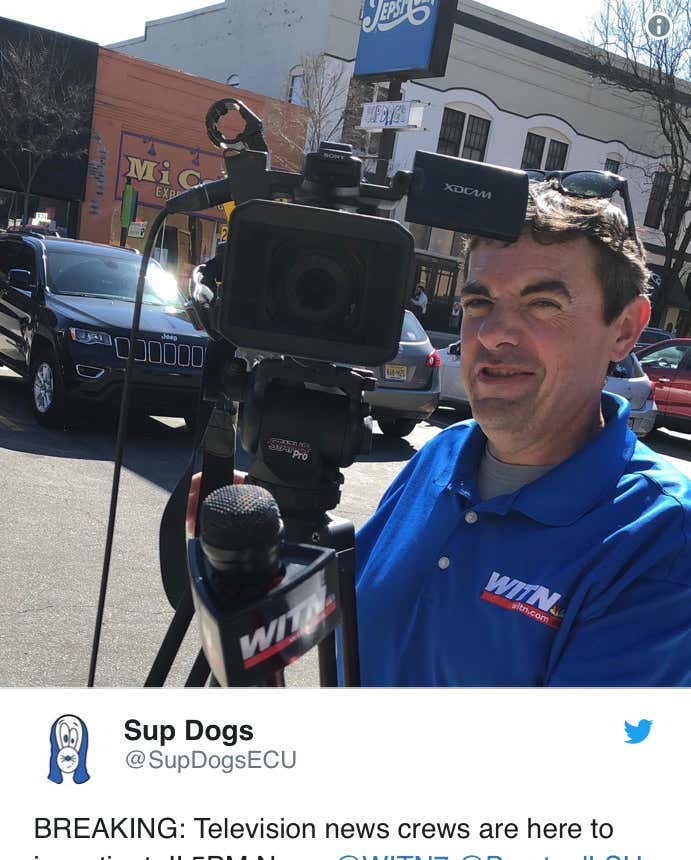 Get the Sup Pups ready!!!
They are National CHAMPS baby! Best college bar in AMERICA!!!
Don't ever let somebody tell you your vote doesn't matter! A margin of 400?! Was Carter Cruises tweet the difference?!?
What a wild ride this competition has been. ECU, the first AAC school to win a national championship since UConn's 2014 basketball title. That's right, UCF, I said it. Their title is more real than yours.
The only thing you can do post national championship win? Take your shirt off and start runnnninnnngggg:
Pretty sure they are throwing Sup Dogs hot dogs at that girl. Fitting.