Barstool's Weekend Soccer Preview – The "Honorary Jozay vs Arsene Tribute Shootout" Edition
I'll be honest, it's gonna be tough for this weekend to live up to the testicle-tingling drama of the midweek Champions League gloriousness, which resulted in big wins for Tottenham and Porto, bigger wins for Ajax and United, and the biggest win of all for people with brains who already recognize that VAR isn't going to be the wonderful savior that some people seem to think.
But we can get back into that discussion at a later date (perhaps early next week when we start fluffing our sportsboners for the other four second legs to be played on Tuesday and Wednesday). In the meantime though THERE ARE LESS THAN 10 GAMES LESS IN THE REGULAR SEASON AND B-HOLES ARE BECOMING INCREASINGLY PUCKERED BECAUSE THIS PUPPY IS GONNA BE CLOSE, REEEEEEEAL CLOSE……
and thankfully we have some pretty gosh dang interesting matchups on deck this weekend, several of which could have massive implications for the title and top four battles, so let's get to getting…
***********************************
ENGLISH PREMIER LEAGUE
Results from last weekend:
***
POWER RANKINGS
TOP 4
1. City
2. Liverpool
3. Tottenham
4. United
Honorable mention: Chelsea, Arsenal, Palace
BOTTOM 3
20. Huddersfield
19. Fulham
18. Cardiff
Dishonorable mention: Burnley, Brighton
***
Table as things stand:
And this weekend's schedule: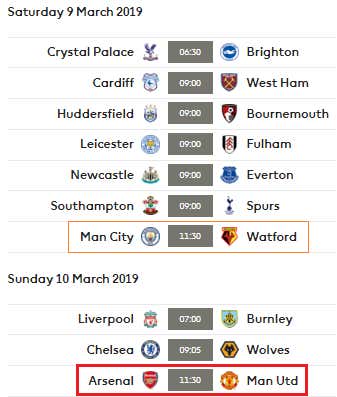 ***
PICKS OF THE WEEKEND
Arsenal [+130]
United [+175]
Draw [+235]
Ahhhhhhhhhhhhhhhhhhhhh, the good old days.
I miss them both so, so much – for various reasons. Sigh. It really wasn't that long ago that Uncle Arsene and Dear Leader Jozay were slowly, painfully strangling the life out of Arsenal
and United, respectively.
Alas, times have changed and both clubs seem like they are at least moving in the right direction. Unai Emery has a good young core to build around this summer (potentially with his old buddy Monchi) while Ole Gunnar injected new life into a team that was going through the motions and – assuming he's given the job full time – will have more money than god to spend this summer to revamp the backline.
Long story short, the two teams come in having playing relatively well, but that statement comes with caveats for both.
United is fresh off a legit incredible win over PSG to advance to the quarterfinals. Nobody thought it was possible – myself very much included – but they managed to score goals ON EVERY SINGLE SHOT THEY TOOK
ripip haters
annnnnnnnnnd got a little fortunate on a last gasp penalty call (thanks VAR!) that Rashford converted to move on.
Arsenal pooped the bed in the Europa League this week but aside from that bobble they played pretty well against Tottenham last weekend and were in pretty good form in the run up to that game as well.
So how will things shake out? The absence of Lucas Torreira who is serving a red card suspension is an important miss for Arsenal, while United have several important guys listed as questionable (eg, Martial and Herrera).
Predictions: (1) this game should be ENTERTAINING as hell… both teams are flawed defensively but can and probably will score on one another. So (2) if I was going to throw money on it I would hammer the (LOCK OF THE WEEK) OVER. Gun to head, though, a small part of my brain is saying "2-2 draw" but a bigger part thinks that may be my unconscious biases talking since that'd be an ideal result for Spurs… so I'm going Arsenal to win 3-2.
Aaron Ramsey has killed, and will (probably) kill again
**
City [-715]
Watford [+1600]
Draw [+740]
City are on a role lately but I think Watford, which has quietly been moving up the table the last couple months, will at least offer a real test. In fact I'm going out on a bit of a limb (aka waaaaaaaaaaaaaaaaaaaaay out) and think the absences of Fernandinho and KDB plus the possibility that City gets caught looking ahead to their critical second leg of Champions League R16 coming up next week… gimme a 1-1 draw.
**
More picks (so I eventually get one right – maybe):
• PALACE vs BRIGHTON – Palace has been so all over the place this season that the fact they are playing well and Brighton is not almost certainly means the Seagulls will pick up an invaluable win just when they need it most to avoid getting dragged into the relegation fight. Rat line makes a lot of sense – too much. Palace to win 2-1.
• CARDIFF vs WEST HAM – Loss of Mo Bamba for the rest of the season is a killer blow for Cardiff, which was already heading in the wrong direction. Marko Arnautovic plus Felipe Anderson and Manuel Lanzini sound like just the kind of dynamic attack force that Cardiff's back seven will have trouble with. West Ham to win 3-1.
• LESTER vs FULHAM – I thought the Cottagers might come up big against Chelsea last week and to be fair they didn't look all that bad… but just couldn't quite eke out a draw. The number of schoolboy errors the team makes on defense is mind boggling, so if new manager Scott Parker to somehow minimize the catastrophic errors they could make a push……. for like 18th place. Anyway, tough not to take a believe-it-when-I-see-it approach on that for the time being. Plus, the Foxes' counter attacking offense seems like a bad, badddddddd matchup for Fulham (though if Vardy can't go I'd at least think about the draw). Lester to win 2-1.
• HUDDERSFIELD vs BOURNEMOUTH – It is no secret that the Terriers have had a rough go of it lately but the Cherries, who have been very hot and very cold for various stretches this season, have gone cold AND are terrible on the road. So unlike a lot of game this season I'd say Huddersfield have at least an outside shot of sticking with an opponent… but Bournemouth's recent performances have been hampered by tough opposite (Liverpool, Wolves, Arsenal and City right in a row) PLUS some big injuries. Callum Wilson (likely) return immediately makes the Cherries a far more dangerous team, and Jefferson Lerma off suspension should help solidify the midfield. Bournemouth to win 3-1.
• NEWCASTLE vs EVERTON – The Toffees are fresh off "winning" their Super Bowl against Liverpool last weekend while the Magpies, bobble against West Ham notwithstanding, have looked like a new team since Miggy's arrival. The loss of Sean Longstaff for the season is a big blow since the kid was just coming into his own but Everton have just been too damn up and down to put much faith in them. In fact, one week after they stuck with Liverpool, there would be some inexplicable irony in Newcastle sticking with them. I'll say 1-1 draw.
• SOUTHAMPTON vs TOTTENHAM – Must-win game for Spurs now that they can hear the footsteps from United and Arsenal. An injury to Kieran Trippier, who has been sucking up the joint this season, should be a bit of a boost… but it is a bit of a "out of the frying pain into the fire" situation with Serge Aurier as the obvious replacement, which could be a problem with Southampton's press. Gotta hope that Vertonghen – who has been all-world lately – and Alderweireld can lock things down, and the return of Dele Alli would be a big boost. Tottenham to win 3-0.
• LIVERPOOL vs BURNLEY – Burnley were hot. Now they are ice cold. As with City, this could be a slightly dangerous game for Liverpool, which will inevitably have one eye on the second leg of Champions League against Bayern next week. I think they will find a way to squeak through. Liverpool to win 1-0.
• CHELSEA vs WOLVES – Sneaky solid game, this. Wolves have been damn good against Big Six opposition this season, and Chelsea – as stable as Britney in her bald is beautiful phase even at the best of times – just played on Spursday. I probably should have learned my lesson about doubting Wolves at this point, and they clearly have the capacity to bog things down and snag a result of some sort. However, this is at home and the Blues' Europa game was at home so I'm giving them the benefit of the doubt. Chelsea to win 2-0.
***********************************
LAP AROUND THE WORLD
GERMANY – TITLE RACE ALERT! Unlike in La Liga and Serie A, there is a legit title race brewing in Ze Bundesliga as Bayern have now caught the slumping Dortmund and are behind only on goal difference. Bayern face Wolfsburg at home on Saturday (8:30am CT) while Dortmund will try not to suck for once against Stuttgart at the same time.
ITALY – Title race is doner than a Trump steak so time to focus on the battle for Champions League spots. Thanks to last weekend's massive daerby win over Roma, Lazio are 6 points behind Inter for the all-important 4th place and this weekend's game away to Fiorentina on Sunday (2:30pm CT on espn+) should be both meaningful and relatively entertaining. Also, pretty much any game that Atalanta plays from here on out is must-watch TV, so go ahead and add Sunday's game at Sampdoria (9am CT on espn+) in your palm pilot as well.
SPAIN – Surpris sides Getafe and Alavas are in 4th and 5th place at the moment and the chances of snagging a Champions League slot ahead of teams like Sevilla and Valencia look all the more possible with every passing week. Alaves welcome Eibar at the buttcrack on Saturday (6am CT) followed by relegation-threatened Huesca visiting Getafe (1:45pm CT).
CHAMPIONSHIP – I know it ain't exactly easy to follow over here in Merica but the second-tier of England offers some serious excitement and there's a good one to catch this this week (on espn+) as Aston Villa visit arch-nemesis Birmingham in the Second City daerby on Saturday morning (7am CT).
***********************************
MAJOR LEAGUE SOCCER
Some weird scores last weekend, which supports my overarching gambling strategy for MLS that has rarely let me down: always, always, always bet the underdogs early in the season.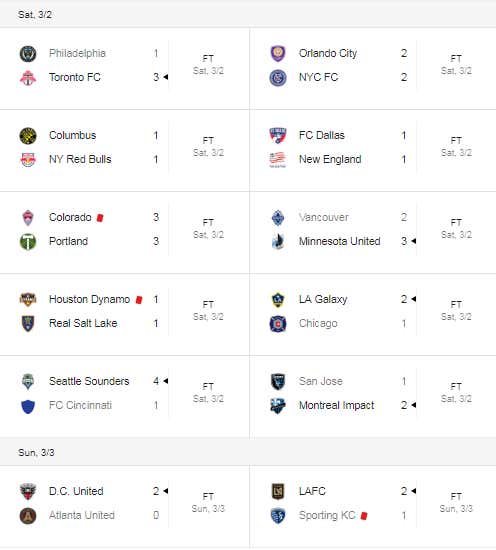 – Rough start to the season for Atlanta, losing to DC last weekend and getting spanked in the Concacaf Champions League. Frank De Boer could reeeeeally use a good performance this weekend against the n00bs from Cincy who took their lumps last week in Seattle.
– Chicago comes off a tough loss to the Galaxy and need a win in a big way at home against Orlando with games against Seattle and RBNY soon to follow.
– DC visit NYCFC in a game between team with big aspirations in the East this season, and similar story for LAFC vs Portland in the West
***********************************
So there we have it. Champions League is back next week. Get pumped, fam.
Holler,
Samuel Army