The Blackhawks Think Fans Are Stupid Part 173: Letter To Season Ticket-Holders Pleads With Them To "Believe"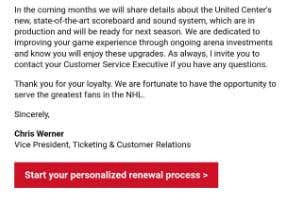 "Believe in preeminence"
Okay…
"Believe in Promise"
"Believe in potential"
"Believe in possibility(cap space)"
But hey there's a new scoreboard coming WHHHEEEEEEE!!!
Look, I love the Blackhawks. I've been believing. I invented the Join Or Die movement for Christ sakes. But don't ask me to believe in next year when Stan Bowman has changed his narrative a hundred times, failed to get out of the first round since 2015 and said that there is an 18-24 month window to be an elite team again. In 24 months Toews will be pushing 33, and Kane will be 33 a few months later. Don't ask me to believe in this plan. Don't ask us for anything since there hasn't been much of anything in return. I am tired of the organization asking us to be patient. Yes, the Cup run was spectacular. I can hold two thoughts in my head though. The second thought is that I don't want to pay to watch ANOTHER last place team as you waste the prime of two of the greatest players who ever put on the Indian Head sweater. It's insulting to my intelligence. At least they didn't ask for an increase this year. They have that much sense, which is nice.