A Blackhawks Trade Deadliner Primer: What Is Dead May Never Die
We all knew the score. The Blackhawks needed to take 8 points in their last four games. They walked away with four points. That is NOT going to be good enough. Not good enough to make the playoffs, most likely, and not good enough to convince Stan Bowman to be a buyer at the deadline. We were talking Ryan Dzingel, Ryan Murray, etc. Now the Blackhawks are likely in the "seller" camp. The problem with being a seller is that, you guessed it, Stan Bowman gave EVERYONE a no-trade clause.
That leaves a very short list of guys for the Blackhawks to trade today.
John Hayden
John Hayden's name has been out there a bunch. I like John Hayden, but he doesn't appear to be one of Colliton's favorites. His ice time is way down, but he is big and smart and tough. Those are three things that all playoff teams need and value. He's also not a rental since he signed that 2 year extension last summer. The type of deal that Stan signs you to so he can trade you. If anyone on the roster is going to get traded today, my money is on Hayden. I'd keep him. He's an ideal 4th line wing. Every team needs a guy like him, including the Blackhawks.
Erik Gustafsson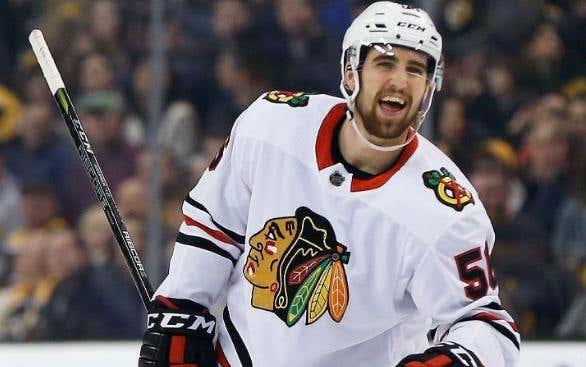 I think everyone knows that I am not the biggest Erik Gustafsson fan. He turns 27 in three weeks. He still hasn't figured it out defensively. That is a fact. The other side of that coin is that he is absolutely DEADLY offensively. He is a key part of one of the best power plays in the league and Gus continues to rack up a TON of points. He's signed through next year at a cheap number. If you keep him, the hope is that he either improves defensively or…the more likely scenario, the Blackhawks improve their defense so they can give him sheltered minutes and matchups in the 3rd pair.
Me personally…I'd sell high. His value will likely never be higher and if you keep him now, he only has one year left and will be looking for a significant raise in the summer of 2020. If the Blackhawks are keeping him, they're essentially keeping him to be a bridge on the defense to the Jokiharju, Mitchell, Boqvist era. Is it really worth keeping a late 20s 3rd pair dman just to be a bridge? I say no. If the team is no long going for the playoffs then it's time to sell off assets for futures. Trade Gustafsson and call up Jokiharju.
Reports are out there that Stan is telling teams asking about Gustafsson to kick rocks so we shall see how it goes. It makes all of us uneasy because Stan's track record, this year not withstanding, has been shaky at best since 2015. Ultimately, I think the Hawks will just stand pat. Making this a boring and depressing day. Not getting any better, which means you're probably getting worse. I just want to feel like the Blackhawks have a plan and a direction. Keeping Erik Gustafsson when you've got the cavalry coming on defense makes me think that they don't.