"Dear Celtics, Wake The Fuck Up" - Signed Everyone
Damn, when I woke up this morning I was hoping everything I saw last night from the Celtics was just a bad dream. No way a team that has been playing as well as they have over the last few months would go into CHI rested and get absolutely slaughtered. Not against a Bulls team that is actively trying to lose and is 16-45 heading in. But as I sat down at my computer and pulled up all my shit for the blog I realized that in fact it was not a dream. That this team really did turn in what in my opinion was the most embarrassing performance of the season. I don't want to be dramatic, but given where we are in the season, how tight things are at the top of the East, the fact that they were rested, to go out and give this type of performance is beyond pathetic. Even if losing to bad teams is sort of their thing, we're at the point where I think we all expect them to cut the shit and actually resemble the team we've been seeing in flashes all year. It's one thing if you lose on a prayer, sort of like the Rondo jumper against the stinky Lakers, this was something entirely different. This was a straight uo ass kicking from the second quarter on.
The Celtics looked disinterested, lifeless, incapable of showing an ounce of fight or heart, and really that's the most troubling part. I can live with this team shooting like shit and losing. That stuff tends to even out, but what I can't accept is zero effort from everyone on the roster. This wasn't a starter vs bench issue, this was an EVERYONE issue and that most certainly includes the coach as well. Honestly I thought we were past this underachieving playing down to your competition bullshit. All the players were very local about how important this home stretch was, so how can you have that mentality and then put that product on the court? What a bunch of assholes. Don't tell me how much you care and how much better you have to be, show me! Consistently! Why is that so hard for this group that has all the talent in the world. Just play hard, it really isn't that complicated.
I pride myself on never avoiding this blog no matter what happens, good or bad. We puff our chests out and talk shit on the internet when things are great, and we have to sit here and live with the reality that this team just lost to the goddamn tanking Bulls by a billion. This isn't going to be fun, I'm not going to enjoy myself, but it's time we talk about what we saw.
The Good
– I really wanted to skip this section because apparently that's the only thing that motivates this team. It's not as if there was a ton of positives anyways, even if you want to include Kyrie's 37/10
I'm not even sure that's really being honest. Would anyone say there was a player on this roster that played well last night? I wouldn't. For comparison's sake, which of these 35+ point performances were more impactful, Kyrie's or Baby Dirk's? If you look at his line it's impressive sure, 34/10 on 14-24 (3-6) shooting is a performance I think we all would take, but when you look at his whole night including his defensive effort it does sort drop it down a few notches.
It was nice to see Kyrie get his efficiency back after struggling against MIL, but even that feels like a stretch as a way to find a positive from this disaster.
– No bullshit, I was actually impressed nobody threw anyone under the bus after the game! Is it incredibly sad and pathetic that this is the best positive takeaway from this game? You betcha but it's true. I was fully prepared for the passive aggressive comments about the young guys, and then the young guys barking back as a nice cherry on top of this shit sundae. Thankfully this didn't happen and honestly I think that's because even the starters knew they fucked up. The closest we got were these comments from Smart
Seeing as how his performance wasn't all that great either, I have no problem with this comment. Smart's certainly not wrong.
– OK fine, Al Horford was good, but I'm still too angry about this to try and spin it. His last 4 games or so have been incredible, and it would be nice if his teammates stopped wasting these performances by playing like complete dickheads.
The Bad
– Alright, lets roll up our sleeves and dig in. Things obviously started falling apart in that second quarter, you may remember that horrific 12 minutes. Just a casual 36-18 quarter in which the Celts shot 33/20% with 5 TOs. We know this team is the worst second quarter team on the planet, but this was another level. While there is a lot of blame to go around for that quarter, for me it has to start at the top. They start the quarter with multiple missed layups and turnovers and before you knew it this was a 10 point deficit. After a Brad timeout, here were the Celtics next few possessions
Morris missed 5ft turnaround
Morris missed 25 ft 3PA
Rozier missed layup
Rozier missed 25 ft 3PA
Jaylen made layup
Rozier missed 3PA
Rozier missed 25 3PA
There's your ballgame folks. Not just because of the missed shots, but because of what happened to this team's mentality during this drought. You see every time the Celts struggle like this, they try and overcompensate by forcing plays, which only tends to make things worse. About midway through the quarter still down 10 but with the starters back in, this is what we saw on back to back possessions
This is just careless basketball. You already have shot yourself in the foot for half the quarter, maybe it's time to calm the hell down and execute, not try this extra bullshit that only leads to easy CHI buckets. Yes, guys like Terry were absolutely unplayable in that second quarter, but let's not excuse what we saw from the starters in their minutes either. Every starter played at least 6:57 of this quarter and honestly they weren't all that better.
– The frustrating part is what came next coming out of halftime. What makes no sense to me is how this team is incapable of coming out of halftime with energy on a consistent basis. What the hell is Brad doing at the half? Where are the players taking the personal responsibility to you know, actually try? Especially given what we saw in the second quarter? Have some professional pride for me one time. Instead, they watched their 13 point lead become a 25 point deficit in 6 minutes. That's not the bench, that's the starting group. No one showed the desire to actually guard Zach LaVine, they one again couldn't buy a bucket, and defensively they allowed CHI to come out and shoot 60/57%. Even with a strong close to the quarter they still gave up another 30 spot, and it really just comes down to effort which is what's so frustrating.
– Jayson Tatum was 5-6 in the first half and got 3 FGA the rest of the way. That is absolutely unacceptable. It was the lowest FGA of any starter and why they froze out their one player who seemed to be in a rhythm early will never make sense to me. Where is Brad and the play calling? There is no excuse for your best offensive option early to be a complete non factor for the entire second half. That's awful.
The Ugly
– Just look at this. Look at it!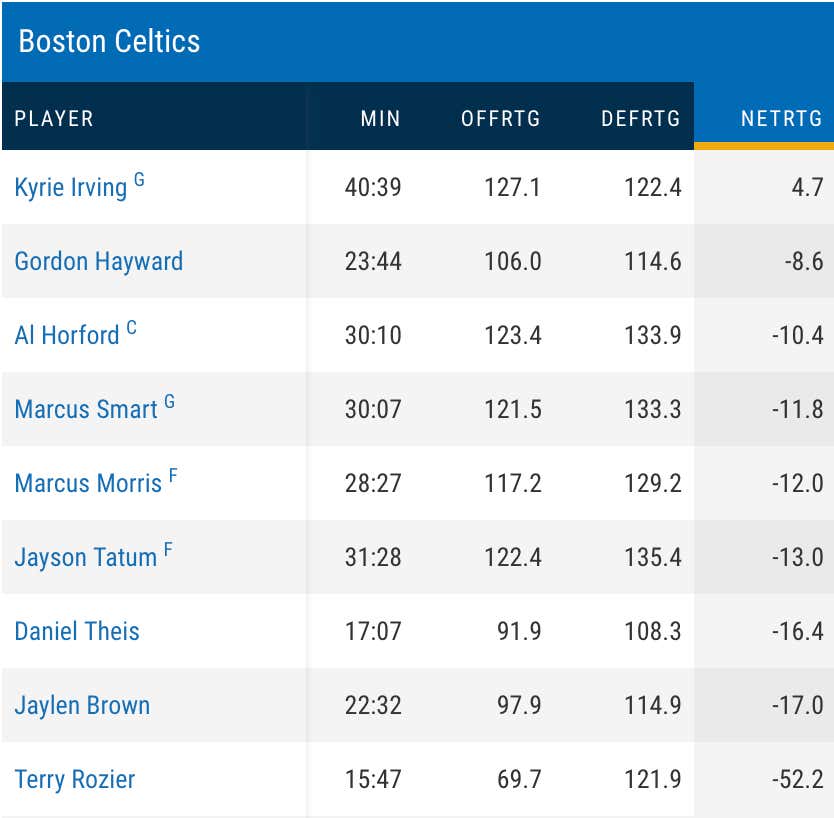 How do you even defend this? Look at those Drtg's of the starting unit, look at Terry's net rating, this is honestly so bad I can't even be mad about it. Remember, this isn't against the Warriors or anything, this was the Chicago Bulls! I didn't know it was even possible to be so pathetic on the defensive end against this team, especially when Otto Porter Jr basically didn't even play. This loss was one of those games where it's not just the eye test that tells you how bad they were, you actually look at the numbers and all it does it make you shake your head in embarrassment. This is pathetic, and they should be ashamed of themselves.
– Brad said he was disappointed in himself after the game and honestly he should be. He has not been able to get this team to play hard consistently, and when they repeatedly drop these games against bad teams, I'm looking at the coach above everyone else. It's on Brad to get this team motivated for all 82 games, and this was another case of things slipping out of control and he was unable to recognize it and adjust quick enough. It starts at the top in my opinion, and Brad has to get his shit together probably more than anyone else. Period.
– When I say this was a complete beatdown, I'm not kidding. There was just 1 lead change in this game, 2 ties, and the Bulls won the rebounding battle, points in the paint battle, second chance points battle, fast break points battle, points off turnovers, literally pick a category and the Bulls took it. Outside of those first 12 minutes this was as bad of a beatdown as we've seen this team have all year. So gross.
– I touched on it earlier, but man Terry really hurt them last night. He only played 16 minutes, but there's no denying the way he played had a huge role in the outcome of this game. He's just 5-26 over his last 3 games and it's no surprise that when he struggles like this the team just looks different. Brad continues to run the second unit offense with Rozier as the primary ball handler despite Hayward giving us plenty of evidence that everything works better when he runs point, and that's where Brad is really fucking up. At this point in the season it can't be about keeping Rozier happy. If he's stinking like this, you can't play him. We're at the point in the season where the Celts can't afford shit like this, and if that means giving Wanamaker his minutes in the short term then so be it.
– Usually the Celts give up a career night to one guy that's always a random player. We've seen that happen all the time over the years. I can't remember a time they allowed TWO players to both have career nights which is what happened with LaVine and Markkanen, and when you look at their individual matchups, it ain't pretty
I mean those collection of players are the best defenders on the team, and they got completely worked all night. That's not great.
When you have a loss this bad all you can do is just burn the film and move on. There's no positives to take away from this loss like there may have been against MIL. Like I said you can talk about lack of energy and all this shit about being better all you want, but at this point until we see it how can we believe this team gets it? Where are the leaders on this team that will lead by example and play the right way? We didn't see that at any point last night, and things get a whole lot tougher on Tuesday up in TOR. History tells us this team will play up to its competition and play well because that's sort of how they've been all year, and at this point they better.
OK, that's it. We don't have to talk about this disaster ever again, it's time to move on