LeBron Blames Was at It Again Last Night
Can someone call the wambulance? LeBron James and his Lakers just suffered another embarrassing loss last night, one in which they got blown out by the Pelicans who were resting Anthony Davis. And those high flying Pelicans hung 42 points on the Lakers in the 1st quarter on their way to a 128 point performance. The Lakers have now given up 115+ points in 9 straight road games, a team record. But don't you for one second think that this is LeBron's fault. For the 16th time in 16 years, his teammates are letting him down. They have no sense of urgency. Take a good look at the culprits.
These kids just don't know what it takes to win! They've never been in the playoffs before, so how would they know what it takes to get there? It was the same thing LeBron had to deal with when he was drafted by the worst franchise in the league. Then when he had to deal with a young Kyrie Irving and Dion Waiters when they came along. And then he had to take a talented but championship-less Chris Bosh under his wing. And then he came back to Cleveland to teach those young boys what it takes to be a champion. And now he's out in Los Angeles, where it is everyone's fault but his own that the Lakers are 29-30, sitting 10th in the Western Conference and 3.5 games out of the playoffs. With only 23 games to play? Yikes.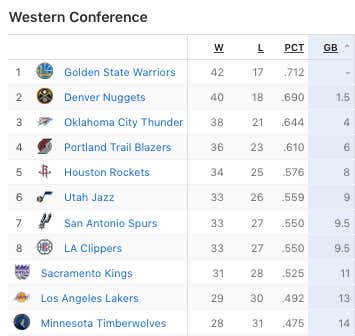 I'll go ahead and say it: the Lakers are not making the playoffs. I expect an excuse injury coming VERY soon for LeBron to sideline him for the rest of the season and once again deflect the blame.
Hey LeBron, how the grass out there in Los Angeles? You made 8 straight NBA Finals out here in the East, but you wanted to become Mr. Hollywood. Well you can make all the barbershop videos you want, but you're now competing against the Warriors, Thunder, Rockets, Jazz, and Spurs instead of the almighty Hornets, Pistons, and Pacers. So while your teammates may not have playoff experience or what you call a "sense of urgency", we may need a little more effort out of you too….
That's probably. just a bad visual. Just like the Lakers record.