The Full Trailer For 'The Dirt', The Mötley Crüe Biopic Is Here, And It's Fucking Gnarly
Yesterday, we got our very first look at 'The Dirt', the Mötley Crüe biopic that's been in the making for ten-plus years, when a couple-second teaser trailer for the trailer dropped…annnnnd I may have gone a bit overboard in breaking it down frame-by-frame with real-life photo comparisons for each scene, but hey, I was excited.
Mötley is my brother's favorite band of all time, so I was pretty much raised believing the four of 'em were gods among men, at least in the rock n' roll realm…
…and to be honest, I still haven't really lost that belief.
I'll try to keep it brief here, though, for the sake of all your time, and shouldn't have too much trouble doing so being my reaction and message in response to this trailer is simple: 'The Dirt' looks fucking GNARLY!
From just under three minutes, it ain't hard to tell not many punches will be pulled in this one – just the kick Tommy threw at Pam Anderson in '98, resulting in him serving a six-month bid in county jail, a major story element of the book eliminated here likely due to Anderson not allowing herself to be portrayed. Outside of that though, everything's out on front street: Nikki's overdose, Mick's spinal inflammatory condition, Vince's vehicular manslaughter charge and struggle through his daughter's battle with cancer, all the deepest, darkest moments of this ever-so-infamous band and their lives'll be represented.
It ain't all so grim, though, 'cause as you can already see, there was a lotta good times in this band as well! Instantly, we see the boys brawling with the crowd at Starwood in Los Angeles during what I believe was their first gig ever, opening up for Y&T, and instantly making a name for themselves and earning major respect on the heavy metal scene by beating the fuck out of every heckler that shouted their way…
Vince actually writes in the book about that gig, "[Nikki] swung his Thunderbird bass forward like a circus strength-game mallet and cracked it over some guy's shoulder blade. If there was a bell on the guy's head, it would have gone through the roof."
Clearly, they nailed that one based on the gif above, and as a diehard Mötley fan, they nailed a ton of other shit, as well…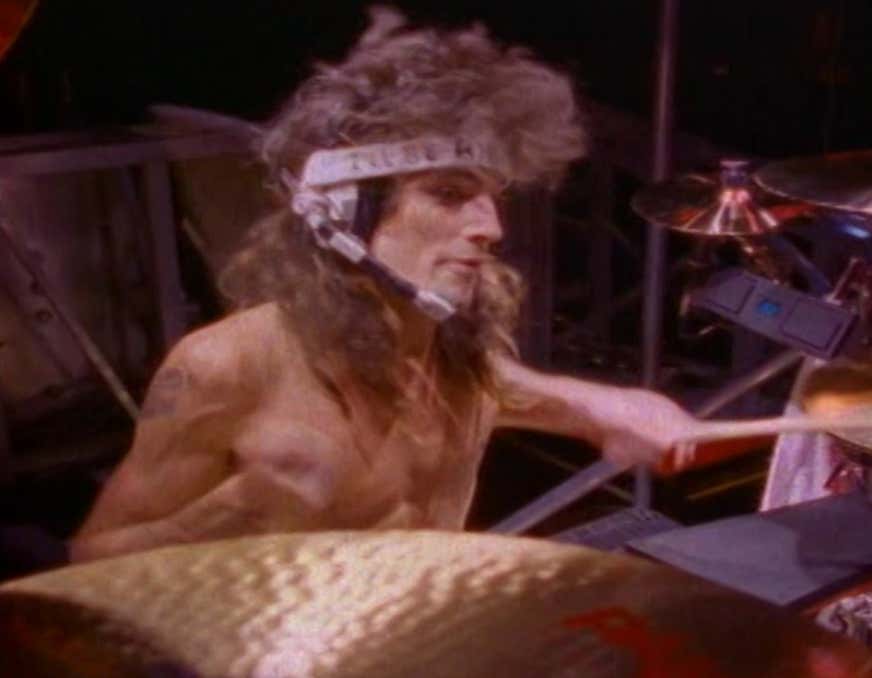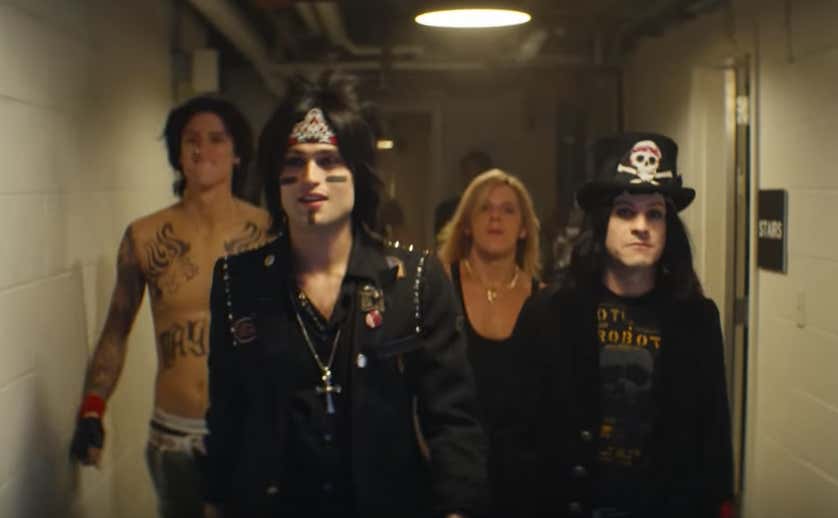 Alright, I'll admit it. I went overboard again. What are you gonna do about it?!
'The Dirt' drops on Netflix on March 22nd, along with a soundtrack featuring 14 classic Crüe hits and 4 brand new songs, at least one of which features Machine Gun Kelly, so that'll be interesting.
Here's the poster…
CAN'T FRIGGIN' WAIT!