Reason Number 495,201 College Sports Are The Best: Purdue Is Having A Sale On Chairs To Mock IU/Bob Knight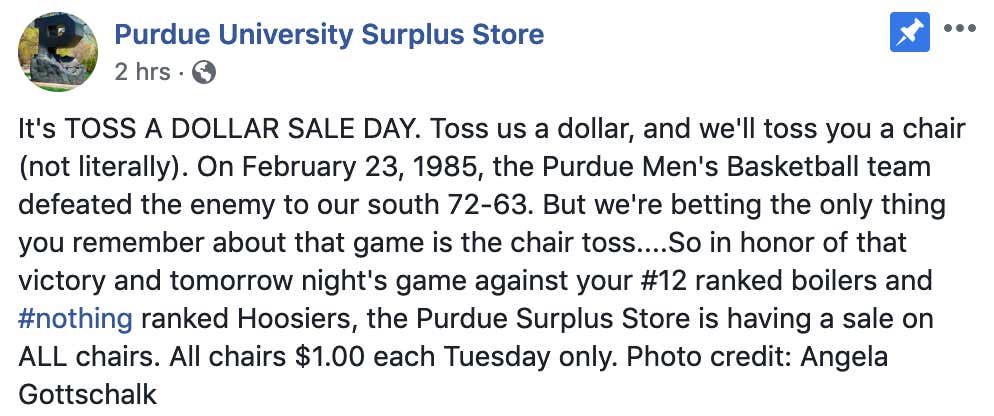 Purdue/Indiana might be the most underrated rivalry in college hoops. UNC/Duke and UK/Louisville tend to dominate the headlines and rightfully so. Then you have Xavier/UC as the third. But, Purdue/Indiana fucking hate each other which takes a lot in the midwest.
That said, I love this move. It's one of the most iconic moments in college hoops and one of the most weird moments. That raging lunatic Bob Knight picking up a chair and launching it across the floor. Of course it happened against Purdue.
So what do you do if you're a chair store in West Lafayette?
You put chairs on sale the day of the game. Just smart business sense right there. That's how you sell a million chairs and make a million bucks. Personally, I hope Purdue students buy the chairs and bring them to the game. Nothing says remember the glory days for Indiana like a chair throw, especially since they really haven't been relevant in a few decades.
This is why college sports is the best though. Things like this happen on a regular basis, but when it's between rivals it gets escalated. Especially when you can make fun of a lunatic like Knight.