Barstool's Champions League Preview – The "Battle of the Bumped, Bruised & Battered" Edition
Hi Haters™,
Champions League knockouts are a lot of things, but none of them are boring. Despite an initial 45 minutes of scoreless soccer in both games yesterday, United/PSG and Roma/Porto came to life in a big, BIG way in the second half.
Lotta people are talking about the referee for United/PSG…
…so here are my thoughts on his performance and some of the more controversial decisions:
– Old boy was poor from start to finish
– His biggest mistake was throwing cards around like candy from the first minute of the game instead of being a normal human being and talking with players to calm them down. As it was, he painted himself into a corner and made red cards inevitable – the fact only one ended up being shown was the biggest upset all day
– Pogba absolutely deserved a yellow card for his challenge on Dani Alves. All the poor decisions earlier in the game doesn't mean Pogba can be an idiot and rake his cleats across an opponent's knee.

Pro tip: if you argued that the top play was a red card but the bottom play wasn't a card at all you need to take a deep breath and think to yourself, "hmmm, maybe I'm a little biased"
– Kimpembe was VERY lucky not to get tossed earlier
– Ashley Young was VERY lucky not to get tossed earlier
Long story short, you HATE to see a ref become the center of attention in such a big game, and what's worse is that he ended up ruining not just the first leg but also the second leg by tossing Pogba (who will now be suspended). HAVING SAID THAT, the players themselves deserve some criticism for their own stupidity. Pogba has done that same cleat-an-opponent-to-shield-the-ball move a handful of times this season (one versus Tottenham stands out) but got away with it. This time he got got.
Anyway, we could discuss that game (or the highly entertaining Roma/Porto game that TNT/BR didn't show on TBS in order to show re-runs of "Friends") for hours but this ain't the time and place for it. Lots more action coming up today so let's get to getting…
***********************
CHAMPIONS LEAGUE
MICROWAVED REMINDER (from yesterday for those who missed the post) of a couple things to keep in mind heading into these games:
1) VAR IS HERE BABY! No more war! No more famine! Poverty is a thing of the past! Racism gone forever! Oh thank god that VAR is finally here to solve all our problems and clear up any and all controversies! (In truth I am interested to see how this plays out. I think it could be really useful for offside – if they work out some kinks like communicating with fans wtf is going on. However, my big fear is that they are going to waste time reviewing too many "judgment calls" that end up strangling the beautiful game without actually adding much in the way of upside. Tee bee deeeeeeeeeeeeeeee…)
2) Keep in mind that first legs of home-and-homes can often turn into "cagey affairs"
3) Injuries are going to be a HUGE factor. We already know that PSG, Liverpool, Tottenham and Dortmund (the latter two facing one another) have been losing guys left and right.
4) I forgot to mention it yesterday but while TNT/BR are only televising one of the two games, the other can be found on TV (en espanol) on Galavision – just a friendly FYI.
***
Tottenham [+125]
Dortmund [+220]
Draw [+235]
I don't care what the bookies say, Tottenham Hotspur are absolutely NOT the favorite in this game. Have they seen Spurs play lately or are they basing their odds on games they watched back when Harry Kane and Dele Alli were playing? That's the best explanation I can come up with.
Look, I get it. Dortmund are missing a bunch of guys as well. Marco Reus, Paco Alcacer, Julian Weigl and Lucasz Piszczek – is he serious with that name, btw? – are all listed as out with injury, and Manuel Akanji is doubtful. That's a lot of talent on the bench. BVB haven't exactly been tearing it up themselves lately settling for draws left and right.
But I watch a lot of Tottenham games and I'm telling you, this team is not very good right now. They have pulled out a ridiculous number of wins by the skinny of their chinny chin chin, and the thing about luck is that it always, always, ALWAYS runs out eventually.
In addition to Kane and Dele, both left backs Danny Rose and Ben Davies are in doubt, which could cause Pochettinno some formational headaches, and Moussa Sissoko – not to be confused with Moussa Sissucko who apparently (thankfully) died last summer – may be out forcing either an out of shape Victor Wanyama or tweenager Oliver Skipp to deputize in the midfield. What I am saying, if you haven't quite gathered it yet, is that there are just too many holes for Spurs at the moment.
However, rumor has it that Kane and/or Dele could be back for the second leg. Given all those data points, I am going to be honest with myself and more importantly you, valued and beloved reader, and say my best guess is that Spurs are going to essentially sit back and try to defend their balls off for 90 minutes sending no more than three players across the half line on most "counter attacks" in the hopes of keeping the fixture as close as possible for the second game… where a fully (or at least fuller) fit squad will have a fighting chance – even on the road at the Westfalenstadion.
Dortmund to win 1-0. [UPDATE: Sancho + Pulisic are in the starting XI. I guess I gotta stick with my original score prediction but….. Pray for Spurs.]
**
Ajax [+250]
Real Madrid [-110]
Draw [+275]
Love this move by Ajax fans.
Home cooking like you read about. Unfortunately for the Dutchies they are catching Madrid at the worst possible time. The returning and returning and returning*** Champions League champs are in their best form of the season at the moment, having walked into Barcelona and picked up a deserved draw and then spanked Atletico 3-1 – just in the last week!
On the flip side, that is a lot of BIG games in a small amount of time for a team that isn't quite as stacked with recognized talent as they have been in the past (and probably will be again sooner after they ransack everybody else's rosters this summer).

Bahhhhahahahahaha
Point being Real Madrid could be a little vulnerable, especially if they are a little sleepy. Ajax has a ton of good young talent. 21yo Kasper Dolberg up top, 21yo Frenkie de Jong in the midfield and 19yo Matthijs de Ligt in back is a baby murderer's row the likes of which you are more likely to see at a club like Barcelona or (wait for it) Real Madrid. In fact de Ligt is already on his way to the Catalans this summer. However, three things play against the home side. First, de Jong is in doubt with an injury, which would be a massive blow. Second, Ajax is young is young as well and Champions League has a way of exposing inexperience. Finally, lest we forget, Los Blancos have a deal with the devil.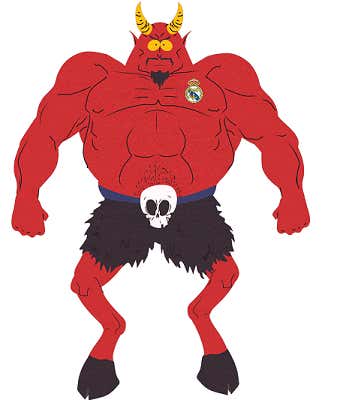 Those odds on Ajax on their home turf are miiiiiiiiiiiiiiiiiiiiiiiiiiiiiighty tasty…. But Madrid have burned me 12 too many times already in games just like this. Real Madrid to win 2-1.
***Sergio Ramos cheated
*****************************************
Lots more action to come tomorrow… hahahahahahaha, just kidding, it's just Europe League.
But stay tuned for some FA Cup action this weekend followed by some more Champions League first legs coming up again next week!
Holler,
Samuel Army