Biggest Piece Of Celebrity Shit Tournament: Region 3: "15 Douchebags + Carmen Electra" (Part 4 of 7 & NSFW)
Morning, and welcome on back!
The third region in this tournament is the dreaded DOUCHE REGION, and it is by far the most intriguing part of this whole bracket.
As always, I will give you a short description for all 16 seeds leading up to an interactive bracket on Friday morning.
If you would like to see all the blogs from this tourney on one page, you can find it here…
Now, on to the douches!
#1 SEED- BIG CAT
For putting what will undoubtedly be an oversized baby in Lady Cat's womb.
–
–
Now, back to the real douches!
There are a number of disturbing stories I can highlight here, but I will stick with the 2 main ones.
Feel free to surf around, and pull back more layers on this mousy douchebag if you please.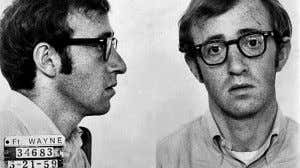 First off, in 1992 Allen's co-adopted daughter, Dylan Farrow, claimed to have been sexually abused by Allen in the attic of their home… She was 7.  It went to court and the judge found that Allen's behavior toward Dylan had been "grossly inappropriate and measures must be taken to protect her."
Woody was never convicted of any crime at the time, mainly because the testimony process was too much of a drain on such a young girl.
Here's an excerpt from the open letter his sexually abused daughter wrote years later on the eve of Woody receiving a Lifetime Achievement Award at The Golden Globes.
"Woody Allen took me by the hand and led me into a dim, closet-like attic on the second floor of our house. He told me to lay on my stomach and play with my brother's electric train set. Then he sexually assaulted me. He talked to me while he did it, whispering that I was a good girl, that this was our secret, promising that we'd go to Paris and I'd be a star in his movies."  
That's his adopted daughter talking… I was nowhere near the attic that day, but I will never play with an electric train again.
I don't want to demean what Dylan went through but the second detail I will hash out is arguably even more creepy.
Woody Allen's ex-wife, Mia Farrow had adopted a young girl from South Korea while she, Mia, was married to musician Andre Previn.  The girl's name was Soon Yi, and she was the daughter of a prostitute that used to slam her head in a door for discipline.  Her exact age is a mystery, but bone scans place her between 5 and 7 years old at the time of adoption.
A year after the adoption, Farrow and Previn divorced and Mia began her long-term relationship with Woody Allen… This was around 1979… Soon Yi was 9'ish.
Fast forward 10 or 12 years and Mia separates from Woody after finding he took erotic naked pictures of their now 21-year-old adoptive daughter.  Woody didn't deny it, announced he was seeing their adoptive daughter romantically for some time, and he and Soon Yi were eventually married in 1997.
And you know what is really fucked up?  Woody and Soon Yi have 2 adoptive daughters themselves… FRESH MEAT!
I will leave you with this… If someone doesn't think Woody's past warrants a #1 seed in this bullshit tournament just remember-  You are most likely going to get a cheap bottle of cologne from your daughter this Father's Day… Woody Allen is probably getting a blowjob.
Vote accordingly.
–
–
–
–
#2 SEED- RAE CARRUTH
Carolina Panthers wide reciever Rae Carruth was convicted on conspiracy to commit the murder of Cherica Adams back in 1999.
Adams, 24, was shot four times by Van Brett Watkins, a homey of Carruth and local nightclub owner.  Cherica was eight months pregnant with Carruth's child at the time of the shooting. Adams managed to call 911 and said that Carruth had stopped his vehicle in front of hers to box her in and that another vehicle drove alongside and its passenger had shot her.  Carruth then drove away from the scene.
Rae's unborn child, named Chancellor Lee Adams, survived the shooting but suffered permanent brain damage and cerebral palsy (as a result of being without oxygen for 70 minutes while his mother was dying).
Cherica died a short while following the shooting, at which point Carruth turned himself in.
At trial, prosecutors contended that Carruth hired Watkins and others to murder Adams because of her refusal to abort their unborn child.  He was ultimately sentenced to 18-to-24 years in prison and was released last October.
I don't even want to put up a picture of this low-life cocksucker because every image search also shows pics of his kid and it fucking INFURIATES me.
Fuck Rae Carruth.
–
–
–
–
# 3 SEED- MICHAEL JACKSON
I am just gonna leave this here for you to decide how you feel about Michael Jackson with virtually no comment on my part.
There's an argument he could be seeded much higher OR much lower, depending on who you ask.  Either way, MJ embodies the reason I wrote this series of blogs- What does a celebrity have to do before we leave them for dead?
Are you sure he fucked kids and is that enough to never listen to his music again?
His road to the Sweet 16 in this bracket pits him against 2 legitimate rock-and-roll pedophiles and if he was to move any further than that, he would have to be worse than a murderer.
–
–
–
–
#4 SEED- KEVIN SPACEY
Here are the facts:
– In 2017, actor Anthony Rapp alleged that Keyser Soze, while appearing intoxicated, made a sexual advance toward him in 1986, when Rapp was 14 and Spacey was 26.  Spacey stated through Twitter that he did not remember the encounter, but that he owed Rapp "the sincerest apology for what would have been deeply inappropriate drunken behavior" if he had behaved as asserted.
– Fifteen others then came forward alleging similar abuse, including journalist Heather Unruh (who alleged that Spacey sexually assaulted her son), Norwegian author and former royal family member Ari Behn; filmmaker Tony Montana; actor Roberto Cavazos; Richard Dreyfuss's son Harry; and eight people who worked on House of Cards.
– On November 16, the Old Vic Theatre Company (where Spacey was artistic director for 11 years) confirmed that it had received 20 testimonies of alleged inappropriate behavior by Spacey, with three persons stating that they had contacted the police.
– Spacey's Usual Suspects co-star Gabriel Byrne revealed that production on that film was shut down for two days because Spacey made unwanted sexual advances toward a younger actor.
– In July 2018, three more allegations of sexual assault against Spacey were revealed by Scotland Yard, bringing the total number of open investigations in the UK to six.
– In September 2018, a lawsuit filed at Los Angeles Superior Court claimed that Spacey sexually assaulted an unnamed masseur at a house in Malibu, California, in October 2016.
– In December 2018, Spacey was charged with sexually assaulting former Boston news anchor Heather Unruh's teenage son in Nantucket, Massachusetts, in July 2016. On January 7, 2019, Spacey pleaded not guilty to the charge.
Spacey was dropped by his agent, dropped by House of Cards, replaced in "All The Money in The World"… In other words, his career has gone…
–
–
–
–
#5 SEED- JEFFREY JONES
His generic name is probably unrecognizable, but this actor from Beetlejuice and Ferris Bueller's Day Off has a face that should ring a bell for anyone over the age of 30…
In 2002, Jones was arrested for possession of child pornography and accused by a 17-year-old boy of soliciting him to pose for nude photographs.  He pleaded no contest to a felony charge of soliciting a minor, as the boy was 14 when the offense first occurred.
At the same time, the misdemeanor charge of possession of child pornography was dropped.  His attorney emphasized that there was no allegation of improper physical contact. His punishment was five years of probation, counseling, and the requirement to register as a sex offender… Which I feel was a mere slap on the wrist for a pervert who deserved a kick in the face.
Jones has since been arrested TWICE for failing to update his sex offender status, in Florida (2004) and in California (2010)… It's almost like he's embarrassed, or something.
Jeffrey is seeded WAY to high here, but I will explain why a little later on.
–
–
–
–
#6 SEED- JERRY LEE LEWIS
Rock and roll great Jerry Lee Lewis was a pioneer of the genre, and a pioneer of rock star inbred pedophilia after he married his 13-year-old cousin while still married to his second wife.
In 1958, the 24-year-old Lewis married his first cousin, Myra Gale Brown, before the divorce was final on his second marriage to Jane Mitchum with whom he had 2 children.  I mention the kids because the 13-year-old cousin that Jerry married was only 9 years older than his 4-year-old son, Jerry Lee Lewis Jr.  There's an argument Myra wasn't old enough to babysit Junior, but the dad felt Myra was plenty old to be his step-mom.
So to sum up:
He was 24.
She was 13.
They were cousins.
They were fucking.
There's one detail that is particularly unsettling: When Myra Brown moved out of her parents' house to join Lewis on tour at the age of 13, she packed her panties in the only container she had — Her fucking dollhouse… That is some creepy shit, no?
When Myra was 14, the couple had a child who would die in a swimming pool accident three years later (Thankfully!… If that kid lived, there's a chance Jerry would've married her.).  On top of the death of their child, both Lewis' infidelity and drug use further strained the marriage. The couple eventually divorced in 1971, but I assume still bumped into each other at family functions.
Jerry, who is still alive (83 years old), married for the seventh time in 2012.  He kept it in the family again — She was reportedly his cousin's ex-wife.
-
–
–
–
#7 SEED- LOUIS C.K. (Louis Szekely)
Black-listed comedian/actor Louis C.K. was actually born in Mexico City.  Spanish was his first language.  He moved to Massachusetts when he was seven years old.  He went to high school with Friends star Matt LeBlanc.  Aaaaaaaand he likes to masturbate in front of women that work for him.
In 2015, Roseanne Barr made public reference to hearing stories of "multiple accusations" of sexual offenses by C.K.
In a September 2017 Vanity Fair interview, Tig Notaro said that she was cutting ties with C.K., a one-time collaborator and producer on her show One Mississippi, saying that he should address the rumors of sexual impropriety, and alluding to an unspecified "incident" between herself and Louis.  C.K. dismissed these allegations in a September 2017 New York Times interview.
On November 9, 2017, the distributor of C.K.'s film I Love You, Daddy, canceled the New York premiere of the film due to "unexpected circumstances", while a scheduled appearance by C.K. on The Late Show with Stephen Colbert was also canceled. Later that day, the New York Times published allegations of sexual harassment against C.K. by five women.
Comedy duo Dana Min Goodman and Julia Wolov said that they had been invited to C.K.'s hotel room during the US Comedy Arts Festival in 2002 where he had asked permission to masturbate in front of them, then proceeded to ejaculate on his stomach before receiving an answer.
Comedian Abby Schachner said that, during a 2003 phone call, C.K. had complimented her appearance and then audibly started to masturbate.
Comedian Rebecca Corry described how, on the set of a television pilot in 2005, C.K. had asked for permission to accompany her to a dressing room so that he could masturbate in front of her.
C.K. publicly acknowledged the veracity of a number of these allegations and admitted to behavior that he initially thought "was O.K. because I never showed a woman my dick without asking first," and went on to express remorse for abusing his power in the industry "which disabled them from sharing their story and brought hardship to them when they tried."
–
–
–
–
#8 SEED- ADAM "PACMAN" JONES
Former NFL star with 8 arrests on record for a number of offenses including assault with a bodily fluid (spit), felony vandalism, drug possession, disorderly conduct, public intoxication, and resisting arrest.
The bulk of his criminal exploits happened in strip clubs, and the biggest happened during the NBA All-Star Break in 2007.  It was then that Jones and his entourage were involved in an altercation with an exotic dancer at the Sin City Club in Vegas.  Jones and rapper Nelly went to the club on the evening of Feb. 19, and at some point, Nelly showered the stage with hundreds of $1 bills (the act is known as "making it rain" within the urbanite community) and Jones quickly followed suit.   Having arrived at the club with nearly $100,000 cash, Jones exchanged $40,000 to for several stacks of $1 bills.
Pacman threw money to a dancer off stage as well as several on stage, but at some point, he became angry when a dancer and the club promoter began to pick up money BEFORE both Pacman and another rapper named Jermaine Dupri gave them permission… Apparently, you are not allowed to pick up said "rain" until Pacman says so… Kinda like the game Simon Says, but with naked tits.
That's when the trouble began.
Jones allegedly hit the dancer and slammed her head into the stage.  When a security guard intervened, a scuffle broke out.  Eventually, a person in Jones's entourage returned with a gun and fired into a crowd.
Two guards were shot, including former professional wrestler Tommy Urbanski, who was paralyzed from the waist down.
The 31-year-old Jones pleaded no contest to conspiracy to commit disorderly conduct and got a year of probation for his role in the melee.  In June 2012, a jury awarded Urbanski and his wife $11 million in damages. Aaron Cudworth, the other security officer, received $1.3 million.
Jones was suspended by the NFL for one year following the incident.
He played in seven games last season with the Denver Broncos before being released on November 20, 2018.
–
–
–
–
#9 SEED- GREG HARDY
Hardy and Pacman are virtually interchangeable for me… I don't know where one ends and the other begins.  That is why I lined them up for the #8 vs #9 matchup in the first round.
On May 13, 2014, the police responded to multiple 911 calls, one of which was made by Hardy himself, at a downtown Charlotte condominium.  There Hardy was arrested on misdemeanor charges of assault on a female and communicating threats.  The accuser was 24-year-old cocktail waitress Nicole Holder, Hardy's girlfriend.
Holder alleged that Hardy picked her up and threw her into the tub area of a bathroom.  She said Greg threatened to kill her and break her arms while claiming that Hardy choked her, dragged her across the floor and threw her on a couch covered with assault weapons. Holder said, according to the protective order, that Hardy had 25 to 30 firearms, including multiple AK-47 guns.
Prosecutors believe Hardy reached a settlement with Holder, which is why she suddenly disappeared from the case and failed to testify.
After battling with the NFL over suspensions, Hardy played his last season as a Dallas Cowboy in 2015 and now fights for the UFC.
He lost his last bout via disqualification after hitting his opponent with a knee while his opponent was down on the ground.
Hardy is scheduled to face Dmitrii Smoliakov on April 27 on ESPN 3… Tune in and root against this piece of shit.
–
–
–
–
#10 SEED- TIM ALLEN (Timothy Alan Dick)
On October 2, 1978, Buzz Lightyear was arrested in the scenic Kalamazoo/Battle Creek International Airport for possession of a pound and a half of cocaine, a feathered hairdo, and an absolutely beautiful mustache.
For those not familiar with cocaine, that much coke can easily get you… TO INFINITY AND BEYOND!
He subsequently pleaded guilty to felony drug trafficking charges and then ratted on every dealer he could remember in exchange for a reduced sentence.  He was paroled on June 12, 1981, after serving two years and four months.
Tim's first big sniff (coke reference) at commercial success was with his sitcom Home Improvement which ran from 1991-1999.  At his high point during that run, Allen was paid $1.25 million per episode.
Home Improvement also introduced many young viewers' loins to a pre-hepatitis, Pamela Anderson…
In 1997, Allen was arrested for DUI in Birmingham, Michigan. At the time, his blood alcohol content was 0.15, nearly double the legal limit in Michigan.  He was sentenced to one-year probation. He entered a rehabilitation clinic for alcohol abuse.
Allen's name hit the headlines again recently when a 2013 interview of his was dug up where he said he should be able to use the n-word as much as he likes… "If I have no intent, if I show no intent, if I clearly am not a racist, then how can 'n—-r' be bad coming out of my mouth?" 
–
–
–
–
#11 SEED- STEVEN TYLER
I quoted an old blog about Steven in the intro to this series of blogs and I will do it once more…
Steven Tyler was known for having relationships with some of the most beautiful women of their day, but it's one in particular that I find interesting.  In 1975, Tyler somehow managed to wrangle custody of 14-year-old groupie, Julia Holcomb, from her parents so they could live together.  They were together for almost 4 years, during which time she drank, used drugs, and fucked.  They split when she was 17 after Tyler pressured her to get an abortion at five months into her term (one week before the legal cut-off for abortions… PHEW!). She went through with it, moved home, and except for a few phone calls, never heard from Tyler again.
Only thing I will add is that concerning that abortion, Steven once wrote- "It was a big crisis.  You go to the doctor and they put the needle in her belly and they squeeze the stuff in and you watch. And it comes out dead. I was pretty devastated. In my mind, I'm going, Jesus, what have I done?"
Which sounds like heartfelt regret EXCEPT the woman getting the abortion recalled it differently… Julia Holcomb said that Tyler was snorting cocaine while watching the abortion and even offered a bump to her.
I put Tyler here as an #11 Seed partially because he has been doing considerable charity work as of late, but also because I found the first round matchup between him and Jerry Lee Lewis very intriguing.
Plus, I used to find his daughter somewhat captivating.
–
–
–
–
#12 SEED- PAUL REUBENS/ PEE WEE HERMAN
In November 2002, while filming David LaChapelle's video for Elton John's "This Train Don't Stop There Anymore", Reubens learned that police were at his home with a search warrant.
Here's the connection I was really looking forward to mentioning… The cops were acting on a tip from a witness in the pornography case against the aforementioned actor Jeffrey Jones (#5 Seed) and found two grainy videotapes and dozens of photographs in Pee Wee's house that the city attorney's office characterized as a collection of child pornography… So the #5 vs #12 matchup here has a history.
Reubens stated the "child porn" description of the items was inaccurate and that he was simply a collector of erotica, including films, muscle magazines, and a sizable collection of mostly homosexual vintage erotica, such as photographic studies of teen nudes.
He also stated one of the movies in question was actually Rob Lowe's sex-tape.
(if you look closely, you can see Rob's lowe sticking straight out in both of the grainy stills from the vid)
Oh yeah… If you just looked back for Rob's lowe right now, you might be a tad gay… Which is totally cool.
Getting back to Reubens… In March 2004, child pornography charges were dropped in exchange for Reubens' guilty plea to a lesser charge. For the next three years, he was required to register his address with the sheriff's office and he could not be in the company of minors without the permission of a parent or legal guardian.
I actually met Pee Wee Herman years ago at a wrestling event before I started wearing glasses…
–
–
–
–
#13 SEED- MICHAEL VICK
Vick and three other men were indicted on federal felony charges of operating an unlawful interstate dog fighting venture known as "Bad Newz Kennels".  Vick was accused of financing the operation, directly participating in dog fights and executions, and personally handling thousands of dollars in related gambling activities.
A report by a U.S. Department of Agriculture (USDA) investigator provided more details on Vick's operation:
– His men in order to kill losing animals had often hung dogs by placing a nylon cord over a 2 X 4 that was nailed to two trees located next to the big shed.
– They also drowned them by putting the dogs' heads in a five-gallon bucket of water.
– They killed one dog by "slamming it to the ground several times before it died, breaking the dog's back or neck."
– Specifically, in or about March of 2003, Vick's men executed a losing dog by wetting the dog down with water and electrocuting the animal."
– His base of operation contained various illegal animal torture devices and breeding equipment, including a "rape stand", a device in which a female dog who is too aggressive to submit to males for breeding is strapped down with her head in a restraint.
He submitted a guilty plea to a single Virginia felony charge for dog fighting, received a 3-year prison sentence suspended on condition of good behavior (he served 18 months), and a $2,500 fine.
In March 2005, Sonya Elliott filed a civil lawsuit against Vick alleging she contracted genital herpes from him in the autumn of 2002 and that he failed to inform her that he had the disease.
Elliot further alleged that Vick had visited clinics under the alias "Ron Mexico" to get treatments and thus knew of his condition. On April 24, 2006, Vick's attorney, Lawrence Woodward, revealed that the lawsuit had been settled out of court under undisclosed terms.
I think Vick is part of player development for the AAF now… Apparently, the AAF are cat people.
–
–
–
–
#14 SEED- MEL GIBSON
Basically, there are only two things I'd like to highlight about Mad Max:
1)  On July 28, 2006, Gibson was arrested for driving under the influence while speeding in his vehicle with an open container of alcohol (he was in a was driving a Lexus LS 430, and had a bottle of tequila on the seat next to him) which is illegal in most places, but especially California.
According to the arrest report, Gibson exploded into an angry tirade when the arresting officer would not allow him to drive home. Gibson climaxed with the words, "Fucking Jews… the Jews are responsible for all the wars in the world. Are you a Jew?"
Gibson publicly apologized for his behavior and in August 2006 his attorney entered a plea on the actor's behalf of no contest to one count of driving with a blood-alcohol content higher than 0.08 percent. A judge sentenced Gibson to three years probation and Braveheart was ordered to enter an alcohol abuse rehab program for three months and had his license restricted for 90 days.
2) In 2010, Gibson's wife alleged that the actor punched her in the face "more than once" causing a broken tooth, knocking out a veneer, and causing a concussion.
Gibson later admitted to "only" slapping her in order to restrain her from allegedly shaking their baby Lucia back and forth.
Mel was ultimately sentenced to three years' probation, counseling, and community service after pleading no contest to one misdemeanor count of domestic violence, and the expletive-laced tape of him screaming into his wife's messages is one for the ages.
–
–
–
–
#15 SEED- VICTOR ORTIZ
Victor was a serviceable welterweight boxer who is probably best remembered for his fight versus Floyd Mayweather.
A frustrated Victor landed an intentional headbutt in the Fourth Round…
After the referee docked a point and the fight resumed, Ortiz approached Mayweather with his hands down, presumably to hug and apologize for the headbutt, and Floyd 1-2'ed him into Bolivia.
That stupidity is not why he is on this list, however…
* In July 2015, he was arrested on suspicion of assault with a deadly weapon after being accused of beating up a fan at a country music concert in Pasadena. Ortiz pleaded guilty to misdemeanor battery and was sentenced to three years' probation.
* He was arrested in September 2016 after being pulled over with a 0.15 blood alcohol content. He pleaded guilty and was put on probation for three months
* In 2018, he was arrested after a woman told authorities he sexually assaulted her at a home in Oxnard, California.  He was charged with forcible rape, forcible oral copulation, and forcible digital penetration, according to Oxnard police.  The trial is ongoing and if convicted, Ortiz faces a maximum sentence of 24 years in state prison.
–
–
–
–
#16 SEED- CARMEN ELECTRA
YES!
As I mentioned twice before, the #16 Seeds are just throwaways with marginal criminal records.  However, I will not use this seemingly worthless spot as a space to park cheesecake…
Because no matter how photogenic Carmen was back in the mid-'90s…
I would not sully this important series of blogs with random saucy GIFs…
Tara Patrick (aka Carmen Electra) was arrested by Miami Beach police in November 1999 and charged with battering her husband, former NBA star Dennis Rodman.
However, charges against the "Baywatch" star were eventually dropped.
And for the science geeks, here's a Fun Fact: In 2002, an extinct species of fly was named Carmenelectra Shechisme in honor of Electra's "splendid somal structure".
And for the sci-fi geeks, have fun…
–
–
–
–
The fourth and final region is tomorrow, and it is chock full of scumbags.
Take a report.
-Large