Official Steven Cheah 2019 NFL Mock Draft 1.0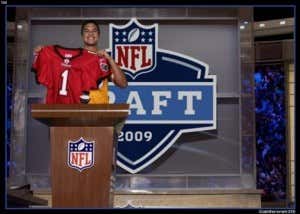 The Patriots won the Super Bowl on Sunday night, which officially marks the start of Draft SZN. I held off releasing this on Monday as a courtesy to the Pats and their fans here and waited till the confetti was cleaned off the streets from the parade, but I think Bill Belichick would respect that I'm on to 2019.
The NFL Draft is one of my favorite events of the year and I attended the 1st round for seven consecutive years (2005-2011). I started doing my mock drafts on the site last year and brought you Lamar Jackson to the Ravens among others. This is obviously a pre-Combine mock, and the Combine can change a lot of things with medicals, interviews, 40s, & other on-field activities, but let's take a look at how I see it in early February:
Arizona Cardinals – DE Nick Bosa (Ohio State)
The draft is about not screwing your pick up as much as it is getting it right and Ohio State DE Nick Bosa is a close to a sure thing as there is nowadays. His father was a 1st round pick at DE, his brother, Joey "Big Bear" Bosa stepped on the field for the Chargers in his rookie season and was an instant impact pass rusher.  Nick promise reminiscent of his brother at Ohio State and there is no reason to think his early season core muscle injury will hamper him at the next level.  The Cardinals pair Bosa with Chandler Jones to instantly form one of the league's deadliest pass rushes off the edge.
*TRADE* Washington Redskins (from San Francisco 49ers) – QB Dwayne Haskins (Ohio State)
We get back-to-back Buckeyes to start the draft as the Redskins trade up for redshirt sophomore Dwayne Haskins. Haskins threw for 4,831 yards with 50 TDs to just 8 INTs this past season at THE Ohio State. He's a classic dropback passer with advanced pocket awareness and really good accuracy, as he completed 70.0% of his passes this past season.  The Redskins are in need of a QB with Alex Smith's injury so they get aggressive and move all the way up from #15 to nab the most coveted signal caller in this year's draft.
New York Jets – LB Devin White (LSU)
White is the 2018 Butkus Award Winner recognizing the best linebacker in college football. LSU has recently turned into LBU churning out some really good pros at the position including the Bucs' Kwon Alexander and the Falcons' Deion Jones. White is the next in that lineage and has drawn Ray Lewis comparisons. A converted RB white has a very sturdy frame and possesses terrific closing speed. He seems to have little bust potential and beefs up the Jets LBs which need help.
Oakland Raiders – EDGE Josh Allen (Kentucky)
After a season in which Jon Gruden continually complained his team couldn't get any pass rush after trading away their best past rusher, the Raiders pick a guy who had 17 sacks last season for the University of Kentucky. Josh Allen is an athletic freak who primarily has won with his athleticism so far. He'll need to hone some more pass rush moves, but a talent like this doesn't come around too often.
*TRADE* Denver Broncos (from Tampa Bay Buccaneers) – QB Kyler Murray (Oklahoma)
Murray is the most polarizing prospect in this year's draft. He could be the 1st QB taken, but with Haskins going #2 here and the QB-needy Giants & Jags picking next, I foresee a tradeup to leapfrog those teams. But who will be the most aggressive? My Bucs are in the catbird's seat here and get a nice return from the Broncos who move up from #10. A QB prospect that was also a 1st round MLB draft pick, that sounds awfully familiar.. 1979 #1 overall pick in the MLB Draft/Broncos GM, John Elway is looking for a QB, I foresee him looking in the mirror a bit, seeing the success of Patrick Mahomes in his same division, and going up to get Murray. Word on the Draft streets is that Elways is 'smitten' with Mizzou QB Drew Lock.  But if everybody knows that, it's likely not true.  My guess is he's putting a smokescreen out there covering up the guy he really wants, which is Kyler Murray.
New York Giants – DT Quinnen Williams (Alabama)
None of the QBs the Giants covet are here at #6, but a player some regarded as the best player in the draft who happens to fill a position of need are. A similar situation happened with the Jets a few years ago when DT Leonard Williams fell to #6. Quinnen Williams shows a good repertoire of pass rush moves and is equally effective against the run. But where does he fit? He is under 300 lbs. and is best in a 4-3, is he big enough to play NT or 5-technique DE in a 3-4? Giants GM Dave Gettleman is going to take the best player available and worry about the fit later.  The Giants get a steal here at #6.
Jacksonville Jaguars – QB Drew Lock – (Missouri)
The Jags pull the surprise of the draft when they reach a bit for a QB with Lock here. The operated under similar guise when they selected The B.O.A.T., Blake Bortles at #3 overall in 2014. Lock had a really good Senior Bowl and solified his standing in the 1st round, but there are still concerns, one of which being his 9" hands. That would be very small for a QB, but playing in Florida could help that a bit as it's definitely not as cold in Duval as Mile High.
Detroit Lions – DE Rashan Gary (Michigan)
With Ziggy Ansah getting long in the tooth, Matt Patricia doesn't have to look far for a replacement. Rashan Gary was the #1 prospect coming out of HS and while his stats at Michigan underwhelm, a defensive-minded coach like Patricia could be just the guy to unlock his full potential as Gary has all the tools to be elite.
Buffalo Bills – OT/OG Jonah Williams (Alabama)
The Bills invested a lot in QB Josh Allen last year trading up several times over the course of a few months to draft they Wyoming Cowboy. However, all those picks they traded in addition to injuries and retirement left them pretty bare up front on the o-line. Alabama's Jonah Williams is seen as the top prospect on the offensive line this season as he's played all over. He started at RT but was moved to LT. Many think in the Pros due to his just average arm length he'd be best kicked inside to Guard. Wherever they play him, Williams will be an upgrade as Buffalo must protect their rocket armed QB.
*TRADE* Tampa Bay Buccaneers (from Denver Broncos) – OT/OG Cody Ford (Oklahoma)
Tampa Bay has had a rotating cast at RG for the past few seasons, most recently Caleb Benenoch was asked to play RG full-time. That experiment wasn't a success as Benenoch and their normally steady RT Demar Dotson showed some pretty rapid signs of decline. Ford can player either position and has good length and plays with a nasty streak. With Bruce Arians vertical passing game, the Bucs are going to need to protect and the selection of Ford here helps that cause.
Cincinnati Bengals – DE Clelin Ferrell (Clemson)
Ferrell could step in Day 1 and present an upgrade over DE Michael Johnson. Ferrell would have likely been a 1st round pick last year, but chose to return to Death Valley due to some unfinished business. The Bengals get lucky he did so at #11 as he's had 21 sacks in the last two seasons for Clemson.
Green Bay Packers – DT Ed Oliver (Houston)
Earlier in the year, Oliver was considered a possibility for the top overall pick. But an up and down season along with the notion that he lacks finishing ability has lowered his projection. Oliver is a monster against the run notching 53 TFLs in just 30 games, but his 13.5 sacks in that same timeframe is underwhelming. He'll need to refine his rush moves, but this is a steal for the Packers at #12 who will be looking at a similar version of Mike Daniels who will be 30 when the season starts
Miami Dolphins – LB Devin Bush (Michigan)
If Bush was 3-4" inches taller he'd likely be a top 10 pick.  He doesn't fall too far as he lands with former Patriots Linebackers Coach Brian Flores who finds his Quarterback of the Defense in Bush.
Atlanta Falcons – DT Jeffrey Simmons (Mississippi State)
DT Grady Jarrett has been terrific for the Falcons, but he may have played so well that the dirty birds can't afford him anymore. Insert promising rookie Jeffrey Simmons who can step into that role at a much more affordable price. Assuming Simmons' clears his interviews well with his history, he's a 1st round lock.
*TRADE* San Francisco 49ers (from Washington Redskins) – CB Greedy Williams (LSU)
Andraez "Greedy" Williams is the latest in the line of elite LSU CBs. From Patrick Peterson to Tre'Davious White to Donte Jackson, LSU just churns out really good cover guys. Greedy Williams is seen as next in line, but his evaluation is all over the board with scouts. Some see him as a top 3 player in the draft while some don't give him a 1st round grade. There is some logic that Williams declared early and was protecting himself from injury. Richard Sherman had a decent year but is no spring chicken, so the 49ers look for his eventual replacement in Williams.
Carolina Panthers – OT Jawaan Taylor (Florida)
The Panthers need help across the o-line and Jawaan Taylor presents a great frame with polished footwork to help keep Cam Newton upright for years to come.
Cleveland Browns – OT Andre Dillard (Washington State)
Dillard is an interesting prospect that evaluators have all over the board. Some have him as the top LT in the draft, some have a 2nd round grade on him. The Browns drafted Baker Mayfield #1 overall last year and sadly, Joe Thomas never got to block for him. Instead it was re-tread Greg Robinson who never worked out at LG let alone LT.
Minnesota Vikings – DT Christian Wilkins (Clemson)
Sheldon Richardson is a free agent and the Vikings likely won't be able to afford him. Christian Wilkins has been a terror at DT for the stacked Tigers lineup for years and at 6'4" 315. has ideal size to step in next to big boy mainstay DT Linval Joseph
Tennessee Titans – WR D.K. Metcalf (Ole Miss)
The 6'4" 230 lbs Metcalf has been cleared for football activities after undergoing neck surgery in October of 2018. He'd present a big upgrade at the receiver position for the Titans who have up & down Corey Davis and little else. They need to stock the cupboard for QB Marcus Mariota and really let him sink or swim this year before making the call on whether to extend him or not.
Pittsburgh Steelers – WR Hollywood Brown (Oklahoma)
Antonio Brown (likely) out, Marquise "Hollywood" Brown in.  Brown is an electric receiver in a Tyreek Hill mold.  At only 5'10" 168 lbs. he's lighter than both DeSean Jackson and Tavon Austin, but he's lightning in a bottle and the Steelers look to replace some of the juice they'll surely miss with AB playing elsewhere in 2019.
Seattle Seahawks – S Nasir Adderly (Delaware)
With Earl Thomas likely getting an ugly divorce from the Seahawks, they luck into Nasir Adderly being available at #21. The D-II product out of Delaware has been getting a lot of buzz in the pre-draft process and justified that with a terrific Senior Bowl that he capped off with an interception. With great range, awareness, and hitting power, Adderly would be an ideal replacement for FS Earl Thomas.
Baltimore Ravens – DE Montez Sweat (Misssissippi State)
Terrell Suggs isn't getting any younger and the Ravens DC Wink Martindale needs to generate good pass rush for his scheme to be effective. Sweat is a freak athlete who can learn from Suggs and eventually line up opposite LB/DE Matt Judon to form a ferocious pass rush for the Ravens for years to come.
Houston Texans – CD DeAndre Baker (Georgia)
DeAndre Baker is only 5'10" but possess great feet and rare length for his size that neutralizes the lack of ideal height. Jonathan Joseph is 34 years old and Baker would be a nice addition to a Texans secondary that will need to stop Andrew Luck to keep winning division titles.
Oakland Raiders (via Dallas Cowboys) – EDGE Jachai Polite (Florida)
Mike Mayock, Jon Gruden, & Raider Nation double down on the pass rush they've been missing and take Polite, who is an exciting prospect out of Gainesville. Football aside, any guy who's twitter username is something like @retiremoms surely cannot fail. He's a nasty pass rusher who has great get-off and can really bend the edge. Raiders would do backflips if they could pair him with Josh Allen.
Philadelphia Eagles – RB Josh Jacobs (Alabama)
With Jay Ajayi looking finished and an aging Darren Sproles, the Eagles look to a multi-talented RB with few holes in his game and little tread on his tires. Jacobs can really go it all; run inside, run outside, catch the ball out of the backfield, and pass protect. He'll likely be the 1st RB off the board despite other guys having more collegiate production. Remember, Alvin Kamara didn't have gaudy stats in college either.
Indianapolis Colts – TE Noah Fant (Iowa)
Eric Ebron had a terrific season but has he played his last game with the Colts? Andrew Luck clearly played much better with a reliable TE on his side. Fant is an outstanding athlete who is also an underrated blocker.
Oakland Raiders (via Chicago Bears) – CB Byron Murphy (Washington)
Gareon Conley came on towards the end of last season, but the Raiders still need help at boundary corner. Murphy is in the mix for CB1 in this class has been reliable for the Huskies with 7 INTs over the past two seasons.
Los Angeles Chargers – DT Dexter Lawrence (Clemson)
A mammoth DT, Lawrence is 6'4" 340 lbs. and will certainly plug up the middle so the LBs can run free and Joey Bosa and Melvin Ingram can see fewer double teams. He's more of a run stuffer than a pass rusher, but he certainly gets good knock-back on interior lineman in passing situations.
Kansas City Chiefs – EDGE Brian Burns (Florida State)
Burns has had 38.5 tackles for loss in his 3-year career at FSU. This season he finished plays more and wound up with 10 sacks. At 6'5" 235 lbs., you'd like to see him put on a little more weight to withstand the pounding of and NFL edge rusher, but he's got the athletic ability to be a good pro.
Green Bay Packers (via New Orleans Saints) – S Deionte Thompson (Alabama)
The Packers traded Ha Ha Clinton-Dix at the deadline and didn't get a big return snaring just a Day 3 pick. In this scenario, they go back to the Alabama Safety well and pick up Deionte Thompson who is a younger, cheaper version of Clinton-Dix.
*TRADE* New York Giants (from Los Angeles Rams) – QB Daniel Jones (Duke)
The Giants make a play to get back into the 1st round to nab their QB of the future. Daniel Jones played under David Cutcliff at Duke. Cutcliff was Eli Manning's head coach in college and while Jones doesn't possess Eli's arm, he does have much better wheels than the Giants signal caller. This scenario allows the Giants to ease Eli out slowly while having a guy learning while waiting in the wings.
New England Patriots – TE T.J. Hockenson (Iowa)
Gronk may retire this off-season and the Pats luck out getting a do-it-all TE in Hockenson. Iowa really churned out some quality TEs in this class with Hockenson & Fant both 1st rounders in this scenario.