ATTN: THE CHICAGO BLACKHAWKS WILL NOT GO QUIETLY INTO THE NIGHT
GOOOOOOODDDDDD MORNING! I know everyone is well-rested after watching the most boring Super Bowl of all-time. I bet most of you fell asleep before the Sunday Scaries could even set in. You're waking up now, looking at the next several months and thinking…."oh fuck, there's no sports on". WRONG. Very wrong. I am here to bring you into my warm embrace during the cold winter and whisper to you that the Chicago Blackhawks are BACK.
Never has a movie clip been more relatable to a real life team. Management is either inept or they conspired to put a roster together that would allow them to fire the Head Coach. People around town were talking about tanking and Jack Hughes as if that was the cure to all the woes. Tanking is NEVER the answer. Yeah, a dead cat might bounce off the concrete a bit when it falls off the balcony. BUT they don't bounce all the way back. Let me hit you with a little fact. There hasn't been a top 10 pick to play in the Stanley Cup Final since Tyler Seguin did it for the Bruins in 2011. And the ONLY reason he was able to do it…Boston was already a wagon with Bergeron, Chara, Krejci, and Tim Thomas in place. The Bruins got that draft pick in exchange for Kessel. The Bruins weren't a real bottom feeder.
All the people who are talking about tanking and selling or whatever line of bullshit was coming from the Blackhawks brass…they forgot about two things…
1)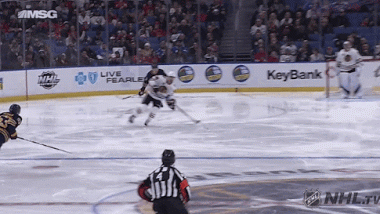 2)
You think Toews and Kane are going to just roll over and quit? You think Toews they're calling Apple Vacations for a little Springtime getaway? Think again. They're champions. I mean look at that GIF from the Wild game. They're fired the fuck up. They are trying to DRAG this group to the playoffs through sheer force of will and they're playing some of the best hockey of their respective careers and…it's working.
The team has been playing well since, realistically, December 3rd. Nobody is sitting here saying it's a Cup team. They're not. They could be a playoff team though. They certainly pass my eye test. You can ride good goaltending, a really good powerplay, and two superstars a LONG way. The Blackhawks are doing that. That was always going to be the formula. I said that all the way back in September. It's still right there for them.
The haters will say that they can't do it. That they're too far back. That they have to jump too many teams. Well let's break it down.
Certainly a LOT of teams to jump. Not an ideal situation. But if you look a little closer you'll see that the wild card spots are currently occupied by teams that are very average and then there's about 10 feet of shit, and then there's the Blackhawks. Who above the Blackhawks are you afraid of? Who above the Blackhawks are DEFINITELY a better team? I would argue that the number is a big fat ZERO. The Blackhawks have equal or better talent then all of those teams. The only reason the Hawks are where they are is because Stan Bowman fired Joel Quenneville and dug the team a month long hole that Toews and Kane had to climb out of.
Another good thing about those teams who are ten feet of shit currently ahead of the Blackhawks in the standings…the Blackhawks play them 10 times in their final 29 games. They play Edmonton, Vancouver, Colorado, and Dallas before the trade deadline. There's opportunity to make up even more ground before the team has to make decisions about how to deal with the deadline
"Oh but Chief…the Blackhawks have played more games than everyone. That means they're actually further behind than it seems"
I fucking DESPISE that argument. Hate it. Yeah, that's a valid argument if you're trying to get home-ice and the teams you are competing with are you know…actually good. As we discussed, there's nothing but shit ahead of the Blackhawks. You're going work under the assumption that the St. Louis Blues(the fucking BLUES?!?!) are going to get 6 or even 4 points out of those three games in hand? That's stupid because, well, the Blues are shit. They're a shitty shit team. I'm not worried about their games in hand.
Here's the other thing about having played more games through this point in the season…it means an extra few days of rest down the stretch when you really need it. Maybe that road back-to-back one of the shit teams has to play in March that the Blackhawks don't ends up being the difference.
Here is the other thing about the schedule that works in the Blackhawks' favor…they've played the HARDEST SCHEDULE IN THE LEAGUE. There are points to be had against the NHL's weaker competition down the stretch. Especially post-deadline because the weak are going to get weaker. The teams on the Blackhawks schedule after 2/25 will be weaker because they will have sold off anything that could theoretically help them win. Other teams will be tanking, not the Blackhawks.
Speaking of the deadline…it's time for Stan Bowman to #JoinOrDie. He's trying to be a seller. He asked Brent Seabrook if he'd waive his No-Trade Clause to which Seabs declined…
And the Blackhawks leaked the fact that they'll be asking Duncan Keith to waive his NTC as well…
Here is who the Blackhawks should be trading
This was a joke. If someone comes along and gives you ANYTHING for Kruger or Anisimov you have to do it. Having said that, I don't think I'd really move anyone else unless someone caved to a fuck you offer. I've been lobbying to trade Gustafsson, but I don't even think I'd do that now. I think he stinks at…you know…playing defense, but he's an absolutel WEAPON on the PP and the Blackhawks will need the PP to continue producing down the stretch during this chase. Gustafsson is signed through next year at a reasonable $1.2M and like I've said all along, he's the perfect 6th defenseman. It's just that on the Hawks he has to be top 4 and that's not ideal. I wouldn't mind a Gustafsson-Seabrook third pair next year at all though.
And while we are on the subject of next year…why not explore sign and trades for guys like Stone, Duchene, and Panarin. The plan, I would hope, is to bring in one or two big time free agents next summer. Is it worth an asset for the ability to lock someone in now, push towards the playoffs, and then be able to adequately plan to bring in a second piece? I think it is.
Here is why I think it is…I want to have FUN. You know what is fun? The chase. I want to go after something NOW. It's primal. Chasing girls, chasing down big game, running down the playoffs. It's all the same. The Blackhawks are on a hunt and we should embrace that. I LOVE being a position to hold up a middle finger to everyone who said the team was dead. Last week I asked the Blackhawks to put a bullet in my head because I would never give up on my own. The team has refused. They're fighting and clawing every night and after everything it's all still right there for them because 19 and 88 can lead them there. I want it. I can taste. I am going to enjoy the rest of the season and it's time to fucking go. There's only one thing left to do… #JoinOrDie