A UF Girl Matched With An Ole Miss Basketball Player On Tinder Then Printed Out Their Sexts And Passed Them Out To The Student Section Before The Game
A college girl matched with a college dude on Tinder.  Wow Kmarko, awesome.  Sweet blog topic choice, Greenie.  How often does that happen, 100 times a second?
Well just hold on a second.
The college girl – University of Florida student.
The college dude – an Ole Miss basketball player.  Junior guard Breein Tyree, averaging a little over 17 points a game.
Now why is that important?
Because this was on the schedule for tonight: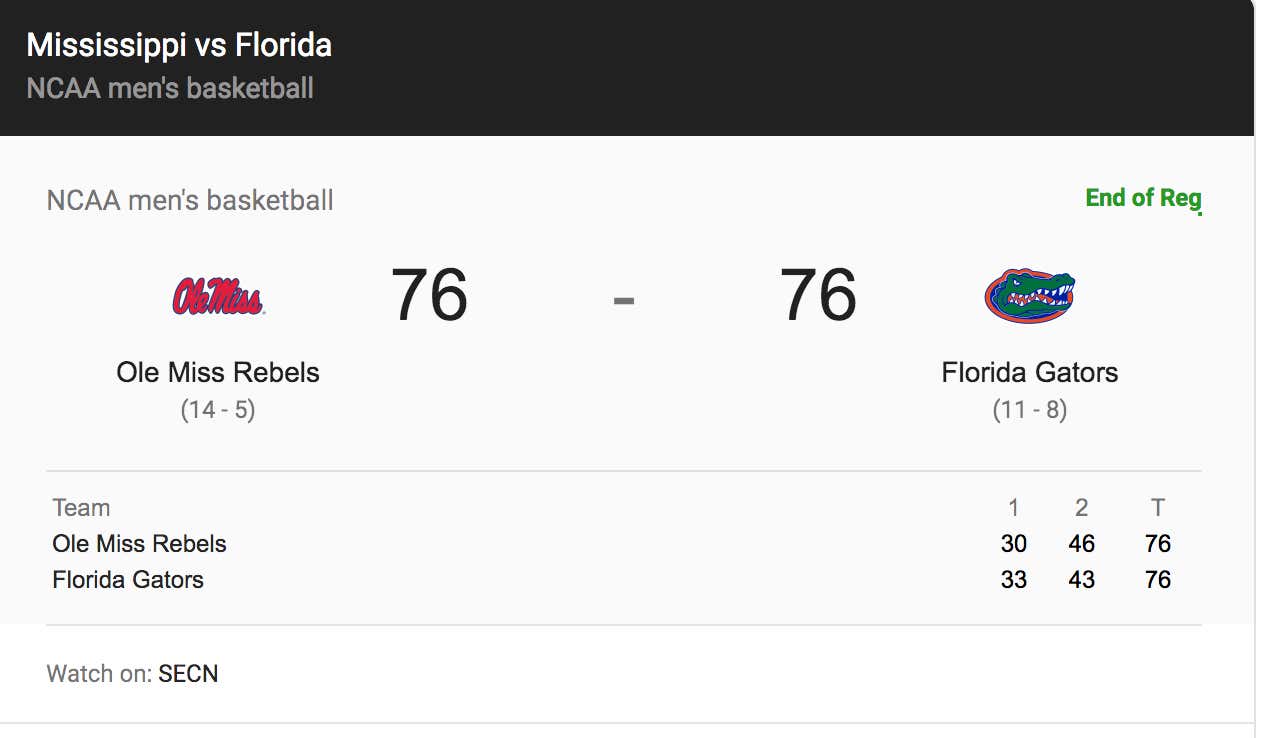 (I wish I had heard about this story before the game started, an upcoming-game screenshot would work so much better here.  But as you can see, it's a good one.  Tyree has 19 points on 50% shooting at the end of regulation.)
And what do college kids who bleed their school's colors do?
They heckle and harass and humiliate their opponent as much as physically possible.
Yup – this chick literally printed out their Tinder convo, stapled it up, and passed a billion copies around the student section, to chant at him during warmups.
UNBELIEVABLY SAVAGE.
This bitch probably put the shit in like, binders with laminated 3 hole punched pages just like your 3rd grade teacher used to do.  Incredible.
And as much as I want to say this is a fucked up invasion of privacy and a real dick move…I'm a sucker for gamesmanship.  This isn't Western Lafayette Southern vs. School Of The Blind or some of the bullshit made up teams Reags blogs about – this is D1 basketball.  The big time.  SEC hoops.   If you're a student you wouldn't be doing your duty as a fan if you DIDN'T do this, given the opportunity.  In fact that's probably an expellable offense at a school like Florida.  That state seems like it values sports over human decency IMO.
In the end, turns out HE should have known whassup.  Never get in bed with the rival fan base.  That's how you find out the hard way what big time college sports is all about…fosho fosho.
---
*Final game update*