Kmarko's 2019 Super Bowl Prop Bet Mega Blog
Charge your cell phones, text your bookie or log on to the FanDuel Sportsbook, and get those deposits in…
It's the annual Kmarko Super Bowl Prop Bet MegaBlog!
The old school Stoolies know the deal, but I know we have a ton of new fans so I'll give you a brief introduction to your new favorite Super Bowl blog.  Unfortunately with all the business and behind the scenes stuff I have to deal with that nobody knows about and just assumes I'm doing nothing all day, I don't have a lot of time to do these long ass blogs, which are by far my favorite things to do at Barstool.  But when the Super Bowl prop bets got released, I dropped everything I was doing, cleared my schedule, gave CEO Erika the finger and locked myself in the conference room with a large coffee and a pocketful of adderall to do the annual deep dive.
(I would never disrespect Erika so I just lied to you about that.  Artistic license.  But I asked her to please not schedule any meetings please ma'am thank you ma'am.)
Anyway…this is the world famous Kmarko Super Bowl Prop Bets Megablog.
You know how when you prepare for the Super Bowl you look at both teams, find the strengths and weaknesses, analyze the X's and O's, try to get inside the mind of the coaches to figure out their game plan, obsessively check injury reports to see which side might have a soft spot to exploit, and compute all that data in your head to decide who has the edge and who will take home the Lombardi trophy?
This has none of that.  We're here for the fun shit.  We're here for hair color. We're here for song performances.  We're here for Jim Nantz's references and Tony Romostradamus.  We're here for Gatorade baths.  You want some thoughts on the spread and over/unders, go ask a nerd, or Marty Mush then do the opposite (do that quickly before he dies at RnR tonight.)  You want to know what a pop star is gonna wear to sing the National Anthem, buddy, saddle up.  You're in the right place.
And this year the blog is sponsored by FanDuel, which, believe me or think I'm just being a company guy, is my favorite site to play daily fantasy on and it's not even close.  Their recent SportsBook has been a huge hit with the guys in the office.  So when you're looking to get your SB bets in – new FanDuel users can get 53/1 odds on either team to win when you place a $5 moneyline bet on FanDuel Sportsbook. Just go to fanduel.com/stool and use promo code STOOL to get your exclusive odds.
Back to the blog – the year I started this back in the day, I went 10 for 10 and from then on it was foregone conclusion that I had to do a Prop Bets blog every Super Bowl. As someone who doesn't gamble because I had to quit because I was abnormally bad at it* and literally could not afford to lose any more money, I've displayed an astounding knack for correctly guessing the dumb shit that happens during the Super Bowl football game.
(*Seriously, if I had to rank the things in life that I'm worst at, picking sports spreads would be top 3, if not #1.  I literally cannot pick a game correctly.  I know a lot of stuff.  I'm great at daily fantasy.  But put a game spread in front of me and I will pick the wrong side, every. single. time.  I WANT to gamble.  I want to feel the rush.  I want to talk about bad beats and crazy backdoor wins and be a part of Dave and Dan's little clique.  I just simply cannot afford to do it because I lose all of my money.  Just some background, that's how I ended up talking about Adam Levine's shirt color.)
Anyway, the second year wasn't as great. I think it was around 50-60% success rate, because I got a little too tricky – messed around with like, Russell Wilson's Pass Yardage vs. the National Oil Barrel Prices or something. I don't know, I just remember at one point I went from talking about the Seahawks' offense to writing a paragraph about the new King of Saudi Arabia and his worldview of the global economy, and that's when things kind of went off the rails.
The next year was 8 for 11.  Then 5-3.  Then last year 6-4 with two N/A refunds.  So, sadly, the numbers tell us a 10-10 was a fluke, and we've settled on just "profitable."  So keep that in mind when you roll with some of these.  They're fun to root for and gives you an opportunity to talk shit/have fun with me on Twitter during the game.  But if you lose rent, that's on you – what's wrong with you?
(That's actually an important disclaimer to have here.  Bet big on the game, but please don't bet a ton of money on stupid prop bets then blame me for having to move in with your parents.  This isn't a "gamble responsibly" message required by law or something, please just take this for what it is and don't put your bank accounts in the hands of Gladys Knight.)
I try to focus on props with good odds, ones that can actually pay out, and ones that are funny to talk about.  I mean there are obviously a ton of -400 or -600 props I could throw on here to beef up my totals and get some checks in the win column, but that's not how I roll. I'm not that type of guy. We're here to break down the tough ones. The props people are scared to touch. The props people don't have 15 hours to research on the internet because their job isn't literally to sit in an office scrolling through the internet for dumb shit. That's me, I do that.
So let's get into it. Got 10 official Kmarko Prop Bets lined up.  Let's cook.
---
National Anthem Over/Under 1:47.
The first bet of the night is by far the highlight of both prop betting and this blog: the length of the National Anthem.  Easily my favorite and easily the most fun.
You're at the Super Bowl party, you probably just got there about 20 minutes ago, you're still warming up from outside, haven't even fully purveyed the spread yet to see if there's buffalo chicken dip this year or just spinach artichoke again, still wondering if you'll get a seat on the couch or be stuck on a shitty folding chair in the back again, kind of nudging your girlfriend to stop talking and grab a prime spot.  Then the TV screen goes quiet and the announcer's voice comes on instructing people to remove their hats and you sprint up to the front with your iPhone out on stopwatch mode.  All the girls are like, what the fuck?  Who is this loser, what's he doing?  Their lame ass boyfriends are shaking their heads, I don't know babe, some guys take sports way too seriously, guess he's a big fan of the artist or something?
But a few of the guys in attendance know.  The prop betters know.  They nod at you in solidarity, a small but meaningful gesture letting you know you're not alone, they're on your side, and not only that, they're thankful that you took the lead in being the official timer.  You've established yourself as the king of the prop bettors and once people get a few drinks in them they'll migrate over and start talking to you about what you have, how much money you put down, they'll quietly fist pump with you when Jim Nantz mentions that Sean McVay is 33.
But for now, it's all eyes on the anthem, and there's nothing that makes you feel more alive than the tense moments as "home of the brave" hits and you wait for the last note to end as time winds down.  Incredible. What a rush.
This year: we've got Gladys Knight.  Now long time readers know I used to spend a ton of time on this one on my own, breaking down and analyzing Youtube video after Youtube video of past performances, tendencies, attitude, stage presence.  I'd deconstruct them psychologically – what point of their career are they at?  Are they trying to announce "I'M BACK" or are they happy to be on the tail end of their career?  How patriotic are they?  Do they really want to sell it or do they just want to do a respectful rendition and get off the field?  How much of an attention whore are they?  How badly do they want to stay in the spotlight for as long as possible?
Then, the clouds parted, and a man entered my life that would affect it in ways I could never imagine, a connection that extends beyond the realm of human understanding, something like that cube thing at the end of Interstellar.  Only instead of me trying to reach out to my daughter I'm pushing books off the shelf trying to win 100 bucks from my bookie.
As always, I will defer to the man, the myth, the legend…
Ladies and Gentlemen…
The Mad Maestro* is in the building!!! (woiw woiw woiw woiw) (that's my written interpretation of the horn that DJs play on rap songs)
*Explanation of the Mad Maestro for our new readers:
In 2014, back when the comment section was thriving and wasn't a pit of despair featuring unloved and unhappy racist trolls who were so pussy they could only express their anger through anonymous usernames, a user named "MadMaestro" left a lonnnngggggg analysis of the National Anthem.  He then reached out to me personally via email.  In his own words:
I have a major passion for classical music. I've been a classical instrumentalist for 15 years. A degree from the New England Conservatory and the Peabody Conservatory of JHU. Gigged with dozens of ensembles all over the east coast and even worked in administration with the Boston Symphony and Baltimore Symphony. Currently I live in Michigan, teaching, freelancing and I do Development Consulting for Non-profit Arts organizations. I have plenty of Operas under my belt. Both as a performer and as a spectator. Classical music is more than how I make my living, it is my life.
The singer that year was opera singer Renee Flemming, so his knowledge made sense.  And he nailed it.
But it turns out he didn't just know classical music – he knows MUSIC.  He has emailed every year since, nailing the over/under each time.
He was a late response two years ago and his feedback actually made me CHANGE my initial pick, and it was a winner.  I am forever indebted.
So it would be dumb for me to even try anymore when I have this invaluable resource at my disposal.  I shot him a message asking for his advice.  He replied that he was finishing up a brass band tour and could get it to me tomorrow evening.  Perfect.
I'd expect nothing less Maestro.
So without further ado…and after some very tense moments of not hearing back from him until the last minute..I present to you: the Maestro's pick.
Gladys Knight. American Empress of Soul and Matriarch of Motown. We should all venerate the honor Gladys will bestow the nation and all Americans with her trip to the mic on Sunday. What makes her a perfect choice to sing the anthem is the character and culture of her voice. She doesn't do extremes such as singing the highest or loudest or longest notes. Gladys' voice expresses the experience of the nation. She delivers music as though she is the ambassador of our conscience. Her voice conveys the life story of every American and she is the perfect person to commence Superbowl LIII. That's is a good thing for the prop.

Ok. First I want to counterpoint some of what I've read about Gladys doing the national anthem:

"She's old." She is turning 74 this year. Don't care. No doubt she can't tour like she used to, but she could still do ninety minute sets any day of the week. Think Tom Brady longevity.

"The historical average." Don't care what happened last time. It's a new performance every time with different variables. In fact, when I double check the old times of past performers you can find wildly different interpretations of how much time they took. This has been consistent. From the start of the first note (not first word), to the conclusion of the first "brave." Maybe one day I'll post an accurate musicological survey of anthem prop bets.

"~1:44″ The only other example out there of Gladys performing the anthem is from 1991. It teaches us very little about what Gladys might do now. You can hear how she is singing the 'baseball pipe organ' version. A completely different situation, that is so far in the past, its possible that she performs the exact opposite version of what is heard there. The famous pianist Glenn Gould launched his recording career with the Bach Goldberg Variations, in 1955. In 1981, before he died, he recorded it a second time and it was a Grammy winning performance. A performance that was 10 minutes longer than his 1955 version.

I am taking the over 1:47, and here is why. Soul power. In an interview she had about the SB anthem she said, "I hope that this anthem will touch people in a different way. We've been singing is forever. But THIS time, I would hope that they would feel it so deeply, that it would lift them to a higher place." While Gladys is speaking to everybody with that comment, she is certainly referencing the anthem protest controversy.

Bridging the divides and uniting the nation. A soul rendition of the anthem might offer some conciliation. Gladys can squeeze every drop of expression out of a melody and even adds a breath of silence to the end of many of her phrases. I spent last weekend exploring the consistencies of her phrasing since the 70's. She's not Tina Turner, she is not Diana Ross nor is she Whitney Houston. Her style can only be called Gladys Knight. She has a somewhat conservative tone in her music and vocals and isn't really the uptempo type.

Her style is more sensual and smooth. Dramatic pauses and lingering diminuendos to niente. Even when her songs have higher energy, Gladys works long notes as a means focus and stability. I also think she'll be singing the more sensational anthem version in 4/4 rather than 3/4. If she is unaccompanied or not, I don't think that will make to tremendous a difference. Better for the over if there are any live musicians to accompany Gladys. If she does have a canned track to sing over, it will likely be a fresh recording made to specifically suit Gladys' strengths. Not the god awful horror show Pink inflicted on us last year. Some soul inspired renditions of the anthem have been known to take weeks to conclude. This weekend, I expect Gladys Knight to lift us all to that higher place, for about 2 minutes.

Over.

The Maestro out.
THE PICK: THE OVER 1:47
---
Coin Flip
You saw what I just did with the National Anthem – you think I can't write 1,000 words about a coin flip too?
You're right.  I don't feel like it this year.  I always pick heads because everyone always pick tails but I think the tides of fortune have shifted back to tails.
Tails never fails, except for when it failed like, a LOT of times, but now it's back to being successful.
THE PICK: TAILS
(Source: FanDuel Sportsbook)
---
Shortest Touchdown Of Game:  O/U 1.5 Yards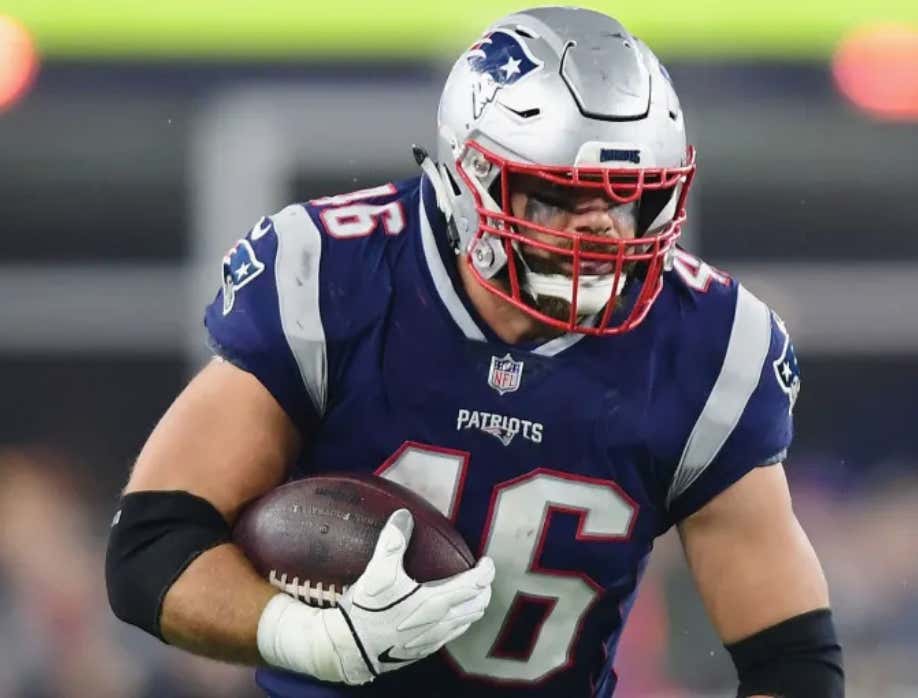 This one I did REAL, FOOTBALL GUY research on.  And hearing the stats and the analysis, I got hyped up for this as one of my top confidence picks.
"This has been a reliable bet in recent history, paying out in five of the last six Super Bowls (and it could have been a perfect six-of-six if Pete Carroll had run the ball with Marshawn Lynch)," White told SportsLine. "I also think the officials will be hyper-aware of pass interference calls after the debacle in New Orleans, and that could increase our chances of seeing first-and-goal at the one-yard line."
SIX OUT OF THE PAST SIX! Yes I am counting the Marshawn Lynch as a win.  I am 1,000% certain he scores that touchdown if you hand him the ball.  Apparently Pete Carroll did not share my belief just like he doesn't believe jet fuel can melt steel beams.  But that's a lock for a TD run.
And the PI point is BRILLIANT.  After that Saints fiasco you know the refs will be all over pass interference calls.  Think about how many points are gonna be scored and how many passes are going into the end zone and you've got really really got odds to be at least in a position for this prop to happen.
THE PICK:  UNDER 1.5
(If someone runs in a touchdown from the 2 yard line I will smash the spinach artichoke dip into the television)
(This is not an official pick and I am not qualifying it as part of my scoreboard, but I might have a little action on James Develin to be the one to score it.  You KNOW the Pats, every single SB year, find some relatively random white guy to go to.)
---
Total Interceptions Thrown By Jared Goff:  O/U 0.5
Jared Goff is an awesome QB, will be for a long time, is mature and unphased, is a friend of the program, and is extremely talented…but come on now.  This is the Patriots coached by Bill Belichick in the Super Bowl.  You could be Joe Montana and have a problem with the defense.
I don't expect Goff to have any jitters.  I expect him to shine in the moment more than like 80% of NFL QBs could do.  I just think the Pats are too brilliant to not confuse him and force a mistake just ONE time. This is the staff that told Malcolm Butler to watch for a very specific play that nobody outside of them ever considered would happen.  And Belichick is, in my opinion, good.
THE PICK:  OVER 0.5
---
Maroon 5's Halftime First Song
(extra prop bet: name one of the guys in that picture who isn't Adam Levine.  Over/under 0.5, over +10,000) 
This is my favorite prop every year, and I am REALLY good at it.  Seriously.  I have an actual talent at doing this.  I don't think I have ever been wrong, and that is, if I do say so myself, VERY impressive.  We're not talking Heads or Tails or Yes or No.  We're talking a music artist's entire catalogue of music something spanning over a decade, and picking what they will sing first.
With the patting myself on the back out of the way, I will be totally honest with you guys, because I respect you and owe that to you: this is the hardest pick I've ever seen.  Ever, and it's not particularly close.  IMPOSSIBLE PICK.  Adding to the difficulty, I haven't listened to Maroon 5 since Songs About Jane.  I loved it but then I found out one of my long ago ex-girlfriends hooked up with Adam Levine in high school so fuck him and fuck his music.  That fact makes this extra hard (that's what he said, with my girlfriend.)
But I'll give it my best shot.
What I do each year is go with my gut feeling, the song that pops up in my head the INSTANT I hear who the performer is.  I trust my gut when I envision what a band will play first for a Super Bowl crowd, keeping the event in mind, the state of the artist's career and how they need to represent and promote themselves, and most importantly what opening beat will get people the most hyped.
My gut for this one was Harder To Breathe.  Couple problems with that – I don't trust my gut on that.  2, it's not even listed on the odds on most websites – and the site I'm using doesn't have "the field" as an option.  But play the song right now and tell me the opening beat/drums/vibe isn't exactly what would open a show.  Picture the silence settling on the crowd, the flashes going off, the lights down low – then the music that comes in.  This is, if I was making the set list, what I would start with.  And don't worry about how old the song is.  That is not a factor at the Super Bowl – it's all about mass entertainment.
So I obviously won't be making Harder To Breathe my pick, but I'm just leaving it here in writing so if, by some chance, it is the first song, I will have soooo much bragging to do.
Let's see what we can do.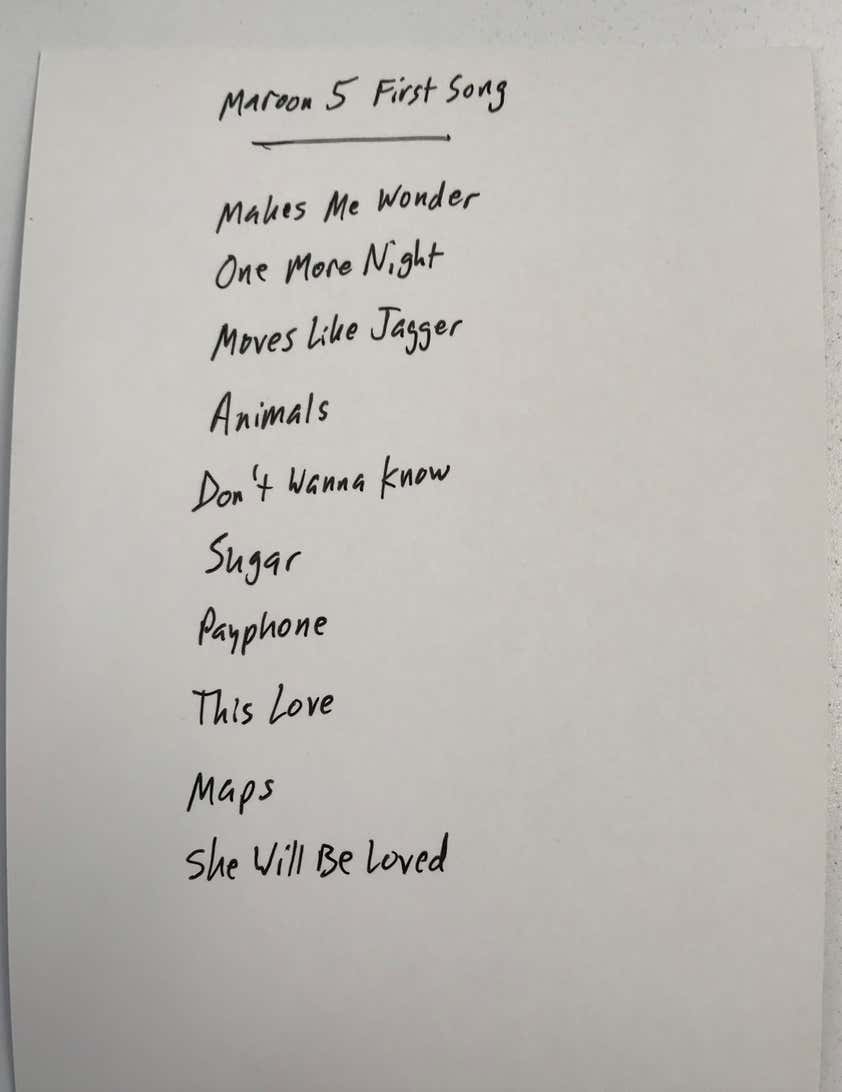 First let's eliminate what I'm confident it won't be:
Uhhh, there's like 3.
- Don't Wanna Know (+900) – not the right vibe.
-Girls Like You (+900) – nope, too slow.
-She Will Be Loved (+2200) – has those odds for a reason.
-Animals (+700) – more on this later.
That leaves us with…almost everything:
Makes Me Wonder (EVEN) – wow, I have never once heard this song in my life.  This song fuckkkssss.  I had no idea why it had the best odds by far, but now I clearly see why. Also, I'd assume it's pretty new, so the recency definitely helps.  This is a great choice.  But I would like to be a little more daring than even odds.
One More Night (+550) – yup.  I think this is the one.  Play it right now.  Like I said, the first 10 seconds of the song is all you need to hear to make your decision.  And the "Ooh, ooh ooh ooh, ooh ooh, ooh ooh" is MONEY.
Moves Like Jagger (+600) – Oh god, I was pretty dead set on One More Night, but listening now, this fits the same exact mold.  And it's like a band-defining song.  Lame opener for a Maroon 5 concert, but for the Super Bowl crowd, this is perfect.  I'm torn.
Sugar (+900) – I wouldn't THINK this would be the opener, but if we're being honest, it's a monster hit for them and it's got a generic groove perfectly tailored by an algorithm to the general public.  And what concerns me – it's the very first song on the This Is: Maroon 5 Spotify playlist.  Ugh.  I'm not going to pick Sugar but I would not be surprised if they're lame enough to do it.
Payphone (+1800) – This was Chaps' immediate pick and Chaps has a Purple Heart so I at least consider his opinions very closely.
This Love (+2000…what?) – How the hell does this have such long shot odds?  This could easily be the one.  I don't care what you bet, I think it would be foolish to not put at least a tiny bit on this at freaking +2000.
Maps (+2200) – this song is a fucking banger, how is it literally the lowest odds on the board?
Sometimes you just have to really tell yourself oddsmakers know way more than you.
One interesting thing to note: there's a new trend of artists starting with a 10-20 second intro of a slower song before launching into their banger.  Last year Coldplay did 15 seconds of The Scientists before they burst into Viva La Vida, my choice for first song.  I know that I got paid out for Vida by my site, but I don't remember how they handled The Scientist – I believe they ended up having to pay out "the field" for it.  Look into that.
I say that because, if they go that route, I could see an acapella/low key intro of Payphone or She Will Be Loved.
Re: Animals.
A lot of people I've asked have picked that as the opener, and they're not wrong when you use my criteria – that one is a bang piece. If I didn't read the internet I would have made that my #1 pick.  But it's the first one I crossed off the list.
Know why they won't play it?
Because it's 2019 and the lyrics have inspired think-pieces about being problematic.
I'm not an outrage guy when it comes to art* but let's just say I can at least understand this one.  I mean the dude is literally hunting a girl down like an animal.
Baby I'm preying on you tonight
Hunt you down eat you alive
Just like animals
Animals
Like animals-mals
Maybe you think that you can hide
I can smell your scent for miles
Just like animals
Animals
Like animals-mals
I'm preying on you and you may think you can hide but I'm gonna hunt you down like an animal. Like they are, quite literally, being a sexual predator.  Freakin RAIIN issued a formal statement on it, calling it "a dangerous depiction of a stalker's fantasy."
So, if they do play Animals, then I have vastly underestimated the balls of Maroon 5.
In conclusion…man, I'm bummed about my streak possibly coming to an end.  There are legitimately 7 very very real possibilities.
I need to have the balls to make an official pick so gun to my head-
THE PICK: ONE MORE NIGHT +550
That's my pick for the scoreboard.  But there's no reason you can't make multiple bets, considering how sweet the odds are on all of these.
OTHER PREDICTIONS:
SECOND CHOICE: Moves Like Jagger (+600) – this would be if they do the "intro" opener I talked about, 10-15 seconds of a different song.  One More Night is a cold-open song.  Jagger needs a little bit of buildup.  The two best candidates for slow open – Payphone or She Will Be Loved.  Again, check how your site is paying out.
PLAYING THE ODDS: you kind of have to put a little bit on This Love at +2000.
I will probably do my bets like this:
-50% One More Night at +550
-40% Moves Like Jagger at +600
-5% This Love at +2,000
-Wet the beak with a little taste of Payphone and Maps at +1,800-2,000 with the rest
---
Tom Brady Rushing Yards: O/U 1.5
Oh come on.  Sometimes they make it just too easy.  I thought that number said 100.5 at first.  That would have been a tough bet.  But 1.5?  He needs to rush for 2 yards to beat this?  We're talking about Tom Brady?  The guy who everyone has called old and dead for like 6 years?  The guy who everyone said they should have never traded Jimmy G because he was #done?  The guy who has heard every piece of media criticism – from his own city's reporters! – and every piece of hate from fans around the country and every bulletin board clipping of other players talking shit?  Who led a "STILL HERE" chant himself a few days ago, after spending the past couple weeks posting stuff all over social media?
I don't even care if he'll probably get the over on his famous QB sneaks alone.  If you think Brady isn't ripping off a scramble for a first down at some point, jumping up and slamming the ball down and fist pumping so hard his shoulder pads fall off while screaming LET'S GO, I don't know what to tell you.
THE PICK: OVER
---
Russell Westbrook + Paul George Points > or <  Gronk receiving yards.
Oh hell yeah, I love these.  Like I said I'm pretty good at DFS.  I spend an hour a day after work on analysis and projected lineups for the night's slate.  It's a fun hobby (my therapist says it's important to have hobbies), I find it cathartic, and there's a chance to win a very big sum of money every night so, that's cool.
The reason I say that is because I am very familiar with every single game the Thunder play.  I know there is a very specific price point + # of value plays averaging >0.7 FP a minute priced under $4K and projected to play 28 minutes to decide on spending for Westbrook.  I know Terrance Ferguson is a hit or miss punt.  I know Jerami Grant plays 42 minutes and runs hot and cold so you want to ride him during a hot streak.  Same with Steven Adams.  I know Dennis Schroeder is an absolute must-play when Westbrook sits, a solid GPP play when Ferguson is out, and a fairly easy fade when everyone is healthy.  And, for the sake of this blog, I know Paul George is an ABSOLUTE MONSTER.
Now let's check the matchup…which is where we run into a problem.
Rule of thumb – never play guards against the Celtics.  Well, don't really play anyone against them.  Their defense is elite.  They're 2nd in the NBA against opposing guards (Westbrook) and 3rd in the NBA against opposing wings (George).
Now these two are obviously matchup-proof and can cancel out an elite defense at any time, but playing the odds, their ceiling is a little bit limited.  Here are the stats:
Paul George PPG: 27.3
Paul George's matchup with Boston this season: 22 points on 31% shooting (season average- 45.4%)
Russell Westbrook PPG: 21.7
Russ against Boston: 13 points on 25% shooting (season average – 41.6%) (also, yikes!!)
Granted, this was game 4 of the season, in October.  But it's the only sample size we have to work with.  Also noteworthy: Russ has cracked 30 points just once in his past 10 games.  PG has 6 out of 10. 
Obviously, you really can't ever underestimate two superstars like Russ and PG13.  They can go off for 50 any time, any place.  But if you're playing the stats and the trends, we're looking at like, 49 points on Sunday for season average, and 35 points on their last game vs. Boston.
Now you know I had to hit up my boy Greenie for some feedback since his whole life is dedicated to the Celtics and blogging about the Celtics and nothing else – trust me, I've tried to get something else, I don't think it's gonna happen.  I may give Greenie a lot of shit for being boring and using stock photos and getting negative clicks on a daily basis, but make no mistake about it, there's nobody I value more when it comes to Celts info.  He is an expert in the field.
Greenie brought up three great points:
1) Tip is at 2PM. "Afternoon games are like guaranteed unders because players' routines are all messed up."
2) Will Kyrie play?  He's been missing games lately (I know because Rozier is an automatic plug-and-play when he's out), and they have a game tonight, where he is currently active, but may aggravate something during the game.  "Having to deal with Rozier on Westbrook is terrifying, but it sounds like Kyrie will play."  Also…as of writing this, the trade rumors are HOT.
3) OKC will be coming off 1 day of rest.  Westbrook on 1 day rest is 21 PPG, George on 1 day rest is 27.7 PPG.  "So in addition to their first meeting numbers coming under 49, even their all-season averages on 1 day rest (and on the road) makes it close…and that's not factoring in the defense."
So the question becomes: do you think Gronk tops 49 yards?
He's been off all season.  He's been hurt.  He hasn't been 100% in forever.  If we're sticking with my nerd DFS analyses my dude's price dropped from like $8,600 to the borderline value play of $5.6, getting blown by by Kelce and Ertz and Kittle.  But come on – the talent, the size, the big stage, the # of times Brady will be throwing, (the possibility of retirement?)…to quote my good friend PFT Commenter, all the stats go out the window in situations like this.  Bill has been saving Gronk for this game:  Gronk is Gronk and Gronk will be Gronk in the Super Bowl.  And I'm confident to put my money where my mouth is on that.
THE PICK:  GRONK RECEIVING YARDS
---
Gatorade Bath

This has always been the toughest one, and is impossible to predict, and no matter how many "hot tips" or "insider info" you get or read about, none of it is ever right.  I've spent hours and hours researching past results, photo evidence, the favorite colors of potential MVPs – none of it is any good.  But you really gotta do it because it's very exciting to watch for at the end of the game.  And fun is good.
The only statistic I'll consider: 3 of the 5 Pats Super Bowl wins have had no Gatorade bath.  Just flat out didn't do it.  That's so Patriots.
Of the other two: 1 was blue, 1 was clear.
Meanwhile on the Rams side:
So since NO GATORADE isn't an option, we've got a 50% chance of clear for a Pats win, and a completely made up, untrustworthy 100% chance of clear according to the star running back who was literally no influence over the Gatorade color.  That's like, 150%.
THE PICK:  CLEAR 
(Source: FanDuel Sportsbook)
---
SUPER BOWL WINNER + S&P 500 MARKET CLOSE ON FEBRUARY 4, 2019
Okay time to cook.  Everybody knows I like to challenge myself each year. I use every Super Bowl prop bet blog as a means to educate myself on something, and in the process, educate the readers.  This year?  We're tackling the S&P 500.
For those of you who are unfamiliar and feel left out, here's a quick little background on the S&P that I definitely know and did not get from Wikipedia:
The S&P is an American stock market index based on the market cap of 500 huge, major companies.  (I can name so many of them, if you ever see me on the street just ask me, don't want to waste time right now, it would take too long and too many words to list the companies, which I definitely know.)  These 500 companies have common stock on the NYSE and NASDAQ blah blah. I'm sure you're all familiar with the Dow Jones: basically what you need to know is the S&P 500 differs from the Dow Jones Industrial Average and the NASDAQ Composite index, because of its diverse constituency and weighting methodology. It is one of the most commonly followed equity indices, and many consider it one of the best representations of the U.S. stock market, and a bellwether for the U.S. economy.[13] The National Bureau of Economic Research has classified common stocks as a leading indicator of business cycles.[14] Can you believe that? The freakin NBER.
(Bellwether means "leading sheep of a flock" or, for our purposes here, "an indicator or predictor of something." Don't worry I had to look it up too.)
Anyway, let's break down the actual bet here: how will the S&P 500 close on Monday evening compared to the results of the Super Bowl?
Everyone knows the quants will be crowded into the Super Bowl indicator that has statistically significant efficacy. If the Rams upset the Patriots, the market should gap higher, extending the V-shaped bounce from Jan. The algos will ride the momentum and we could close up huge. Resistance at the 2800 level will put a cap on returns unless accused sexual harasser and former Godfathers CEO Herm Cain gets the Fed nomination, which investors have obviously been clamoring for.
The bears will point to Brady's abysmal track record with markets down after his SB appearances. Plus we're overdue for a Trump tweet/arrest/cabinet firing over the weekend to send the market into another tailspin. The Powell Put is running out of steam and we've been in overbought territory for three weeks. Since the Pats are obviously not losing this game, my money's on a major reversal, I'm talking down 50-75 and a world of pain for all Americans outside of the New England metropolitan area.
Bet the Pats, short the market.
THE PICK: PATS WIN AND THE S&P CLOSES BELOW THE PREVIOUS CLOSE.

(Source: My finance friend whom I asked to answer this prop bet with the biggest most financial terms he knew. He's so rich.)
---
And finally….
WINNER OF THE GAME: PATS -2 RAMS +2
I do not care where you are from and I don't give a fuck how much you "pride" yourself on your fandom and could "NEVER root for the Patriots," if you are a Barstool employee you should be rooting for the Pats to win with all your heart.  We make like 100 million dollars in t-shirts if they win.  Do it in private and keep it to yourself if you need to.  Just know that.
The Rams are awesome and young and tough and have a great chance of taking home the Lombardi trophy (groundbreaking stuff from me right there considering they are 2 point underdogs.)
But I'm a big believer in narratives, and the #STILLHERE + pissed off Tom Brady, combined with the collective prayers of a 140 person company, makes me go with New England
THE PICK: PATRIOTS -2
(Source: FanDuel Sportsbook)
(Interesting note that I may throw a couple bucks on is final score 28-24 paying out +10,000. )
---
Alright, that's the end.  I feel like 6,236 words is enough for prop bets.  If only Barstool SPORTS took this much time and energy to write about real SPORTS stuff, am I right?
Good luck, I'll be sitting in the corner on @kmarkobarstool all game not talking to anyone except you guys on the internet.
One more reminder: new FanDuel users can get 53/1 odds on either team to win when you place a $5 moneyline bet on FanDuel Sportsbook. Just go to fanduel.com/stool and use promo code STOOL to get your exclusive odds.
(Offer applies to 1st online wager only. Pregame, moneyline bets only. $5 max bet. Winnings issued as site credit. 21+ and present in NJ. Gambling Problem? 1-800-GAMBLER.)