Fuck It, I Am Going To Start Dreaming About Anthony Davis Becoming A Knick
That's right, it's #PhotoshopSZN in January! Obviously the big story of the day is Anthony Davis demanding a trade from the Pelicans. Lakers/LeBron fans are cumming themselves, Celtics fans are being forced to hand over all shoelaces and sharp objects in their vicinity, and Knicks fans are doing what they do best; talking themselves into a superstar coming there despite logic and evidence to the contrary. But fuck it. It isn't truly an NBA rumor unless New York fans scream their way into the mix and we even had the Dropper of Bombs say that the Knicks were going to be aggressive in the AD Sweepstakes.
*For the record, I don't think I used the semicolon right in that sentence, but it felt good so I let it rip.
Lets fucking roll! Clearly the Lakers are the favorites in all this since they can acquire Anthony Davis now, he reportedly wants to go to LA, and LeBron will trade whatever young players it takes to get his next Wade, Kyrie, etc. I bet Bron has actually looked into trading the draft rights to his own kids to the Pelicans if need be. The NBA also having a clause in the CBA stating that the league's best center must play for the Lakers during his prime means that Magic Johnson & Co. have a distinct leg up on the competition. The Celtics have plenty of assets thanks to Danny Ainge pillaging the Nets years ago, but they can't trade for Davis until they re-sign Kyrie because of the Derrick Rose Rule (or unless they trade Kyrie…#hmmm).
Which leaves the door open jusssssst enough to give Knicks fans the most dangerous thing in the world. Hope.
Now the question is what would the Knicks have to offer the Pelicans for Davis? My answer is everything they have. Like Woj said, this year's first rounder could be Zion, RJ Barrett, or probably like the 6th pick because the Knicks are fucking cursed. They can trade Kevin Knox, Noah Vonleh, and pretty much anybody else that has made this season so fun. I would even have no problem putting Kristaps Porzingis in a trade. I would drive KP to New Orleans even if Anthony Davis was the one coming off of a torn ACL and KP was healthy as an ox. Would I have put those words in print if Porzingis didn't unfollow me on Twitter? Maybe, maybe not, maybe fuck yourself. The bottom line is that there should be no Knick that is untouchable for an Anthony Davis trade. And since the Knicks have nothing to play for outside of the number 1 pick. they should do whatever is necessary to showcase their assets while hoping the value of the assets of the Lakers, Celtics, and whoever else is in the trade market plummet like Bitcoin immediately after every person at Barstool started buying it.
I know what you are thinking. "Hey Clem, you awesome, good looking, really smart, definitely not fat young man. Why would AD want to play in New York if he said he wants to play for a winner?". Well first of all, thank you for the compliments! Second of all, the whole premise of this blog is based on Kevin Durant wanting to play for the Knicks and him letting Davis know on the low that he will be going to New York if AD ends up there.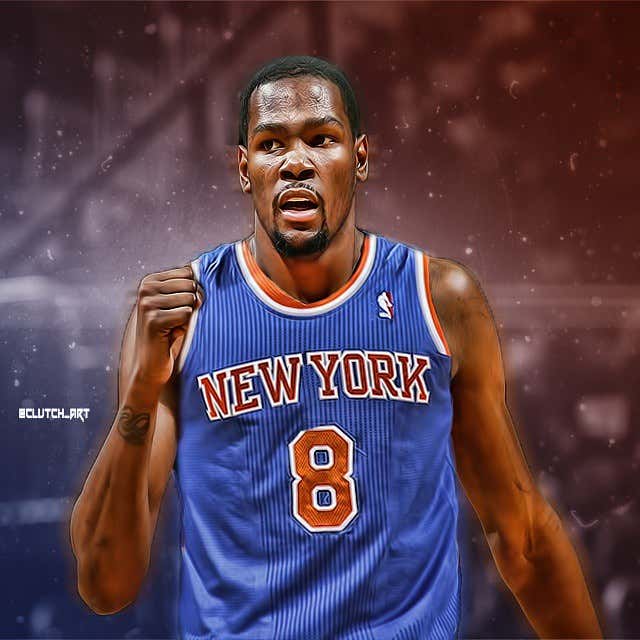 Like I said, this is the time of the year when Knicks fans are irrational about players coming to New York. Lets fucking go! KD, AD, and whoever the fuck we didn't trade to make it all possible.
Superteam Assemble!
God it feels good to have that logo back in my life.
P.S. Imagine Derrick Rose actually being the reason the Knicks were able to create a #superteam in New York because of the Rose Rule? That's a better redemption story than anything Rose is doing in Minnesota this year.