Check Out The Hammer On The Ronaldo Statue Outside His Hotel In Portugal
Source –  A Cristiano Ronaldo statue has attracted groups of laughing women due to its huge, shiny bulge.
The Juventus superstar's larger-than-life tribute was unveiled at his Pestana CR7 hotel in Funchal, Portugal in 2014. Of course, visitors want to get a photo alongside the artwork but doing so has had unexpected consequences.
The groin area has apparently been rubbed so frequently that the bronze has been polished into a hard-to-miss shine. Fans were quick to notice the generously-sized bulge in the shorts when the statue was opened to the public.
And now it has become a focal point for selfies, with fans seemingly eager to touch it as they pose for selfies.
Tourist John Rodgers noticed the wear in the private parts as well as in the hands. "I just wanted a picture of him to send to my family," he said. "But as soon as I put on the family WhatsApp group everyone started laughing. They couldn't help notice the well-rubbed area between his legs.
In America they say, "find a penny, pick it up, all day long you'll have good luck." In Portugal they say, "Ronaldo's cock, stiff and large, Rub it strong, you'll be in charge." At least that's what I've been told. The statue has been up since 2014 and his hog has apparently been rubbed so much that it shines like a light bulb. It's so impressive that hundreds of women (and probably thousands men) are literally bending over for it.
If we're being honest, it's an impressive dick. According to Chaps, tight packages are in for 2019 and this one checks all the boxes. Whether or not it's to scale has yet to be seen. Regardless, it's size and girth has been bringing pleasure to tourists for years.
Pose with the shiny cock, Grandma!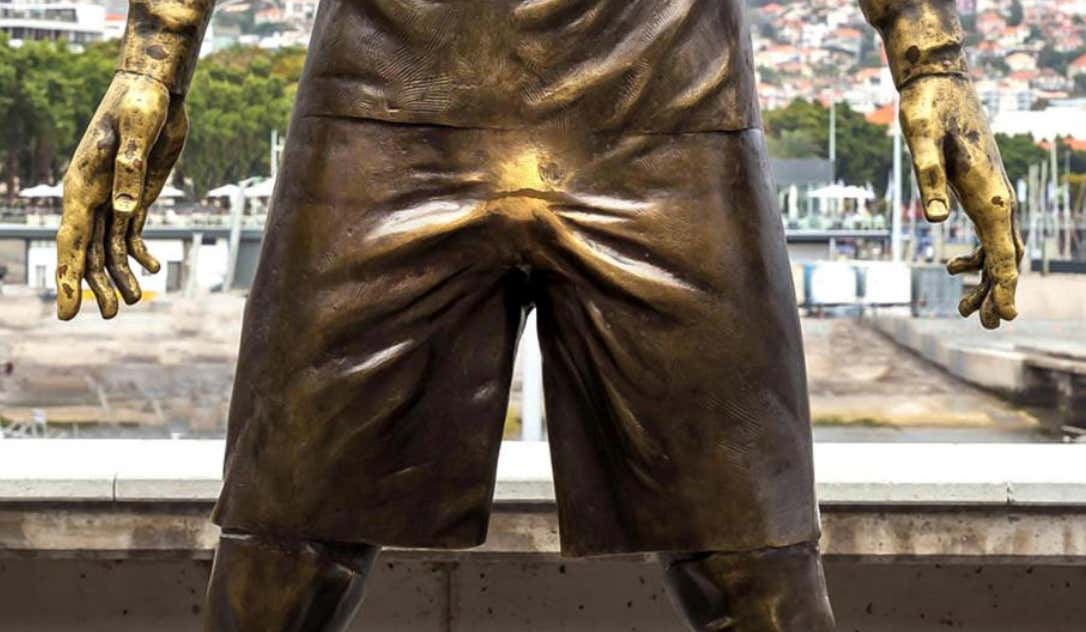 Unfortunately, most good things come to an end and I'm sure they'll end up shining the rest of the statue so that it's not as noticeable. Oh well, it was fun while it lasted!