It's The Most Wonderful Time Of The Year: Here's Your 2019 World Juniors Group A Preview
A week from today, the 2019 World Junior Championships will get underway in Vancouver. If for some reason you are a hockey fan and you somehow have not bought into the hype yet around the World Juniors, I highly suggest you change that this year. This tournament is where the future stars of the NHL really get to make a name for themselves for the first time. If you're a fan of a team near the bottom of the standings, this is where you're going to get a chance to see most of the 2019 1st rounders for the first time. If you're a fan of a team who has a few high-end prospects but you just haven't gotten many chances to watch them play yet, chances are that they'll be playing in this tournament. It's pretty much like March Madness but only better because this isn't just some cash grab by the NCAA and their sponsors. This is an international tournament filled with some of the best hockey players in the world who aren't in the NHL yet, or at least not full time. Personally, I'm a little more of a fan of the tournament when it's not being hosted in North America because I love being able to wake up with a game on at 7am in the morning the day after Christmas, but beggars can't be choosers I suppose.
But yeah, the first game of the tournament gets going on Wednesday December 26th at 4pm EST with Switzerland vs Czech Republic. I figured the best way to go about this would be to do a preview of Group A today (Canada, Russia, Czech Republic, Switzerland, Denmark). Then I'll do a preview for Group B tomorrow (USA, Sweden, Finland, Slovakia, Kazakhstan). And then on Friday we'll finish it off with some medal and scoring predictions. So without further ado, let's talk about Group A.
***Quick Disclaimer: rosters aren't finalized yet for the tournament so the rosters you see coming up here are just preliminary. But for the most part, there will only be a few changes here and there before the tournament***
Team Canada
Canada comes into the 2019 World Juniors as the reigning gold medalists. 2018 was just their 2nd gold medal since 2010 and they haven't won back-to-back golds at this tournament since 2009 when they won 5 years straight from '05-09. Granted, they were just a shootout away from winning Gold in 2017 but I think we all remember how that one went. Either way, if there was ever a chance for Canada to win back-to-back golds again, this is the year because this lineup is absolutely fucking loooooaaaaded. Even with a few key injuries right before the tournament (Gabe Vilardi and Alex Formenton), this team is so stacked and so deep that it really shouldn't make much of a difference.
The thing about tournaments like the World Juniors is that offense is always going to win out. These kids are only together for a few weeks here and they haven't had too much time to gel, so it's difficult to develop really strong team defense. If you have a roster who can pump the back of the net, it's going to give you a lot more of an advantage than if your team is built around defense. As far as guys who can fill the back of the net? Canada is a wagon.
Max Comtois (2017 2nd, ANA) got 10 games in the NHL this year and had 7 points. Morgan Frost (2017 1st, PHI) is currently 3rd in the OHL with 58 points in 32 games. Brett Leason (2019 Draft) is 2nd in the more defensive-minded WHL right now with 64 points in 31 games and Cody Class (2017 1st, VGK) is 5th in that league with 54 points in 26 games. Nick Suzuki (2017 1st, VGK) was a big piece in that Max Pacioretty trade and he has 20 goals in 28 games in the OHL right now. Owen Tippett (2017 1st, FLA) already has his first career NHL goal under his belt and is a certified sniper. Joe Veleno (2018 1st, DET) is currently tied for 4th right now in the QMJHL with 54 points in 28 games. And tied right there with him is the name I'm most interested in on this roster, 17-year-old Alexis Lafrenière. Now the reason why Lafrenière is on the final roster is because Gabe Vilardi was ruled out with an injury, opening up that spot to the projected 2020 1st overall draft pick. And yes, you read that correctly. Lafrenière won't be getting drafted this upcoming summer, he still has a whole extra year to go. And he'll be only the 9th player in Team Canada history to represent his nation at the World Juniors before he's even draft eligible. The other 8?
He's been the projected 1st overall in the 2020 draft forever now. He had 80 points in the QMJHL as a 16-year-old last year. Is on pace to have over 100 points this year. And he joins the ranks of some pretty decent names to represent Canada at the WJC at a 17-year-old next week. So essentially, this is what I'm trying to say about this forward group for Team Canada is that they are fast, they have very decent size, they have an unreal amount of talent, and they know how to stuff the back of the net at will. And I didn't even get to the best shot on the team yet.
This is going to be a very good tournament for defensive scoring. You look at some of the names you'll be seeing on the blueline next week and you have guys like Adam Boqvsit, Timothy Liljegren, Rasmus Sandin, Quinn Hughes and Henri Jokiharju. But the guy who will most likely be leading defensemen in scoring this tournament will be Evan Bouchard (2018 1st, EDM) with the BouchBomb.
If you take a penalty against the Canadians in this tournament, just make sure that you realize that the puck is going to get up to Bouchard on the powerplay and then it is going to end up in the back of the net. If he's sniping against Stanley Cup Champion Braden Holtby, chances are he's not going to have too much of an issue scoring in this tournament. And as far as the guys who are tasked with keeping the puck out of Team Canada's net?
Michael DiPietro (2017 3rd, VAN) currently leads OHL goaltenders with a 2.26 GAA and a 0.922 SV%. And then Ian Scott (2017 4th, TOR) currently leads WHL goaltenders with a 1.61 GAA and a 0.943 SV%. There's obviously not as much defense being played in front of DiPietro with Windsor/Ottawa in the OHL than there is for Scott with Prince Albert in the WHL, so naturally their stats are going to be a little different. But both goalies lead their respective junior league. So from the net out, this Canadian team is a wagon through and through. I'd say the blueline is probably their weakness right now but they have stud goalies behind them, and if they're scoring 4-5 goals a game then it really shouldn't be much of an issue.
Team Czech Republic
As far as star power goes, Czech Republic is definitely the 2nd best team in this group. This team ended up getting smoked by Team USA in the Bronze Medal game last year but they return a bunch of studs this year. They may not be as deep as Canada but their top end guys are definitely on par with the Canadians.
Martin Necas (2017 1st, CAR) was the tied for the leading scorer in last year's tournament with Casey Mittelstadt. They both had 11 points in 7 games. So far this year, Necas had 1 goal and 2 points in 7 games with the Hurricanes in the NHL and has put up 7 goals and 22 points in 26 games with Charlotte in the AHL. So he's been playing against better competition this year than he was at this point last year, and he's returning to the tournament as the leading scorer. Not a big deal. Then you get to Filip Zadina (2018 1st, DET) who I think is the most skilled out of the bunch. He was the 7th leading scorer in last year's tournament with 8 points in 7 games. Here's a little reminder of how much he abuses goaltenders.
Heading into his draft year last year, he had 82 points in the QMJHL with Halifax. He's spent all of this season in the AHL so far with Grand Rapids and has 8 goals and 17 points in 26 games. Obviously he's still trying to develop to the pro style but getting those reps at the AHL heading into this year's tournament as opposed to playing in the QMJHL is only going to make him more lethal. And speaking of guys who are playing at the pro level, Filip Chytil (2017 1st, NYR) has spent this entire season with the Rangers so far. There's probably a good chance he won't be loaned to the team for the tournament but if the Rangers decide to let him go, he has 6 goals and 12 points in 33 NHL games. Even with how loaded Canada's team is this year, nobody on that roster has 33 NHL games played. (So those 3 guys right there along with Martin Kaut (2018 1st, COL) are going to be weapons for the Czech Republic this tournament who obliterate some of the goalies they'll be seeing in this group.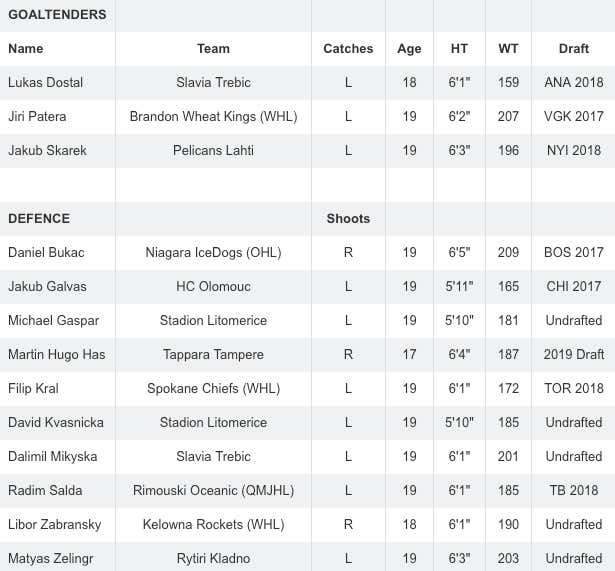 As far as goaltenders go, Jakub Skarek (2018 3rd, NYI) is the only returning goalie for the Czechs from last year's team. They have a couple defensemen returning this year with Radim Salda (2018 7th, TB), Filip Kral (2018 5th, TOR), and Jakub Galvas (2017 5th, CHI). But for the most part, it's a lot of undrafted guys and one underage player in Martin Hugo Has who is projected to possibly be a 2nd or 3rd rounder coming up in June. So that's the thing. The top end talent for Czech Republic is good enough to hang with anybody in this tournament. The only thing is that they don't have the depth to keep up with a team like Canada. But they're definitely the 2nd best team in this group.
Team Russia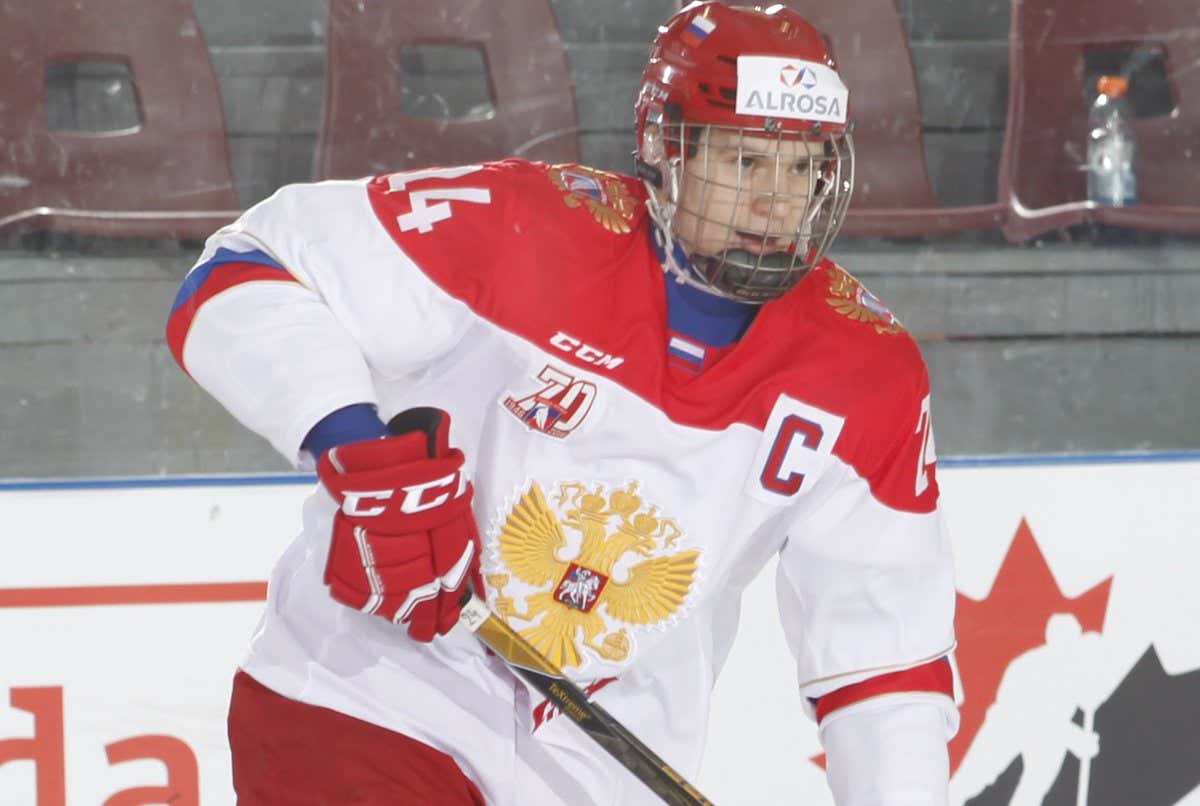 Last year was the first year since 2010 that the Russians didn't even medal at the World Juniors. From 2011-2017, the Russians won 1 gold, 3 silvers and 3 bronze medals. But they lost to the Americans 4-2 in the quarterfinals last year and their medal streak was over. Which is why there's only like 2 or 3 returning players from last year's tournament on this year's roster. I could be missing someone here but I'm pretty sure Dmitri Samorukov (2017 3rd, EDM) on defense and Klim Kostin (2017 1st, STL) on offense are the only returning players. Obviously they'll be without 2nd overall pick in the 2018 draft Andrei Svechnikov considering he's made the full time roster in Carolina this season but yeah, if you take a look at their roster, you probably won't recognize a ton of names.
Now Klim Kostin is a stud. He was a top 10 scorer in last year's tournament and he's currently playing his 2nd year in the AHL right now with the San Antonio Rampage. But other than him, I just don't really know much about any of these guys. They're all either very recently drafted or went undrafted last year. Were they undrafted because they're Russians and Putin probably wanted them to stay in the KHL so that they can participate in the Olympics eventually? Maybe. But usually Russia heads into this tournament with at least a couple of headliners and right now the only player I know about is Klim Kostin. So unless some of these guys are lighting up the KHL without me ever hearing about it, it might be tough for them to score enough goals to keep up with Canada and Czech Republic in this tournament. And then as far as the back end goes…
Again, I just don't know much or anything at all about these guys. Alexander Alexeyev was a 1st round pick for Washington in 2018, and I'll always have some faith in a Russian picked up by Washington. Also the fact that he plays in the WHL as opposed to back home in Russia leads me to believe he'll be the best defenseman for Russian in this tournament. I already mentioned Dmitri Samorukov as the lone returning defenseman to this team. He was a 3rd round pick to Edmonton in 2017 and another guy who has come over to North America to play junior as opposed to staying home in Russia to play in the KHL, which seems like the right move to make for a defenseman who has hopes of playing in the NHL. But I don't know. I just don't think Russia is going to be that dangerous of a team again this year.
P.S. – Keep an eye out for Rangers prospect Vitaly Kratsov, courtesy of The Morning Skate boys.
Team Switzerland
This is where I know virtually nothing to say anymore in regards to a preview. Switzerland had a pretty good run there when Nico Hischier was in the tournament. They have a few guys who have been drafted and Valentin Nussbaumer is a top 50 prospect heading into the 2019 draft who currently has 7 goals and 18 points in the QMJHL. But yeah, I think showing the roster is the only thing I can do here in terms of a preview.
Some of these guys play at a pretty high level in the Swiss National League, and I like that they have a good mix of guys who are also playing over in North America right now. I'd still put them at 4th in this group but I'm sure they'll make the majority of games they play in this tournament competitive.
Team Denmark
I don't know a single name on this roster. They have 2 players who have been drafted to the NHL. Malte Setkov was a 4th round pick in 2017 to the Detroit Red Wings and he's currently playing in Sweden. And then Jonas Røndbjerg was a 3rd round pick in 2017 to the Vegas Golden Knights and he's also currently playing in Sweden. They have a few guys who are 2019 draft eligible but not any 1st or 2nd round names. And that's about it. There's your preview for Team Denmark.
Predictions:
If you couldn't tell already, I wrote the the team previews in order of how I think they'll finish the preliminary round.
1. Canada
2. Czech Republic
3. Russia
4. Switzerland
5. Denmark.
Big Games To Watch For:
Russia vs Czech Republic | Friday December 28 | 8pm EST
Czech Republic vs Canada | Saturday December 29 | 8pm EST
Canada vs Russia | Monday December 31 | 8pm EST
…..
….
See everybody tomorrow for the Group B preview.