Jerry Jones Is Completely Right... And Completely Wrong About The Kareem Hunt Situation
Jerry Jones is "keeping a very close eye" on how the Kareem Hunt situation plays out because of course he's interested to see the outcome! His running back, Ezekiel Elliott, was suspended six games last season over alleged domestic abuse he denied over and over again. Elliott was never arrested, never criminally charged, and yet he was suspended. Jones was so outraged by the lack of evidence and severity of the suspension, he took it to federal court.
And he was right to, considering the staggering inconsistency in the league's domestic violence policy.
Ray Rice was benched for TWO games in 2014, then the videotape was released, and he was suspended indefinitely. (Later that year he appealed his suspension and it was lifted, but wisely no one picked him up.) It was then the league instituted a domestic violence initiative that demanded a six-game suspension for first time offenders, and a lifetime ban for a second offense.
Yet, in August 2016 – less than two years after the initiative was developed – the NFL suspended Giants' kicker Josh Brown for only ONE game after he was arrested for domestic violence. Soon after his suspension, documents were released incriminating Brown for physically, verbally, and emotionally abusing his wife. The Giants released him, and THEN the league came back around and handed him a 6-game suspension in September 2017, a month after they suspended Elliott.
All the while Jones insisted there was no evidence of domestic violence, Elliott insisted he was innocent, but he was suspended according to the initiative the league set forth in 2014, an initiative they had previously ignored.
So now it makes sense that Jones is on pins and needles, waiting to see if the league follows the protocol they set forth for each and every player. If his running back -a man who denied ever partaking in domestic abuse – had to be suspended for six games, so should a player that was caught on camera shoving and kicking a woman.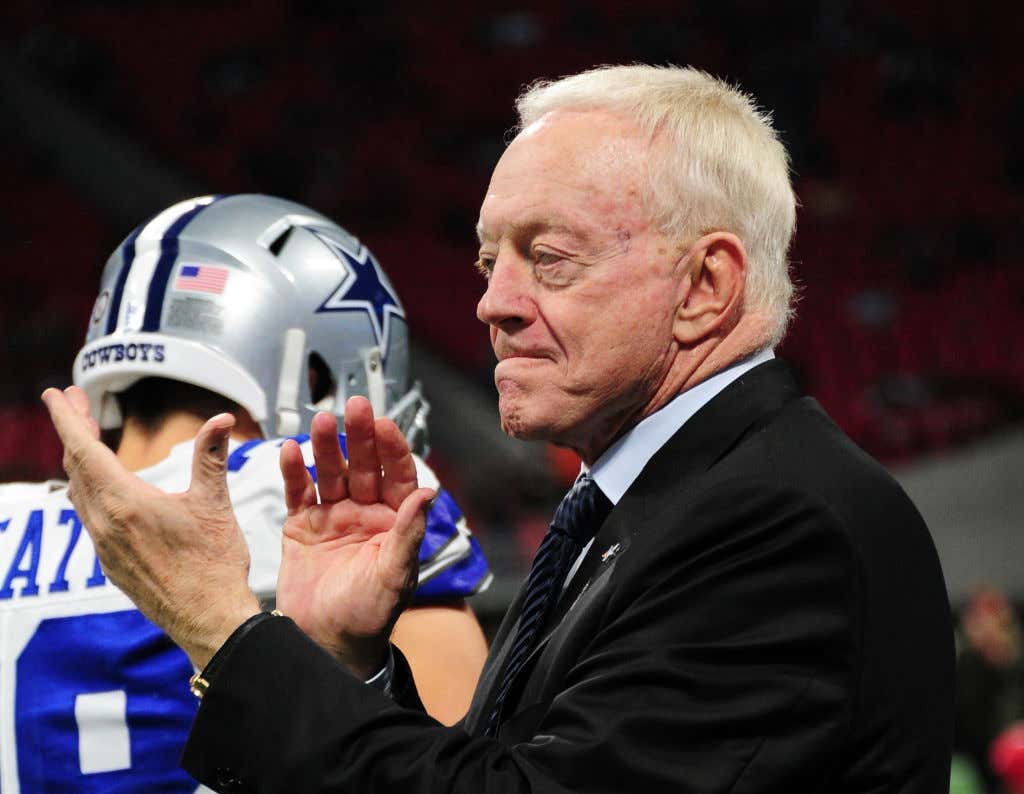 But… hold up a second here, Jerry. Let's not get carried way.
"Everyone has zero tolerance for domestic abuse."
Umm… no, not everyone, Jerry. Multiple teams have signed players after they've been charged with domestic violence. The Chiefs employ Tyreek Hill, a heartless man who punched and choked his pregnant girlfriend. The Redskins JUST picked up Reuben Foster days AFTER the 49ers released him because of a domestic violence arrest.
And how about you, Jerry? Does Greg Hardy ring a bell? Last time I checked, Hardy was arrested in 2014 for assaulting his girlfriend and was found guilty. He was placed on the commissioner's exempt list and, after the Panthers elected to NOT re-sign him in 2015, someone signed him to a one-year deal. That someone was you. And after he served his FOUR game suspension – a suspension also not aligned with the NFL's mandatory 6-game policy – I didn't hear you complain about it.
"The truth is, to get to be a part of the NFL and a part of the perception of the NFL, you have to give up some of the rights you'd have to have if maybe you weren't a part of the NFL. In other words, you're held to a higher standard because of the visibility."
Pretty sure you didn't hold Greg Hardy to a higher standard when you signed him to an $11 million, one-year deal.  Pretty sure you didn't display "zero tolerance for domestic abuse" then, Mr. Jones.
The sad part is, Jerry Jones is completely right. There should be a standard "no tolerance" policy in the NFL. There should be consistent consequences for players' actions. But those consequences shouldn't be adjusted to fit the magnitude of a player's ability or his value to the team. A player's ability to run really fast shouldn't determine whether or not they get punished for a crime they committed- the crime should be the only true indicator of the punishment.