In Absolutely Shocking News, A FIFA Ethics Judge Was Arrested For Suspicion Of Corruption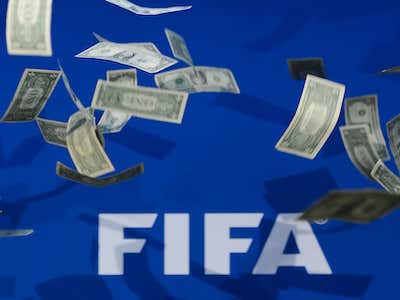 AP- The credibility of FIFA's reshaped ethics committee took a hit Wednesday after a leading judge was arrested on suspicion of corruption in Malaysia and later removed as deputy chairman.
Sundra Rajoo has been taken off cases while under investigation by the Malaysian Anti-Corruption Commission for financial wrongdoing in his job leading an arbitration service. ?(Rajoo) will not be involved in any further activities of the adjudicatory chamber (while under investigation)," FIFA said in a statement. The decision was imposed "with immediate effect" by judging panel chairman Vassilios Skouris, FIFA said.
You know how there are certain stories that would shake you to your core if you found out they happened, like if Tom Hanks was revealed as a mass murderer or something? Well that's how I feel about a member of FIFA getting arrested for suspicion of corruption. An ethics judge no less! I can't believe it. I shan't believe it! If the organization in charge of running the world's biggest sport is corrupt, I wouldn't even know who to trust anymore. Next we will find out that the NCAA cares more about making money than the well-being of its STUDENT-athletes or that the Olympics chooses its host countries based on who slips the biggest bag full of money with a dollar sign on front. But not FIFA, an organization that chose Russia and Qatar as host countries because those places had moral standards that only matched by their important link to the beautiful game and not at all because they are conducive to bribing an organization that loosely resembles one that is always being foiled by James Bond.
Not to play armchair quarterback midfielder, but FIFA probably should have known this judge may be corrupt by the way he answered the business ethics portion of his interview
I wish we could have had seen Bob Ley's face when he read this story followed by him opening his closet of beards and picking out which he was going to wear while reporting this story on the next Outside The Lines.