Eugene Melnyk And The Ottawa Senators Are Terrible At Hiding Their Burner Accounts
Ottawa Citizen – It was Friday afternoon and the final article in a week of off-ice news stories about the Ottawa Senators had just been published online. The week had started with the Ottawa Citizen and Ottawa Sun reporting about a YouTube video, filmed during an Uber ride, that showed several Ottawa Senators laughing at their team's woes and badmouthing one of their coaches.
The story polarized fans, with some swiftly defending their team, attacking the publications for posting a video that had been taken and posted without the players' consent. The story stayed in the news throughout the week, culminating Friday when the Senators refused to let an Ottawa Citizen reporter onto the team's charter flight to travel with them to an away game….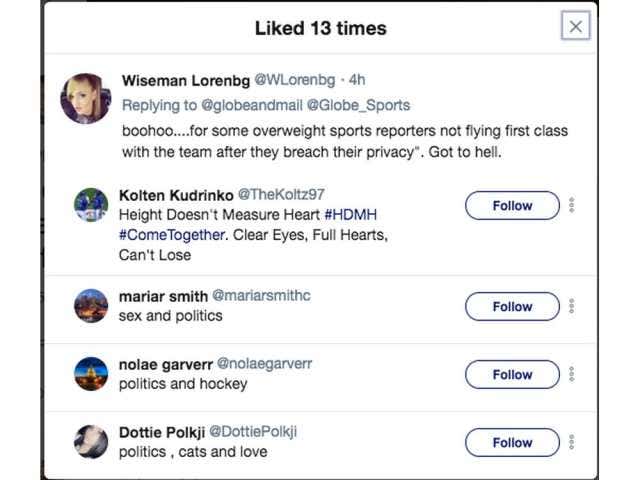 …The accounts then began liking and retweeting each other's posts and in short order a narrative began to unfold beneath the Globe and Mail post: The Senators were victims and the media — specifically the Citizen and the Sun — had treated the organization unfairly…
Following the publication of the initial Uber-video story, a review by this newspaper found at least 20 contrived Twitter accounts, seemingly created to launch a co-ordinated disinformation campaign and to attack media coverage of the Sens while lauding the team and its owner Eugene Melnyk.
At least seven of those accounts went offline — either deleted or having blocked their tweets from public view — after questions about their authenticity were raised. The remaining accounts also stopped tweeting
---
Okay so if you are interested in more proof that these accounts are all burner accounts created to defend Melnyk and the Senators, I suggest checking out the entire article on Ottawa Citizen because it leaves very little to zero doubt about it. They have reverse Google images and everything to prove that these 20 accounts are all most likely run by the same person. Now who that person is? We're not exactly sure. But considering these accounts are all trolling the media and defending the team–and aggressively defending Eugene Melnyk–I think we at least have an idea on who is behind these accounts. Especially considering it's not the first time somebody within the Ottawa Senators management has been accused of having their Twitter burner account snuffed out. An account popped up over the summer defending the Senators after all the Karlsson/Hoffman drama unfolded and hasn't tweeted anything since June 15 when people started to question who was running it (cough, cough Pierre Dorion cough, cough).
Now here's the thing–even if these 20 'contrived' accounts are being operated by Eugene Melnyk or Pierre Dorion or anybody else in the Senators organization, that's not the issue. These guys are all humans and they're all probably sick and tired of getting shit on all the time. They probably have some things they wish they could say themselves but their job doesn't really allow them to express everything they want to say. So they have to create fake accounts to get those opinions out. I don't blame them for that and having burner accounts isn't necessarily an issue as long as they're not using the accounts to shit on their current players like the Colangelo accounts were. The issue here is that these guys are so fucking bad at hiding their accounts.
The Senators haven't had any positive PR in at least a year and a half at this point. Everything with the organization has been negative. Whether it was just being a bad hockey team last year, or the locker room drama, or the low attendance that resulted in the owner threatening the fans that he'd relocate the team, players shitting on coaches getting filmed on camera in an Uber ride, etc. etc. The Senators are already fighting an up-mountain battle to prove to the world that they're now a joke of an organization. And while they're fighting all of those negative headlines and trying to turn things around, they have to deal with this type of shit on top of it all. It would be like if your house was on fire and you try to put out the flames with a flamethrower.
Long story short; there's a smart way to be stupid and there's a dumb way to be stupid. Unfortunately the Ottawa Senators have not yet mastered the art of being smart about being stupid. But at least they're a team.