Should The Yellow Synergy Go Into The Hockey Hall of Fame With Martin St. Louis?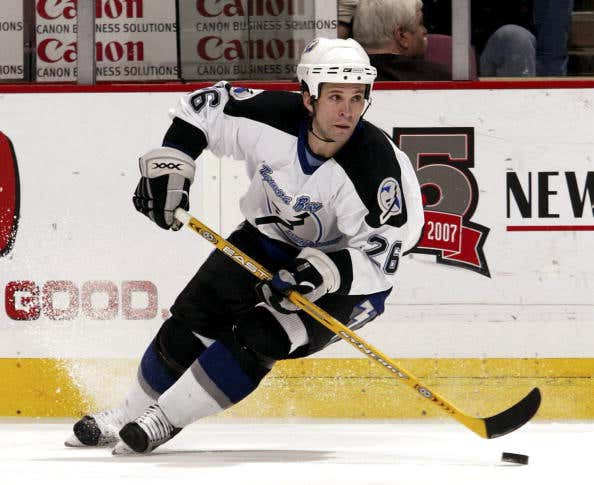 Martin St. Louis was inducted into the Hockey Hall of Fame last night. Not too bad of an accomplishment for a 5'8″ undrafted kid out of the University of Vermont. Marty St. Louis would then go on to play over 1000 games in the NHL and put up 1033 career points. He was also an Olympic gold medalist, a 6x NHL all star, a 2x Art Ross Trophy winner as the league's leading point scorer, a Hart Trophy winner as the league's MVP in 2004, and oh yeah–he won this thing called the Stanley Cup in 2004. Undersized. Undrafted. Hall of Famer. What a goddamn legendary career for St. Louis.
But while Martin St. Louis will forever be enshrined in the HHoF, something is still missing. That something, of course, being St. Louis' legendary yellow twig. And, more specifically speaking, the Yellow Synergy.
A yellow stick to Martin St. Louis is like a green lightsaber to Luke Skywalker. St. Louis may have not been the only guy in the league to use a yellow stick during his era, but you ask any hockey player in the world who a yellow twig makes them think of and the answer is Marty. Now we also have to take into consideration that St. Louis continued to use other yellow sticks throughout his career that weren't the Synergy. Eventually he made the jump over from Easton to Warrior. But if the moment we are choosing to remember Martin St. Louis as going into the Hall is Stanley Cup Champion Martin St. Louis, then the Synergy has to go in there with him. A plaque simply isn't enough. It's the only right thing to do.
Anyhoo. Congrats on the induction, Marty. You're an inspiration to all of us who are under 5'10".