Giants Dumpster Fire Update: QB Kyle Lauletta Was Reportedly Arrested This Morning After Almost Hitting A Cop With His Car
NJ.com- New York Giants backup quarterback Kyle Lauletta — who many fans hoped to see in the starting lineup next week — was arrested in Weehawken Tuesday morning while driving to the team's practice facility in East Rutherford. Two sources in Weehawken said the 23-year-old rookie failed to obey a police officer's directions and that Lauletta came close to striking the officer with his vehicle. "We are aware of the situation and are in contact with Kyle," a Giants official said. "We are still gathering information."
HIT. THE. MOTHER. FUCKING. MUSIC.
CUE. THE. MOTHER. FUCKING. GIF.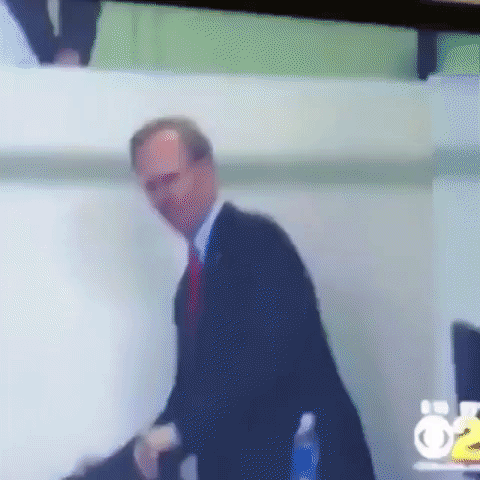 Oh so this is the kind of season it is going to be? We aren't talking about the Giants going through a terrible Giants season that involves double digit losses and a couple of annoying incidents people try to pass off as scandals involving Odell Beckham. No, no, no. We are officially entering Mets/Jets/Knicks level of absolute chaos and pandemonium. The outside chance of Kyle Lauletta starting later this season and somehow becoming Jimmy G 2.0 was all most Giants fans had left in their hope chests as the last 18 months of hell have taken pretty much all optimism out of our lives. But the Football Gods decided to even take that potential silver lining away from us with this traffic violation arrest. A TRAFFIC VIOLATION. How is Kyle Lauletta going to replace a Giants legend and become a franchise quarterback if he can't even drive a fucking CAR! I don't know what things were like playing for Richmond in the CAA. But in the NATIONAL FOOTBALL LEAGUE, almost hitting a cop with your car like its Grand Theft Auto is frowned upon very heavily.
I will admit that this isn't an LT level of arrest and Lauletta showed more escapability in this arrest than Eli has on the field in years. But is it really that hard to not get arrested for a traffic violation? Just keep your hands at 10 and 2 o'clock, come to a complete stop at a Stop sign, and always use your blinker while making a turn. Easy, peezy. And if you are going to do something reckless like almost hitting a cop, make sure you have a fall guy so all the fans of your franchise don't run to the nearest laundry room and start drinking bleach. That's Day 1 stuff you learn in the Rookie Symposium.
I have to admit that the timing of Lauletta getting arrested during the Giants bye week just as a bunch of fans and writers were wondering if Big Blue should start Lauletta over Eli since he would have two full weeks of practice time is interesting to say the least. Perhaps Big Cat's conspiracy theory that Archie Manning is the head of a shadow government pulling the strings in the NFL isn't so crazy after all…
I would pray that this season ends as soon as possible, but I'm actually kind of excited to see the kind of bullshit the Giants can cook up over the next 2 months. It may not be good for the franchise, but it sure as hell will be entertaining and won't hurt my pageviews count for the year. #BurnBabyBurn