The 2018 Boston Red Sox Cemented Their Legacy As The Most Dominant Team In Franchise History
They weren't The Idiots. They weren't the Band of Bearded Brothers. They were the most dominant team in Red Sox history. Period.
The story of the 2018 Boston Red Sox began many years ago. I'll bet you didn't expect to see this name pop up here, but Theo Epstein's fingerprints are all over this roster. The man who helped deliver two World Series titles in Boston and another historic championship in Chicago drafted soon-to-be American League MVP Mookie Betts, 2018 ALCS MVP Jackie Bradley Jr., Matt Barnes, Christian Vazquez, and Blake Swihart. He also signed Xander Bogaerts as an international free agent when he was 16 years old.
Then came Ben Cherington, who traded for Joe Kelly, Brock Holt, Eduardo Rodriguez, Rick Porcello, and Heath Hembree, while drafting guys like Andrew Benintendi and signed Rafael Devers as an international free agent. Perhaps Cherington's greatest contribution to this 2018 roster was when he drafted Michael Kopech and signed Yoan Moncada as an international free agent. As we all know, both of those players were later packaged together in a trade for none other than Chris Sale.
Epstein vowed to turn the Red Sox into a drafting and player development machine. He kept that promise, and it's still paying dividends to this day. Cherington was more of a prospect hoarder, which is also a reason why the Red Sox are the kings of the baseball world once again. When the Red Sox needed pitching very badly, Cherington refused to part with a second base prospect by the name of Mookie Betts, despite some saying that Boston should've pulled the trigger on a deal because the infielder was blocked by Dustin Pedroia at the major league level. That young prospect switched his position to right field, and the rest, as they say, is history.
Once Cherington was out, it was time for the Dombrowski Era. When Dave Dombrowski came to Boston, Red Sox fans were greeted with a warning. There were a couple, actually. First, he's going to deplete your farm system. The second, he can't build a bullpen. In his first offseason, Dombrowski said that the Red Sox needed an ace and a closer. He got the best available ace on the market, signing David Price to a $217 million contract, the most lucrative deal ever for a pitcher at the time. And then he flipped four prospects to the Padres in exchange for the closer who led the majors in saves since 2010, Craig Kimbrel.
After getting swept by the eventual American League champion Indians in 2016, Dombrowski went out and got another ace. The man who closed out the 2018 World Series and flirted with a Cy Young award this year, Dombrowski went out and got Chris Sale from the Chicago White Sox for a handsome prospect package. But again, Boston exited the postseason in the first round. After two last place seasons, the Red Sox followed that up with back-to-back division titles, but two first-round exits.
What that 2017 team lacked was something that could never, ever be replaced. It was Boston's first season since 2002 without David Ortiz, the most important player in franchise history. One does not simply replace a man like David Ortiz. You can only hope to make an attempt to match the offensive production, lineup presence and leadership. This could not all be made up by one player. Or, could it?
This past offseason, Dombrowski re-signed first baseman Mitch Moreland, which played a key role in this World Series, as the All Star launched a three-run home run in Game 4 that sparked an epic, late-inning comeback. But after finishing the 2017 season with the fewest home runs in the American League, it was clear that this team needed a bat that was going to change the entire dynamic of the Red Sox lineup. Last winter, Giancarlo Stanton was the most sought after bat on the market, both in free agency and on the trade market. Dombrowski never even made an offer. His target was elsewhere. His target was JD Martinez.
After playing footsie for just about the entire offseason, Dombrowski finally landed his man, signing Martinez to a five-year, $110 million deal. Looking back on it now, I can't believe that A.) he didn't get paid twice that, and B.) that the Red Sox were seemingly the only legit suitor for his services. In his first season in Boston, Martinez hit 43 homers and drove in 130 runs, which were the exact numbers that Manny Ramirez put up in 2004. Martinez capped off his magical first season in Boston by hammering a home run to dead center in the clinching game of the 2018 World Series.
But perhaps the biggest change of all that was made from 2017 to this championship year was when the Red Sox fired their manager John Farrell and replaced him with first-year manager Alex Cora. Even with back-to-back division titles in 2016 and 2017, there were times when you could cut the tension in the Red Sox clubhouse with a knife. It was clear that the Red Sox had tuned out Farrell long ago and that change was imperative if this team was going to win a championship. Cora changed everything. It was like in the Disney movies when the villain is finally defeated and the dark, stormy skies turn to bright, sunshiny days.
Where Farrell lacked, Cora thrived. Communication goes such a long way with players, and that was one of the many things that Cora brought to the table this year. He created a culture in the Red Sox clubhouse that banded this group together. They wanted to win for each other. They wanted to win for him.
The 2018 Boston Red Sox were a wagon from start to finish. For all the talk about payroll, they would've featured a homegrown player at eight of the nine defensive positions on Opening Day had Dustin Pedroia been healthy enough to play. They became the first major league team to reach 20 wins, 30 wins, 40 wins, 60 wins, 70 wins, 80 wins, 90 wins, and 100 wins. It was their first one hundred win season since 1946, as they dominated their way to a franchise record 108-win season, capturing their third consecutive American League East crown. They had checked off every box that one team could check prior to the calendar flipping to October. All the pressure was on them. They were expected to win. And then they did.
In his tenure with Boston, Dombrowski had made a name for himself by pulling off some monster moves — adding aces, adding dominant closers, and adding near Triple Crown-winning sluggers. But in the summer of 2018, Dombrowski made a couple of moves that flew a little bit under the radar, which may have directly led to a World Series title. On June 28, Dombrowski added a right-handed bat from the Toronto Blue Jays by the name of Steve Pearce. I remember thinking, "Hm. Nothing crazy, but he mashes lefties, so that's a solid replacement for Hanley Ramirez." Pearce would go on to mash three home runs in the World Series to earn World Series MVP honors.
The other move was made on July 25 when Dombrowski flipped Jalen Beeks to the Tampa Bay Rays in exchange for Nathan Eovaldi. I remember getting a text from Rocco Baldelli after the trade went down saying, "You're gonna love this guy." Buddy, love isn't a strong enough word for how I feel about Nathan Eovaldi. The right-hander became a postseason legend, throwing 22.1 innings in October with a 1.61 ERA and 16 strikeouts. He shoved it down the Yankees' throats in Game 3 of the ALDS, then did the exact same thing to the Astros in Game 3 of the ALCS. But where he achieved legend status was in the World Series. Eovaldi pitched in each of the first three games against the Dodgers, throwing a perfect inning in the first two games, before pitching six three-hit innings of relief in Game 3. One of those three hits was a walk-off home run in the longest postseason game ever played, an 18-inning, seven-plus hour loss to the Dodgers.
The moment that Eovaldi walked off the mound in defeat and headed towards the Red Sox dugout, I knew that the series was over. No, not for the Red Sox. For the Dodgers. Eovaldi couldn't even make it to the top step of the dugout before he was engulfed by his teammates. They were all in awe of what they had just witnessed. Not the walk-off home run. Not the 18-inning game. By Eovaldi and what he did on the mound that night. They were all exhausted and had just been dealt a crushing defeat, yet there they all were rallying around their teammate, who had just become the losing pitcher in devastating fashion.
That's what I'll remember most about this team. They were great, but they knew that they were great. And anything less than greatness was not something that they were going to tolerate. From themselves, or from any one of the 25 guys on that roster. The turning point for the 2013 Boston Red Sox in that World Series was when players gathered around David Ortiz in the dugout. "We're better than this," Ortiz famously said. Chris Sale, in Game 4 of the World Series when the Red Sox were trailing 4-0 late, shared similar sentiments in Boston's dugout, only his words were filled with rage. "This is fucking embarrassing! Pick it up!" he screamed at his teammates. Boston stormed back and won that game in convincing fashion.
When I reflect back on prior World Series champion Red Sox teams, there will never be a team that could possibly face the burden of not having won a World Series title since 1918, coupled with being down three games to none to a juggernaut Yankees team. You can never top that. The 2007 Red Sox were a wire-to-wire great team, and they faced adversity being down three games to one to the Cleveland Indians in the ALCS and overcame that, too. The 2013 Red Sox faced an impressive list of decorated pitchers en route to their World Series title, and dismissed a Detroit Tigers team that was undoubtedly better than them on paper. But by the end of that series, it was clear who wanted it more.
The 2018 Red Sox made quick work of the 100-win Yankees, the 103-win defending World Series champion Astros, and the back-to-back National League champion Dodgers. Don't let the fact that the Red Sox only lost one game in each round trick you into thinking that this was an easy road to another World Series title. It was anything but easy. Boston's performance in this postseason was simply a demonstration of how talented, how driven, and how undeniably dominant this Red Sox team was. They were world-beaters from the second that Alex Cora unleashed the hounds.
And a Hollywood ending to the season, it was. David Price came to Boston with a Cy Young award and joked that he was saving all of his postseason wins for the Red Sox. I was there at the press conference, and I remember his smile when he said that line and how the room laughed at the notion. Nobody was laughing when he got lit up in Cleveland in 2016, and nobody was laughing when he wasn't healthy enough to take the ball as a starter the following year, although he was dominant in his role as a reliever against the Astros. Perhaps that was foreshadowing for what was to come.
But before we could enjoy that foreshadowing come to fruition, we first had to witness another disappointing postseason start by the man who brought World Series hopes with him to Boston as a free agent in December of 2015. The Yankees knocked Price out of his Division Series start after an inning and two thirds. An inning and two thirds. Sports talk radio in Boston ran wild with that one. He shouldn't take the ball again as a starter this postseason, can't wait for this guy to opt out, and blah, blah, blah. Fuck you.
Price got right back on the horse and pitched his balls off in the clinching game of the American League Championship Series, earning his first win as a starter in the postseason after going six shutout innings with a career high nine strikeouts to send the Red Sox to the World Series. He wasn't done. In Game 2 of the World Series, the lefty again went six three-hit innings to pick up a victory in back-to-back starts. With Sale mysteriously pushed from his presumed Game 5 start of the World Series to a potential Game 6, the ball was again placed in the hand of David Price. For the second time this postseason, the man who struggled more than any pitcher in history in the postseason prior to this year had the opportunity to close out a series.
This wasn't just any series, though. This was the World Series. This was Price's chance to shut the collective mouths of every person who has ever doubted his ability to win in October. Win this one, and your legend lives forever. With that opportunity, Price pitched seven innings, allowed three hits and one run, while striking out five. After the game, Price talked about how it is now him, not the media, who holds all the cards. No longer can the postseason failure card be played against him. That narrative is dead and may it never rest in peace. Nothing against Pearce and the monster series that he had, but it would've been the icing on the cake if Price were named World Series MVP. He certainly earned it.
The Red Sox winning a World Series with Price nailing down two of the four wins was fitting. It was also fitting that this World Series was finished off by Chris Sale, who was the best pitcher in baseball this year, and was cruising to his first Cy Young award before the disabled list got in the way. He may not win the Cy Young award, but the only thing that could ever possibly top that is coming on in relief in the bottom of the ninth inning and striking out the side in order to clinch a World Series title. I'm fairly confident he chooses that scenario ten times out of ten.
When I think of 2004, I'll always think of the comeback against the Yankees and the end of an 86-year drought. When I think of 2007, I'll always think of a cocky rookie by the name of Dustin Pedroia, Mike Lowell capturing the hearts of Red Sox Nation, Josh Beckett blowing fastballs by hitters, and Manny Ramirez with his arms raised high in the sky after launching a walk-off home run deep into the Boston night. When I think of 2013, I'll always think of the Boston Marathon tragedy and how that team helped an entire city heal.
But now when I think of 2018, I won't even know where to start. I'll think of Mookie's "It's time to party" grand slam. I'll think of JD Martinez kicking off Boston's postseason run with a three-run blast against the Yankees. I'll think of Jackie Bradley's grand slam in the ALCS and his game-tying home run off Kenley Jansen in the World Series. I'll think of Andrew Benintendi's game-saving, series-altering catch in Game 4 of the ALCS. I'll think of Rafael Devers' three-run bomb off Justin Verlander to deliver the dagger in the clinching game of the ALCS.
I'll think of Xander Bogaerts' walk-off grand slam on a sunny afternoon at Fenway Park with my dad. I'll think of Brock Holt's cycle at Yankee Stadium amidst a 16-1 beatdown in the Division Series. I'll think of Mitch Moreland's three-run bomb that sparked the comeback in Game 4 of the World Series. I'll think of Steve Pearce and his game-tying blast in Game 4 of the World Series. I'll think of Eduardo Nunez not being able to stand on his feet for more than ten seconds at a time.
I'll think of Chris Sale closing out the World Series with ice in his veins. I'll think of David Price exorcising his postseason demons and taking in a crowd of Red Sox fans in Dodger Stadium chanting, "Thank you, David!" I'll think of Rick Porcello one-hitting the Yankees during a four-game sweep at Fenway Park in August. I'll think of Nathan Eovaldi blowing 101 MPH heaters by the bats of anyone who dare step in the batters box against him in October. I'll think of Joe Kelly sparking a brawl with the Yankees that reignited the rivalry. I'll think of Ryan Brasier telling Gary Sanchez to get his fat ass back in the box in the Division Series. I'll think of Craig Kimbrel mowing down hitters in the ninth inning with some of the most electric stuff I've ever seen.
I'll think of Brian Cashman's now infamous "Damage" quote, Aaron Judge's boombox, Alex Bregman's Instagram, and the Dodgers' ill-advised tweet. I'll think of Alex Cora attempting to troll Luis Severino during his press conference and then admitting on Section 10 that it made no sense. This was such an incredible year to be a Red Sox fan. I'll think of all of it.
I'll think of this team. A lot. Because they were the most dominant team in Red Sox history. And above all else, I'll think of this team because they are your 2018 World Series champions.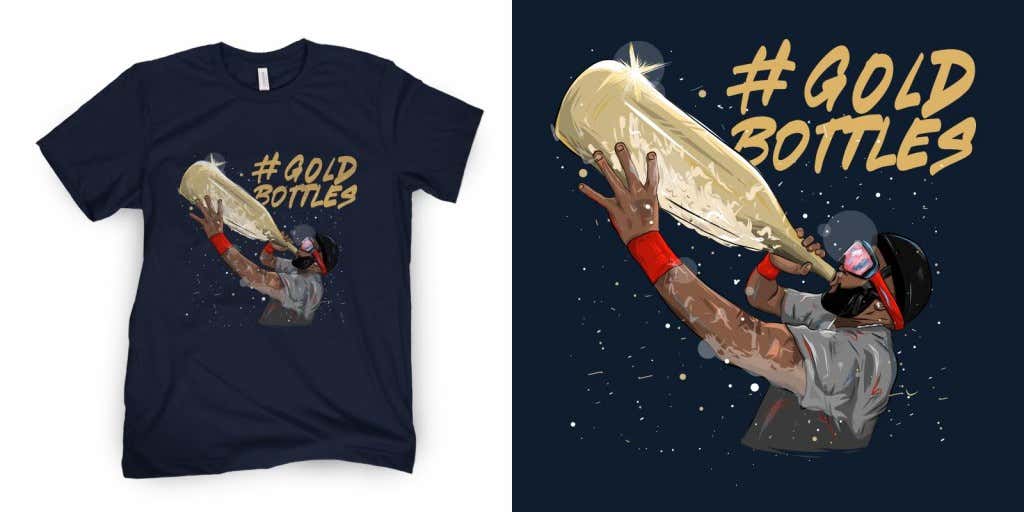 GOLD BOTTLES SHIRTS ON SALE NOW! GRAB YOURS BY CLICKING HERE!