After Trailing 4-0 Late, The Red Sox Stormed Back To Take A 3-1 Lead In The World Series
In Game 3 of the World Series, the Red Sox and Dodgers battled for over seven hours, taking eighteen innings to complete the longest postseason game in history. Nathan Eovaldi gave up a walk-off home run in the bottom of the 18th after pitching flawlessly for six innings and nearly a hundred pitches. After walking off the field as the losing pitcher, he was greeted by all of his teammates before he could even get to the dugout.
After the game, his teammates spoke of his outing as the greatest performance they had ever seen. Alex Cora addressed his team and praised Eovaldi for his efforts. Rick Porcello was in tears. Joe Kelly said that he woke up the next morning, and the first thing that he thought of was Nathan Eovaldi. The Red Sox didn't just want to win Game 4, they wanted to avenge what had been one of the biggest tough luck losses in franchise history for their teammate. And that's exactly what they did.
It wasn't going so smoothly at first, though. With Eovaldi being burned in Game 3, the Red Sox had to put Eduardo Rodriguez out there as their Game 4 starter. Not that Rodriguez isn't a good replacement, but he's no Eovaldi. This postseason, nobody has come close to what Eovaldi has done. Rodriguez had blanked the Dodgers for five innings before LA broke through for a run scored on a throwing error. Later in the inning, Yasiel Puig delivered what felt like a lethal blow to the Red Sox, a three-run bomb in front of a deafening crowd in LA.
People were retweeting a tweet that I had sent out from last year's postseason. Something to the effect of, "I love Yasiel Puig and I don't care who knows it." That was in reference to his antics and his showboaty nature. That didn't change after Puig flipped his bat in Rodriguez's face in Game 4. I love when players show emotion. But just know that players in the opposing team's dugout might not like that very much, and it might wake up a sleeping giant. Not always. But sometimes.
It's not often that four runs are enough to put the Red Sox down, but after struggling to put runs on the board in their 18-inning marathon game the night before and having been shut out to that point by Rich Hill, it wasn't looking good. Like, at all. But then Chris Sale spoke up. Well, actually he freaked out and snapped on the entire Red Sox dugout, saying something to the effect of, "This is fucking embarrassing." And he wasn't wrong. The Red Sox were better than this. And then they immediately went out and proved that.
In the top of the seventh inning, the Red Sox put a pair of runners on by taking a couple of walks, and then Alex Cora went to his bench, pinch hitting Mitch Moreland for Matt Barnes, who struck out Austin Barnes to end the sixth. Moreland stepped in to face noted bum Ryan Madson, who no longer had the excuse of it being cold out, and the All Star first baseman launched a three-run BOMB into the LA night to get the Red Sox within a run. I mean, this this was absolutely crushed.
The Red Sox weren't done, though. In the very next inning with one away, Steve Pearce came to the plate to face Kenley Jansen, who was asked to get six outs for the second straight night. And for the second straight night, he gave up a game-tying moon bomb, this time to Piss Missile Pearce. This moment belongs to Pearce and Pearce alone, but a tip of the hat is most certainly headed Dave Dombrowski's way. This guy has been an absolute monster since coming over to the Red Sox, and his acquisition was initially met with very little fanfare. Not that anybody thought it was a bad move, but the reaction was more like, "Pearce, huh? Okay. Cool." And now he's a Red Sox World Series legend.
A tie wasn't good enough. The Red Sox knew that they had to finish the job. And in the ninth inning, it was once again the unexpected members of this team who came through. It wasn't Mookie Betts. It wasn't JD Martinez. It wasn't Andrew Benintendi. It wasn't Xander Bogaerts. It was Brock Holt who got things going with a one-out double to put a runner in scoring position for Rafael Devers, who pinch hit for catcher Sandy Leon. Now, Devers isn't someone that you'd expect to get intentionally walked with first base open, but Blake Swihart was batting behind him. It was something to consider prior to knowing the outcome.
The decision was made to pitch to Devers, and the 13-year-old third baseman, who is normally very aggressive at the plate, took the first two pitches for balls. Then, he got a 2-0 changeup and ripped it up the middle to drive in the go-ahead run. Back up the goddamn ice cream truck for the happiest kid on the block.
It felt like that was it. It felt like that's all the Red Sox would need with Craig Kimbrel lurking in the Red Sox bullpen, but thank God that Boston continued to pour on the runs, because they'd eventually need them. With the bases loaded, Pearce did that thing again where he crushes peoples' souls by ripping a bases loaded, bases-clearing double into the gap in right-center. More! More, I say! It was 8-4 Boston, and you could hear Red Sox Nation screaming at their top of their lungs at Dodger Stadium.
Xander Bogaerts drove in another run for good measure, as the Red Sox took a 9-4 lead into the bottom of the ninth, and on comes Kimbrel. We all know that non-save Kimbrel can be a roller coaster ride, and this appearance was no different, as Boston's closer allowed a leadoff walk, followed by a two-run jack off the bat of Kike Hernandez. But then he got his shit together, and finished off the Dodgers to put the Red Sox up three games to one in this World Series with David Price slated to go in yet another potential clinching game.
What a fucking story this would be. After all the postseason struggles, after all the criticisms, after all the horrendous moments in October — David Price put the Red Sox in the World Series with a masterful Game 5 performance in the ALCS in Houston, and now he's being given the chance to shove it up the collective asses of everyone who has ever doubted him. Again. In Game 5, it'll be Price versus Clayton Kershaw, who gave up five earned runs to the Red Sox in Game 1 of this World Series.
Finish the job. One more.
Final score: Red Sox 9, Dodgers 6 — Boston leads World Series 3-1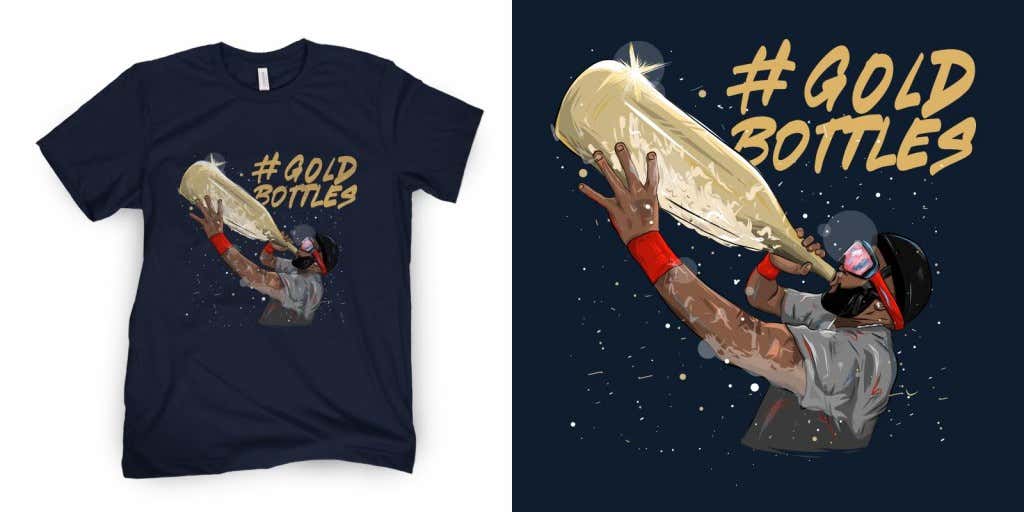 GOLD BOTTLES SHIRTS ON SALE NOW! GRAB YOURS BY CLICKING HERE!