Enjoying Stadium Architecture - TIAA Bank Field
Tomorrow. The World's Largest Outdoor Cocktail Party. (9) Florida v. (7) Georgia. Jacksonville, Florida. TIAA Bank Field.
Georgia v. Florida is a MASSIVE game in the college football landscape…especially when it's a top 10 matchup with SEC East implications on the line! Throw it in the conversation with Auburn v. Alabama, Michigan v. Ohio State,  Army v. Navy, and Texas v. Oklahoma. But where do these games take place? The first 2 of course switch between their home stadiums each year while the latter 2 normally play theirs at neutral sites like the Cotton Bowl and Lincoln Financial Field which is similar to tomorrow's showdown at TIAA Bank Field. So in the spirit of stadium architecture, let's get a look at the host of tomorrow's World's Largest Cocktail Party!
TIAA Bank Field opened in 1995 on the site of the old Gator Bow Stadium right in the heart of Jacksonville's aptly-named Stadium District. I'd assume most folks think this stadium was built solely for the Jaguars, but in a shocking turn of events it was actually built in an effort to keep the Florida/Georgia game in Jacksonville after the Citrus Bowl was trying to commit the robbery! Thank heavens Jacksonville Mayor Ed Austin hit 'em back with the proper funds and the game was kept in Jacksonville along thanks to brand new stadium first called Jacksonville Municipal Stadium followed by Alltel Stadium, Everbank Field, and finally the TIAA Bank Field we know and love today! Along with hosting tomorrow's game and being the Jaguars stadium, its other tenants include the US Men's Soccer team and the Gator Bowl. Riveting stuff right? Let's get inside!
Our journey begins at the 50-yard-line entrance with an appearance by the world famous Jaguar statue! I just looked it up and upon further review the Jaguar is actually named Touchdown? Ya learn something new everyday! Let's get a closer look at touchdown.
This guy fucks.
As we head a bit east we'll notice one thing- Palm Trees. Lots of 'em. Football in Florida sure doesn't seem so bad after all.
The other side of the stadium is pretty similar except for the fact that Google maps has it updated as TIAA Bank Field & it's also touchdown-less.
Before we head inside I just gotta take a second and revel in just how committed to stadiums/venues Jacksonville's Stadium District is. Practically in the same parking lot you can see TIAA Bank Field, Daily's Place Amphitheater for some badass outdoor concerts, the baseball grounds of Jacksonville that plays home to the Jacksonville Jumbo Shrimp (I'll let the name speak for itself), and the Jacksonville Veterans Memorial Arena which currently has tenants including the Jacksonville Sharks of the National Arena League & the Jacksonville Giants of the ABA.
I don't want to reach here….but that looks heavenly. $121 million to build ($200 million in 2017) and it was well worth it!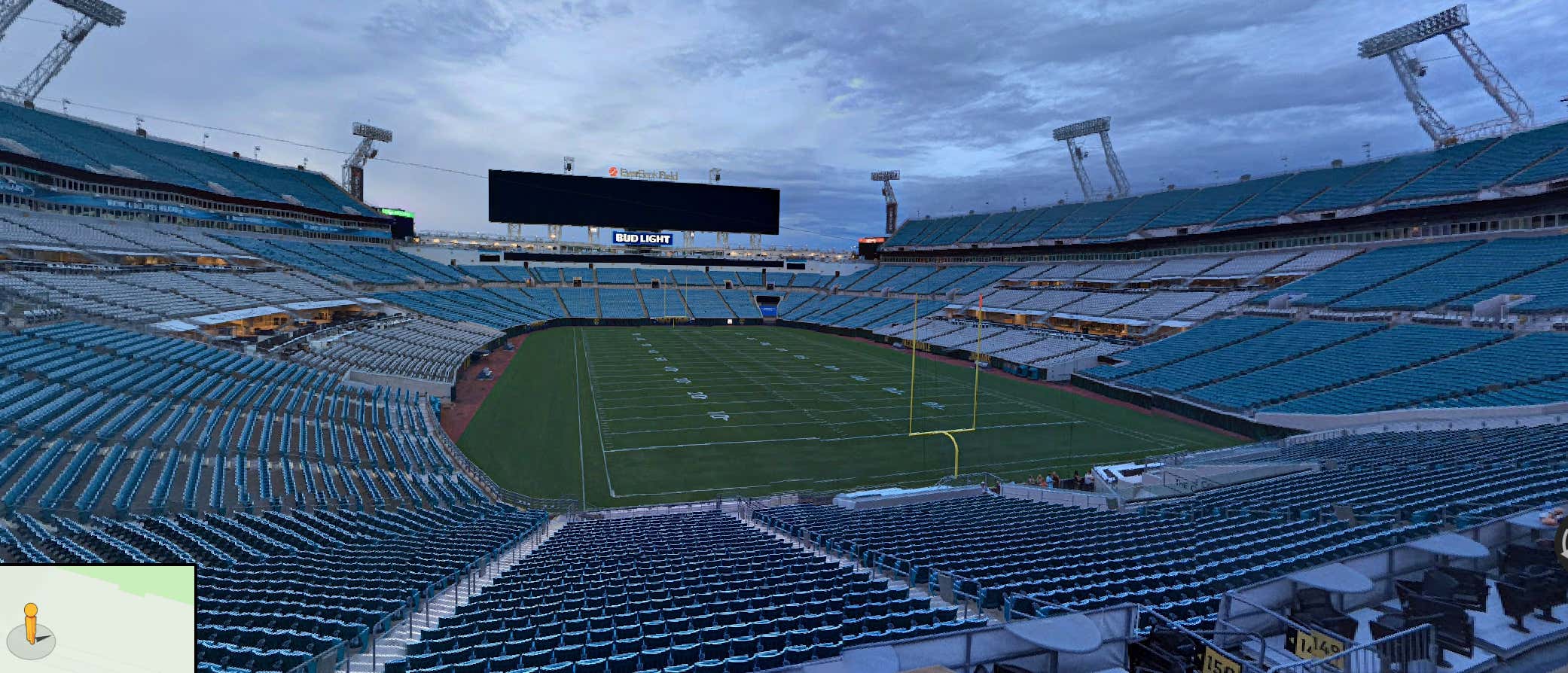 It even looks majestic for Monster Truck! Fucking Monster Truck! At least I hope that's monster truck? Actually I take that back, maybe that's BMX? No idea.
#JagsGameday
I'm all here for bird's eye drone shots of stadiums. ALL HERE FOR IT.
Now for the most unique, and frankly, most important part of TIAA Bank Field. I love drinking. It's my favorite hobby (despite what my facial expressions) and one of the most important parts of drinking is the setting in which you're doing it. Some of my personal favorite spots to take down a few cold ones are on a rooftop/balcony, the Long Island Railroad, in a pool, or at a football tailgate. Sooo what do you get when you combine those last 2? This. Eat your heart out Diamondbacks…The Jaguars pool is simply superior because, well, football.
Now that the architecture portion of this blog is over you and I both know TIAA Bank Field is the premiere destination for the World's Largest Cocktail Party, but nothing is perfect! Everything can improve whether we're talking about my first SAT score or a weekend in Jacksonville…So just what can make this better? Oh, that's right- an array of Barstool events leading up to the game! We're gonna have Trent & Smitty killing it with Bud Light as early as 10am tomorrow in the Northwest Lot AND at 1:30pm you can head over to 249 Parker St to catch El Pres, Big Cat, Kayce, Smokes, Big Ev, and more at the College Football show presented by Panera!
If you're gonna be in Jacksonville tomorrow…I envy you more than you know. Enjoy!