This Is The Wildest Looking And Greatest Group Mugshot And Of Course It Comes From Kentucky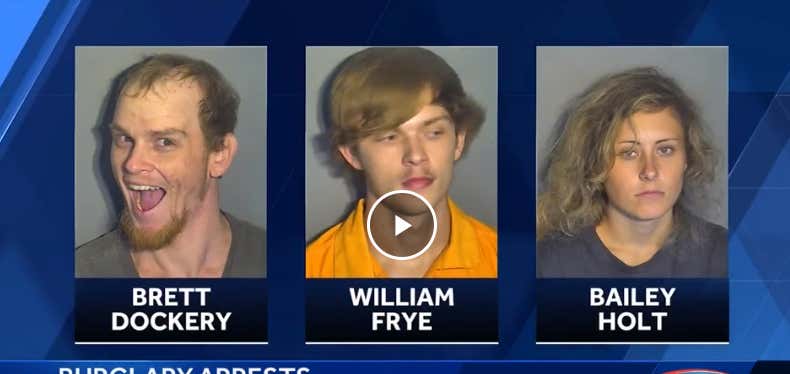 [WLKY] - William Frye, Bailey Holt and Brett Dockery are all facing multiple charges, including receiving stolen property under $10,000. According to the Nelson County Sheriff's Department, one suspect called 911 saying he and his friends needed help. When officers arrived, they found him hiding inside a stolen van.
This is my favorite mugshot ever. I mean look at it at from start to finish. Obviousl you have the star in Brett Dockery here. My man is ready to get weird, no doubt about that. He has the craziest look in his eye. He has the receding hairline. He has the terrible facial hair. He has that laugh/smile thing going on. That alone is blogworthy.
Then you slide on over to Bailey Holt. First off, that name is 100% the name of a stripper, right? I mean you at least have to be hot if you're name is Bailey Holt. That's a hot name. She has some sneaky hotness to her. Look past the mugshot and likely drug use and stolen property and there's a smoke there. Like a white trash version of She's All That. I can see it if you doll her up. I mean look at William Frye in the middle there. Clearly checking Bailey out. doesn't even need to know that she'll be placed there. He's got his eyes on her from the get go.
Of course this happened in Kentucky too. It's 100% on the shortlist of places this trio would live. Of course it was just outside Louisville too in Bardstown. Just the perfect spot for this trio. I mean the story of how they got arrested is even a bit weird. One of them called 911 saying hey needed help inside of a stolen van.