My Dude Amir Johnson Is Not Taking Any Shit Right Now
I'll always have love for Amir Johnson for his time as a member of the Celtics. He was a guy who knew his role, did it well, and was a guy that never complained, ever. Was it frustrating at times when he couldn't get a big defensive rebound every once in a while even though he was 7ft? Sure, but he was still a good Celtic and for that I will always ride for him. It's why it pains me he has to be in PHI, mostly because I want good things for him.
As we know, one of the best parts of the NBA season being back is when they take to Twitter to call out the trolls. This will entertain me when it's everything from CJ McCollum trying to tell Jennifer he's trying
To Kevin Durant being sensitive
It's all just one of the many benefits of growing up in the internet age. These athletes have phones and they aren't afraid to use them. Which brings me back to Amir Johnson. Granted, he's not the biggest name in the game right now, but that doesn't mean he's willing to sit here and take your shit. You know these people's buttholes got a little tight when they saw him reply, which makes this even more fun for me
Look let's be fair. Bobby Portis was cooking last night, I think even Amir would admit that. The guy barely missed and is a complete psycho. But I wouldn't say he's been cooked since he's been in PHI. Honestly he's been pretty much what he was in Boston. In fact, he has a better rebounding% (15.2%), a similar block% (3.1%), similar usage at 12.8, the same defensive win share, and actually a better OREB% than either of his two years in Boston. I feel like this was a valid point to clap back at, because he hasn't been all that different and is just 31.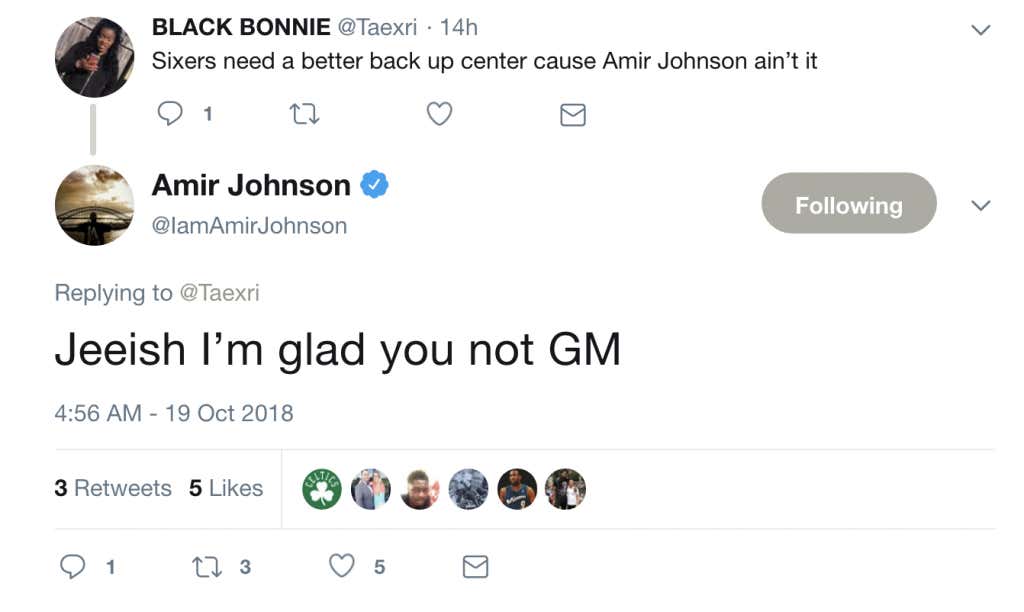 I would argue that as a GM, given Amir is making just $2.3M this year that he's actually a pretty good value. Again, this is a backup center we're talking about who does a find job filling that role, and they pay him basically nothing.
Another point to Amir here. He is not bad at everything. He can still defend his position at an acceptable level, he almost never gets hurt and plays at least 74 games every season, and he can still somewhat protect the rim. He's even a guy who can every once in a while step back and hit a three, so I'm afraid Jake is taking an L on this one.
Nothing like brutal honesty. Why is he in the NBA? Well an NBA team felt like he was worth cutting a check for. Who among us would turn that down?
Amir's PER 36s that year? 18.5/3.7/2.8 on 70% shooting. I'm a little confused he went this year instead of his TOR years, because Amir only played 3 games in 2005-06 as a rookie with the Pistons. It's fair to assume Rocket did not watch him play on that team because….he only played 3 games. Personally I would have gone 2013-14 TOR when he had 10.4/6.6/1.5/1.1 but that's just me.
Self awareness, very important life skill. That's why I like Amir Johnson, he's going to keep it real and honest. Did he struggle at times to start the game last night? You betcha and he'll be the first to tell you. I'll just remind everyone he finished with 13 points on 6-9 shooting (nice) and led ALL bench players in scoring. So, being the true professional he is, he didn't let that slow start ruin his night.
Sixers fans are fucking weird.
Who exactly would Qwan like instead? Does he know what the Sixers bench looks like? Let me help him. It is comprised of 6 PG/SGs and one PF named Jonah Bolden. Which big does he want instead of Amir? He's the only backup center on this entire roster. Seems like a weird thing to complain about if you take one quick look at this roster. And it's true, Amir comes in and gives you exactly what he always has in those 12-15 minutes. Find a new slant.
And that's that. I'll always side with a player sticking up for himself, and even more so when you've sacrificed once upon a time for my beloved Celtics. Let this be a warning to any Sixers fan out there that is thinking about potentially slandering this man on the internet, Amir sees you and he is not afraid to clap back.