After A Wild Game 4 In Houston, The Boston Red Sox Are One Win Away From The World Series
One of the most famous calls in baseball history, Jack Buck screamed, "I don't believe what I just saw!" after Kirk Gibson's walk-off home run in the 1988 World Series. This wasn't a walk-off home run, nor was it the World Series, but I truly don't believe what I just saw.
In one of the most back and forth games in Red Sox postseason history, Boston took an 8-6 lead into the bottom of the ninth with their closer Craig Kimbrel already in the game, having recorded three outs in the eighth inning. Kimbrel has been a disaster this postseason, allowing five earned runs on six hits with five walks, two hit batsmen, and a wild pitch in 5.1 innings over four appearances. Yet, somehow, by the grace of God, he is 4-for-4 in save opportunities. I'm just as befuddled as you are.
There is going to be a lot of talk about Mookie Betts' interference play and Andrew Benintendi's game-saving catch in the bottom of the ninth, but don't let those plays overshadow Betts throwing out Tony Kemp trying to stretch a single into a double in the bottom of the eighth inning. That play was MASSIVE. That play right there potentially changes the entire outcome of this game.
In the bottom of the ninth, Kimbrel walked the bases loaded to bring Alex Bregman, Houston's best player, to the plate with two outs and nowhere to put him. With the runners moving on contact, Bregman lined the first pitch that he saw into left field and time stood still. In real time, my brain was trying to compute where Andrew Benintendi was standing, the direction the baseball was traveling, how fast it was going, and the loft that was on the baseball. Then the camera angle switches to the outfield view — you pick up Benintendi, where the ball is traveling, how fast Benintendi is running, where the ball is going to land, and then SOMEHOW, SOME WAY, Benintendi dives for the baseball and comes up with a game-saving, game-ending catch. Simply unbelievable.
My heart literally jumped out of my chest. I couldn't breathe. Even in victory, I felt like I had been hit by a train. I could not believe what I had just witnessed. In baseball, they always tell you to anticipate. If the ball is hit to me, what am I going to do with it. You're running through every possible scenario in your mind before the ball ever leaves the pitcher's hand. I didn't hear Benintendi speak after the game, but I have to believe that his game-saving dive was a decision that he had made before the ball ever took flight.
The Red Sox were up two games to one in the series with David Price, Boston's scheduled Game 5 starter, warming up in the bullpen. If you play it safe and let that ball fall in front of you, you're looking at a tie game with Price guaranteed to enter this ballgame, erasing any chance of him starting Game 5. If you let it fall in front of you and the game is tied, then you theoretically have no starter for Game 5. If it gets by you, it's ballgame over, but you still have Price going on Thursday with the series tied. If you lay out and catch it, it's ballgame over and the Red Sox are up three games to one with Price on the mound in a potential series clincher.
Benintendi knew that he was diving for that ball wherever it was going to land. He went full speed, full extension, and made one of the best catches in Red Sox postseason history to secure the victory for Boston. Price never leaves the bullpen, and the Red Sox have a chance to go to the World Series with the 217 million dollar man on the mound to close it out. A game of inches, indeed.
But, just as there was in Game 3, this Game 4 was not played without controversy. Removing the Boston homer schtick for a second, let's talk about that Mookie Betts-Jose Altuve interference call. Here's my take on it — if you're an Astros fan, you have every right to be pissed about that, even more so after the game was decided by two runs on top of the fact that this would've been a two-run home run to tie the game in the first inning. I've read the rule, and the way that it applies to this play is almost a 50/50 call because there was no definitive angle to prove that Mookie went over the wall, or that the fans reached into the field of play.
It's so close. The one thing that I will say is that if there were no fans there to interfere, Mookie Betts makes that catch. The ball was going right into his glove, and the contact made by the fan closed his glove, preventing him from making the catch. In the image shown above, it looks like Betts' glove never crosses the yellow barrier that separates the field of play from the fans. That being said, I wasn't going to sit there and pretend like the rule was black and white and that this play was easy to call, so I was more just waiting for the expert panels on TBS and MLB Network to break it down after the game so that we could get a more definitive answer.
After the game, the panels just broke out into World War III. Everybody had a differing opinion, which means that this really was a 50/50 call that just happened to go in favor of the Red Sox. I'm not gonna sit here and tell you that I can say with a hundred percent certainty that the right call was made, but I can't also sit here and tell you that the wrong call was made, either. It was a lucky break for the Red Sox. It could've gone either way. I'll leave it at that.
In his postgame press conference, Astros manager AJ Hinch was understandably frustrated about the call, but didn't place the blame of the loss entirely on the interference call. The Astros went 3-for-12 with runners in scoring position and left a grand total of 13 men on base. They had their opportunities, but failed to capitalize. The Red Sox, on the other hand, did plenty of damage with two outs, as Jackie Bradley Jr.'s two-run blast came with two outs, Rafael Devers opened up the game with a two-out, two-run base hit in the first inning, and Brock Holt, JD Martinez and Xander Bogaerts all collected two-out RBIs. Five games into the series, and Bradley has the third most RBI (9) by a Red Sox player in an ALCS in team history.
Rick Porcello didn't look all that great out there, giving up four earned runs on seven hits in four innings, but that bullpen that everybody dreaded once again came to the rescue. Joe Kelly surrendered his first run of the postseason, but Ryan Brasier got five big outs, and Matt Barnes got the Red Sox out of a jam in the seventh inning with two men in scoring position by freezing Tyler White with a devastating hook. Barnes has now appeared in six postseason games for Boston and struck out five batters in 5.2 scoreless innings of work.
Just to revisit this statement — the Boston Red Sox are one win away from the World Series, and they will have three tries to get it. In Game 5 in Houston, the Red Sox will send David Price to the mound who was one out shy of recording his first win as a starter in the postseason in Game 2 of this series. It wasn't a great outing by any means, but it wasn't a nightmare, either. Baby steps. With their season on the line, the Astros will counter with Justin Verlander, who is a postseason legend. Verlander held the Red Sox to two earned runs over six innings in Game 1 of this series, and carries a 2.44 ERA with 51 strikeouts in 48 postseason innings since joining the Astros last year.
One more.
Final score: Red Sox 8, Astros 6 — Boston leads ALCS 3-1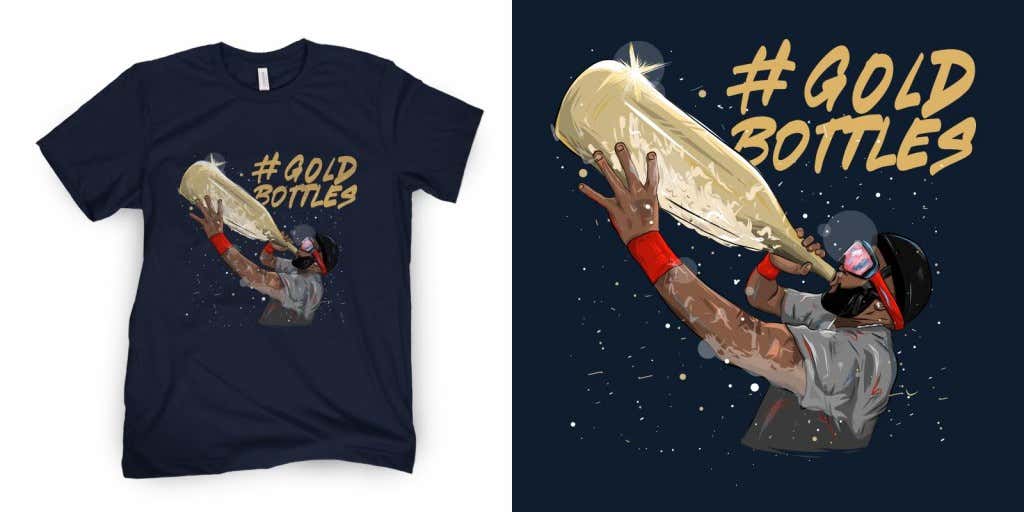 GOLD BOTTLES SHIRTS ON SALE NOW! GRAB YOURS BY CLICKING HERE!