It Appears Ariana Grande And Pete Davidson Regret Getting Tattoos Of Each Other After 3 Days
USM - Putting the past behind her. Ariana Grande covered up one of her many tattoos dedicated to ex-fiancé Pete Davidson during her first post-breakup performance.
While gracing the stage at NBC's A Very Wicked Halloween musical special on Tuesday, October 16, the 25-year-old pop star wore a Band-Aid on her ring finger, covering a tattoo of the Saturday Night Live star's first name. Grande also removed her $100,000 engagement sparkler for the occasion.
——-
This one may shock you, but apparently getting someone's name tattooed on you after one night of weird sex is in fact not a good idea. I mean what a whirlwind relationship for these two. They met, they banged, they got engaged, they got their names tattooed all over each other, Ariana put a song about him on her album, talked about his dick nonstop, he moved into her $20 million NYC condo, they got a pet pig together, and then they broke up. And that's basically every detail of their relationship. It happened that quick. Who woulda ever thunk it wouldn't work out? But lots of relationships don't work out. Like, the vast majority. So you can move out, get your own place, eat the pig, and….cover up the tattoos with a bandaid, but of course.
Before:
.
After:
Brilliant. It's as if she never got his name tattooed on her in the first place, and now she gets that Nelly street cred for singing with an out of place Band Aid. Win-win if you ask me.
And as for Pete…well he got her little bunny symbol tattooed on his head like a god damn idiot.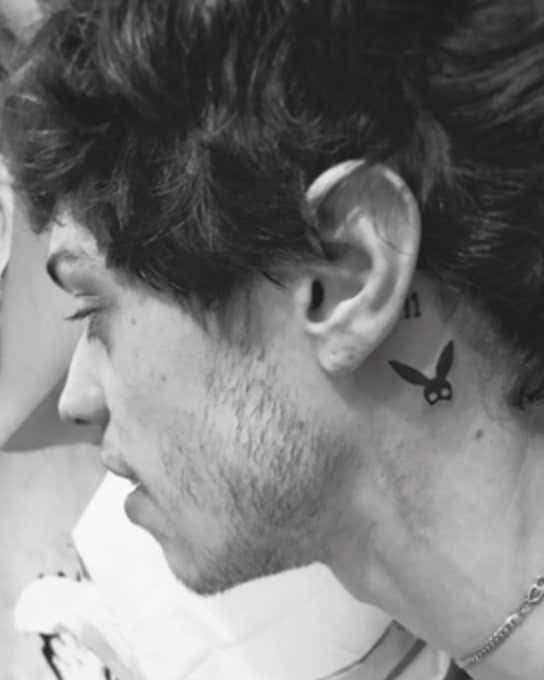 And now it's a heart.
The best part? He also got a Cazzie David tattoo when he was dating her.
Amazing. I love it. He should just get tattoos of every girl he dates. I wish he didn't cover them up though. Just have a graveyard of tattoos of ex girlfriends.
The moral of the story? There are two:
1) The power of the pussy is strong, my friends.
And
2) Never fall in love. Obviously.
And
3) When you combine 1 and don't listen to 2, don't get a freaking tattoo. You maniac.