Cheating On Dave: Kate & Cons Hang Out With Roger Goodell
One moment I thought my evening would be spent prepping for Hi Haters! & blogging and the next thing I knew I was drenched in sweat next to (one of) Dave's nemesis & digging deep within my extremely polite soul to give him some semblance of the stink eye. But I'll get to that in a moment…
Jay Glazer came into the office for Pardon My Take this afternoon & during their conversation Glazer mentioned he was hosting an event tonight with his MVP organization (Merging Veterans & Players). MVP is meant to empower veterans through mixed martial arts, mentorship & cameraderie so Big Cat asked if Cons & I wanted to go. Without a second thought I said, "yes!" even though I have spaghetti noodle arms. Being new to the area I found it's just always nice to link up with other vets.
So was this thing a meet & greet? A PowerPoint on what the program was? A networking event? Whatever the case, I was banking on wine & cheese plates.
Annnnd nope! I was way off… After a little research it turned out I'd be doing an MMA style workout with professional fighters & athletes. Looking down at my old, gray Keds & pajama jeans moments after finishing a large pile of shredded pork smothered in chipotle mayo, I began to feel concern.
It's not that I didn't think Glazer's organization sounded amazing… it's more than I'm a gross, out-of-shape blob who's been dedicated to bulking up for winter with peanut butter Tastycakes and the thought of embarrassing myself in front of people I look up to (Hi Kirstie Ennis!) was a bit mortifying. Still, I didn't want to miss this so Kayce helped me find yoga pants & let me borrow her shoes & I snagged a large shirt from the store to cover my giant Hanes lines.
(Hands down fear of the workout was eclipsed by fear of my feet touching the Barstool bathroom floor as I changed pants & shoes. If I could make it through that, the rest would be a breeze.)
When Cons & I entered the Renzo Gracie academy & saw athletes who looked like buff statues on the mat I panicked again, but then I started chatting people up & realized there were a lot of other vets in the same shape as me. I met a woman on active duty status in the National Guard who'd never done this before either, a soldier who decided to leave the Army to care for a special needs son, ran into an old friend who served in the Air Force, and an acquaintance from my beloved Headstrong Project. Everyone was down to Earth & one of the goals of the event, to connect veterans & give a sense of camaraderie, was taking place with ease.
Looking around I saw Michael Strahan, Kirstie Ennis, Nate Boyer, Randy Couture, Matt Mitrione, other NFL players and veterans from all walks of life mingling before we began. (Nate Boyer & Kirstie Ennis were guests on ZBT before & you can listen to those below…)
After a quick warmup led by a special forces veteran, we picked up gloves & pads & practiced what I'll just call 'triple' hits because I have no idea what the hell I'm talking about. My partner was Cons, and the rumors about how sweaty he gets are almost too tame. Every time he punched the pads sweat from his arms would fly into my face. I closed my eyes real tight pretending I was afraid of the punches, but the torrential downpour spraying out from his body like a high pressure sprinkler was really why. (Cons, if you're reading this, I'm sorry. But buddy,,, get some 'bands for those wrists.)
We survived the drills & then everyone circled up. We heard from a veteran from 2/7, a Marine infantry battalion. He'd lost dozens of brothers in Iraq & Afghanistan and even more to suicide back at home. He himself had attempted to take his own life and when Nate Boyer came across him at a homeless shelter he was in a dark place. Fast forward to 2 years later, he was speaking with us about MVP opening a new door & getting him out of isolation & back on his feet. Nate Boyer, Randy Couture, Kirstie Ennis & others spoke candidly about their own ups & downs and Jay Glazer gave a passionate speech reminding veterans how much each of them matters. It was pretty powerful stuff.
And then…. we looked across the room and there he was. Roger Goodell, Commissioner of the NFL & staunch not-a-fan of my boss for… things. It almost felt like we were cheating…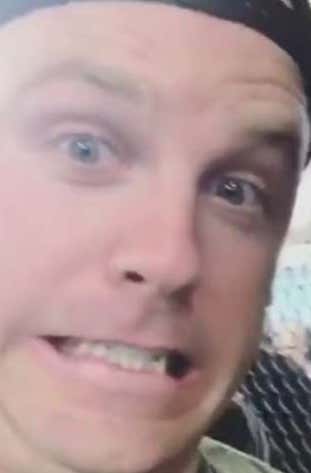 It was a knee-jerk reaction for the brand… newly adept at mixed martial arts & fresh of learning skills from Rough 'N Rowdy 5, I did a flying jiu jitsu kick across the gym as Roger Goodell's eyes widened with terror. I was zooming in for the attack. Time slowed down as Goodell turned to run. Not on my watch. Now I was within inches of his face and my muscles were bulging with power…
And then, ya know, I decided we were all there for a good reason & Goodell had said some kind words for all & everyone was really jazzed & maybe this would be a bad look. And maybe none of that last part even happened at all, and I even chickened out on giving him the stink eye… but just know I thought about it.
If you want to learn more about the MVP Program and the great things their doing with veterans, check 'em out here!
www.vetsandplayers.org