Donnie Does History: The Legend of Don the Beachcomber
Every once in a while you stumble upon a historical figure who's life story and accomplishments resonate so deeply with your own being and future aspirations that you immediately feel a deep spiritual connection with them. This bond is only strengthened when that person happens to have the same name as you, which is the case with who we'll be talking about today. Pull up the anchor and pour up the cocktails, because I'm about to take you on a rum-soaked voyage on the seas of history. This is the legend of Don the Beachcomber.
I first learned about Don while I was scrolling through IG and saw someone posted a picture from Mo'orea. I consider myself to be quite a Geography buff (I can even find Massachusetts and Florida on a map unlike someone I saw on Barstool's election coverage, still one the WILDER things I've seen),
But Mo'orea? Never heard of it. So I revved up the ole wikipedia and found out it was an Island in the South Pacific next to Tahiti that is part of French Polynesia.
I must say it looks like an extremely decent place to go hippo mode and  drink on the beach.
However, by far the most intriguing sliver of information I gathered from the Wikipedia page was this:
"Don the Beachcomber lived here briefly in the late 1920s. His houseboat was destroyed by tropical cyclones after he moved it from Waikiki after 1947.[12]"
How much of a legend do you have to be to get the nickname "Don the Beachcomber"? And what was so notable about your life that the fact you briefly lived on an island in the South Pacific was deemed worthy of being included on the island's wikipedia page? I set out on a mission to learn more about this so called "Don the Beachcomber" and let me tell ya, I was not disappointed with what I found.
Don The Beachcomber wasn't always Don the Beachcomber. He was born Ernest Raymond Beaumont Gantt in Limestone country Texas, where he lived until 1926, when he decided to forego college and travel the Caribbean and South Pacific for a few years. Seeing as America was in the throes of prohibition at the time, he also ended up getting DEEP in the bootlegging game. However, once prohibition was repealed, he moved to Hollywood where he opened a restaurant and bar called "Don The Beachcomber" in 1933.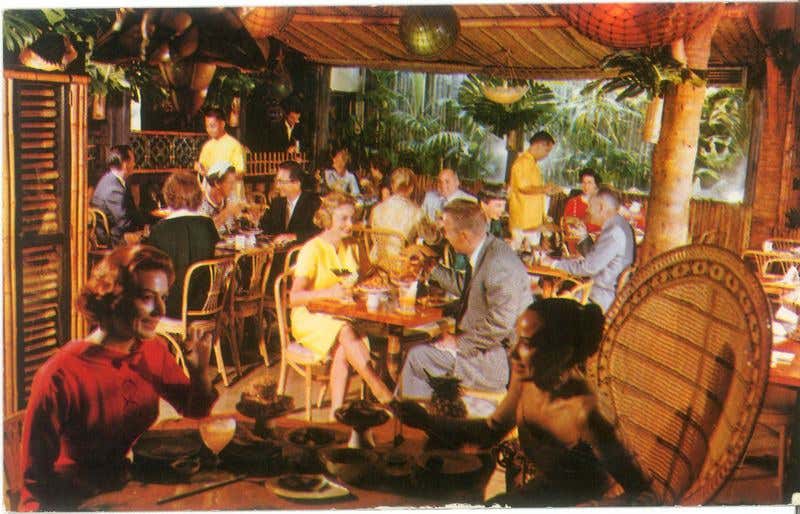 Inspired by his travels in the South Pacific, he gave the bar an exotic Polynesian vibe by decorating it with tiki carvings, thatched roofs, bamboo furniture, and fake rain falling on the roof. He served colorful cocktails and popular cantonese dishes mixed with pineapples to give them a tropical flare. If opened today, "Don the Beachcomber" would probably elicit cries of  "cultural appropriation!", however, that term hadn't been invented yet and the bar went on to become a SMASH hit. Hollywood celebrities and common folk alike would flock to the restaurant as it's tropical oasis atmosphere and potent rum cocktails made them feel like they were taking a mini-vacation. As Ernest used to say to his patrons "If you can't get to paradise, I'll bring it to you." Some of his first regulars at the bar included Howard Hughes, the Marx Brothers, Charlie Chaplin, Greta Garbo, and Orson Welles. He didn't know it at the time, but by opening "Don the Beachcomber", he had created the nation's first "Tiki Bar."
The "Tiki Bar" wouldn't be the only innovation to come out of "Don the Beachcomber" though. Ernest and his staff are also credited for inventing the "Pu-Pu Platter" as well as world famous rum cocktails such as The Zombie, Navy Grog, the Fog Cutter, and Tahitian Rum Punch (Rumor even has it that the Maitai, which is said to have been invented by Trader Vic, was just an exact copy of Ernest's "Q.B. Cooler.") Does this look like the face of the guy who invented the "Zombie" cocktail?
You tell me.
It's important to note that somewhere along the way  Ernest Gantt's identity became so intertwined with his establishment that he ended up legally changing his name to Donn Beach-Comber, then Donn Beachcomber, and finally, Donn Beach. Now Donn Beach may have been a drunk, but he wasn't a coward, so when World War 2 broke out, he enlisted in the army along with most of the USA. After getting injured in a U-boat attack his official position became "operator of officer rest-and-recreation centers" and was awarded the Purple Heart and Bronze Star for setting up rest camps for combat-weary airmen of the 12th and 15th air forces. While he was overseas he left his restaurant business in the hands of his ex-wife Sunny Sund(also a fake name I presume), who absolutely CRUSHED IT, turning "Don the Beachcomber" into a chain with 16 locations. Lets get a slow clap going for strong business savy women. Ya love to see it.
Unfortunately though, as their restaurant business grew, their romance dwindled, and they ended up getting divorced in 1940. In the settlement, Sunny retained control over the business and Donn would be barred from opening any other restaurants under the name "Donn the Beachcomber" in the US. Newly single and I assume still pretty rich, he decided to head to Hawaii, which wasn't a state at the time. In Hawaii he opened a new "Don the Beachcomber" which became just as successful as his first one.  Legend has it that he installed a garden hose on the roof to create rain sound effects because he observed that late-night drinkers would linger for another round if they thought it was raining outside. They don't teach that in business school. One of my favorite facts about him though is that he conducted all of his business operations from an office….in a treehouse. Every young kid's dream.
Later in life, he moved into an elaborate houseboat that he designed himself called the Marama. He lived on the Marama, splitting his time between Mo'orea and Hawaii until he died of old age in Honolulu in 1989. Judging by the photo below, I'm pretty sure he enjoyed his retirement.
In many ways, Don the Beachcomber helped create American-Chinese food culture as we know it today, so the next time you're crushing a scorpion bowl/pu-pu platter combo, make sure to tip your cap to the Don.