I Still Can't Get Over The Penn State Police Department Using Helicopters To Break Up "Rowdy" Tailgaters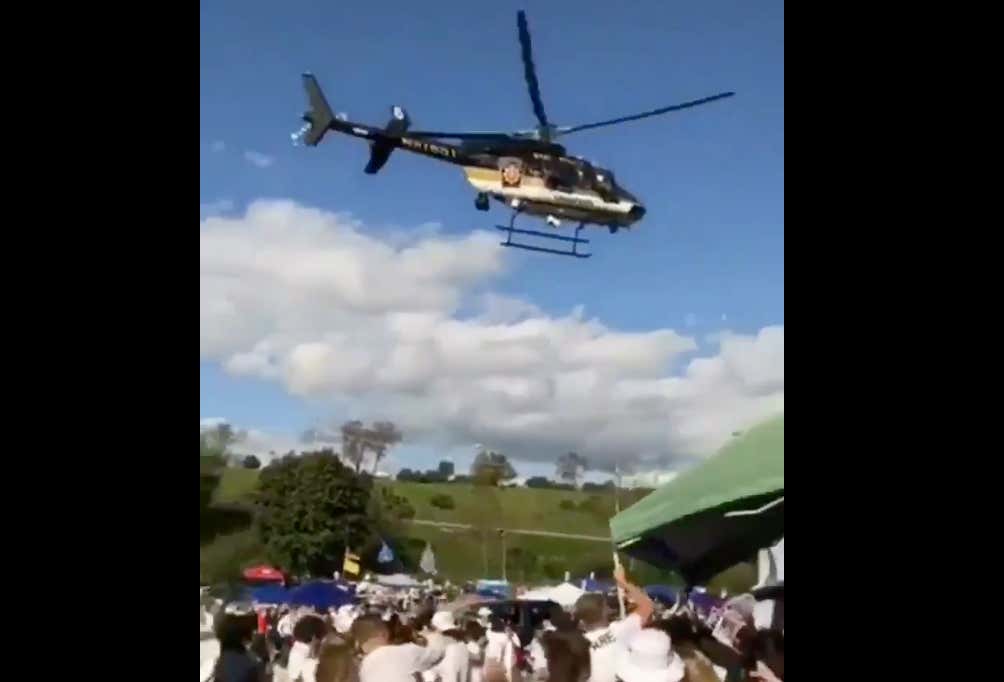 We touched on this earlier this week, but the Penn State Police Department deployed a damn helicopter to disperse of….wait for it….tailgaters this past weekend. I saw some more videos over the past few days and wanted to include them:
Look at how fucking dangerous that is. Those tailgating tents that were de-grounded by the helicopter could have easily severely injured somebody.
There were also horses on the ground trying to break up the most unrowdy "rowdy" tailgate of all time:
Imagine if one of the tents or coolers flying hit a horse and it went crazy. Look at that damn horse's legs. You think it couldn't run over a 115-pound Penn State sophomore sorority girl and send her to the hospital?!
Here is the Penn State Police Department's statement:
"Following the use of the helicopter, the dangerous behaviors dissipated." Well, you would fucking hope so.
Being a part of a big college police department on gameday has to be difficult. You are dealing with thousands of drunk idiots, but that's the expectation. You know the battle you are going to be fighting heading into a whiteout Saturday in Happy Valley. It happens every year. This is your job.
Some of the reported unruly behavior:
SOURCE-Court records said 21-year-old Joseph Michael Oleynik of Derwood, Maryland, was charged with a felony of taunting or striking a police animal, as well as misdemeanor counts of resisting arrest, failing to disperse and disorderly conduct, and a summary offense of public drunkenness.

…..

A trooper tried to subdue Oleynik, sustaining a broken hand in the process, but Oleynik ran into the crowd before another officer was able to grab him, Miller alleged. He resisted by putting his hands under the bulk of his body, but was arrested after a short struggle, Miller wrote. He smelled of alcohol, his speech was slurred and his eyes bloodshot, Miller said.
There's a great joke here about the Penn State Police Department and how they handled a previous "rowdy" situation in Happy Valley. I'm not going to tell it. I'm sure you can deduce it for yourself.